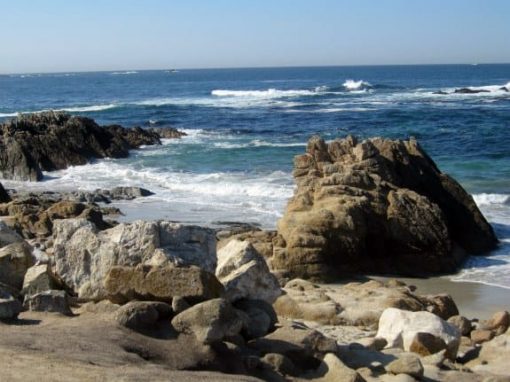 Known more widely by the shortened Carmel, this little town on the Monterey Peninsula has a stunning coastline (in photo), and they've made the most of their community by creating a personality that is both charming and quirky.
At one time there was a law forbidding selling and eating ice cream on public streets.  Overturning that law was a focal point of a new politician – actor Clint Eastwood, who was Mayor of Carmel from 1986-88.  Today you can get an ice cream cone, and I saw several people walking around town eating it.
Another quirky law, and this one is still on the books, is a municipal code that bans the wearing of high heels (over 2 inches in height or less than 1 square inch in size) on the street of Carmel without a permit.  The code dates back to the 1920s when it was enacted to protect the city from lawsuits as a result of tripping on the uneven pavement.  Rest assured, there were plenty of high heels spotted in Carmel last week, and the law is not enforced.  However, if you want to be in full compliance, stop by city hall to get a permit to wear your heels; they're free.
Another quirky Carmel trait is that none of the businesses or homes have street numbers.  Originally, locations were known by the name of their business or home.  Since an address like the "Smith home" can make mail deliver a little difficult, in what must seem like a throw back to a bygone era, residents go to the town post office to pick up their mail.
Carmel is located about 2 1/2 hours from San Francisco and about 6 1/2 hours from Los Angeles.  It can also be reached by the small regional airport in Monterey.
Photo credit:  author
NOTE:  I visited Carmel as part of a press trip.
Mary Jo Manzanares is a founder and the editor-in-chief of The Traveler's Way, an online travel magazine proving informational and inspirational travel recommendations for curious Baby Boomer travelers. She has been a speaker at various industry events and has a personal travel blog at Traveling with MJ. When she's not traveling, Mary Jo likes lingering over a cup of coffee, wandering in a museum, sipping wine at a cafe, and sharing it all with friends and readers. Mary Jo's top travel destinations are Italy, Portugal, and the Caribbean.