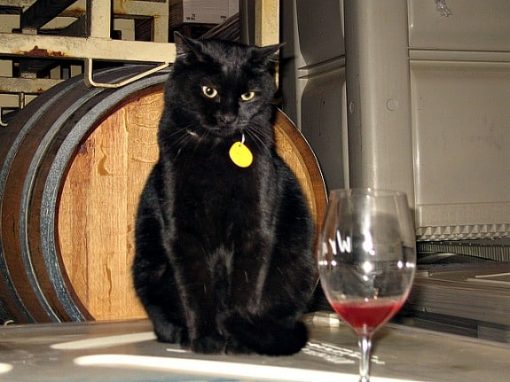 It's easy to think of a beach vacation as merely surf, sun, and sand, but in quirky Carmel, it also means delicious food and winetasting.  Once you get away from the gorgeous beaches, Carmel is a wanderer's paradise of art galleries, shops, fine restaurants, and a self-guided Wine Walk Tour taking you to 12 tasting rooms within a few blocks on one another.
Some of the tasting rooms represent long time local wine families, while others showcase the wines of female winemakers, still relatively rare in the industry.  Some of the tasting rooms are coordinated with other business like an art gallery or home décor business, while others are naturally paired with food shops and products.  You can plan out a way to see them all, or just let serendipity take its course and make your choices spontaneously.  Either way, it's an enjoyable – and tasty – way to spend an afternoon in a charming California coastal town.
Here's and overview of the tasting stops on the Wine Walk (in alphabetical order), and some personal tasting notes from those that I stopped in at.
The Bountiful Basket – This specialty food store and tasting room, has an impressive olive oil and vinegar selection, in addition to wine tasting.  They also offer a Meet the Winemaker series.  Located on San Carlos, between Ocean and 7th.
Caraccioli Cellars – Sparkling and still wines from the Santa Lucia Highlands.  Located on Dolores, between Ocean and 7th
The Cheese Shop – This retail store offers tastings of both cheese and wine, a perfect pairing, and stock a variety of specialty gourmet food items.  Located in the Carmel Plaze, on the corner of Ocean and Mission.
Cima Cellars – Boutique, small-lot wines from their Carmel vineyard.  Located on San Carlos, between Ocean and 7th.  I had heard a lot about the Cima Colina wines, so was excited to stop in at this one for a taste.  Pull up a seat at the bar (in photo above) in this cozy tasting room and browse the menu of what's on offer.  As your sipping and savoring, take a closer look a the hand carved detailing on the bar – simply lovely!  I liked the wine here, but didn't love them.  Maybe I'd had too big of a build up on how great they were, but overall I didn't find anything I fell in love with or wanted to buy.  It's worth a return trip to see if a tasting without all the build up yields the same result.  Cima gets a big hat tip for their commitment to social causes with Howlin' Good Red, exclusive to the tasting room, which benefits the SPCA for Monterey County.
Coastview Vineyard – Boutique wines from the highest mountain-top vineyard in Monterey County.  The tasting room has an art gallery that features contemporary painters.  Located on 7th, between San Carlos and Dolores.
Figge Cellars – The Figge tasting bar is in an art gallery, pairing up in a way that allows you to enjoy the experience with all of your senses.  When we first arrived the tasting area was unattended, so we had an opportunity to wander the gallery as a call went out for someone to handle the tasting.  Turns out it was harvest time and the owners of the winery were needed elsewhere, but a helpful family member showed up to take us through the tasting process (in photo above).  I really like that Figge is a family business, from the growing and nurturing of the grapes into liquid heaven, to family members who'll leave their own business to help out when needed.  Love it!  Figge specializes in hand-crafted Chardonnay, Pinot Noir, and Syrah.  They were tasty, although I didn't oooh and aaah over anything, and I didn't make any purchases.  I'd love to go back when the owners are available and learn a little more about what they do.  Located inside Winfield Gallery on Dolores, between Ocean and 7th.
Galante Vineyards – Galante has serious lineage with Carmel, the owner is the great grandson of one of the founding fathers of Carmel, and the vineyard was the first to open a tasting in room in town. The winery produces ultra-premium, 100% estate grown wines, and serves up tastes in a western ranch themed tasting room (in photo above).  The wine menu is extensive, especially for a tasting menu, and I fell in love with several selections.  I shipped a few bottles home, and recently opened the 2008 Galante Vineyards Petite Sirah (Olive Hills), and fell in love with it all over again.  The official tasting notes explain that it has a fragrant floral nose and big, expressive flavors of ripe cherry, but that doesn't do it justice.  It's big and bold, a dark maroon-purplish color, and I taste flavors of leather and tobacco, smoke and wood.  This is seriously good stuff! (Retail price $40.) Located on Dolores, between Ocean and 7th.
Scheid Vineyards – Another winery taking advantage of a compelling combination, Scheid Vineyards is located in Homescapes, a Carmel home décor business.  Located on 7th, between San Carlos and Mission.
Southern Latitude Wines – This wine shop and tasting room specializes in wines from Australia, New Zealand, Italy, South America, and South Africa.  Located on Lincoln, between Ocean and 6th.
Tudor Wines – The tasting room for Tudor is located inside Andre's Bouchee Bistro.  Located on Mission, between 7th and Ocean.
Vino Napoli – Popular wine bar, shop & tasting room next door to Pepe's Little Napoli serves up selected wines and Italian tapas.  Located at the northeast corner of Dolores and 7th.
Wrath Wines – Delicious small lot wines from a female winemaker.  I had plans to visit the winery site in Soledad, so skipped the tasting room, but based on my later tastings, I'd recommend it as a stop.  That's the winery cat in the photo at the top of this article.  Located on the ground floor of Carmel Plaza, on the corner of Ocean and Mission.
The stops are all within an easy walk of one another, and any limitation will likely be based on how much you want to drink or how much time you have.   A downloadable map can help you map out your plan of attack.  Scheduling 3-4 stops in an afternoon is a pleasant pace that allows you time to enjoy your wine and some conversation.  Much more than that and I start to get confused, despite taking tasting notes.  Your mileage may vary.
Most tasting rooms have a small charge for wine, and offering a pour that's more than the short slurp that you might be used to.  And let's face it – those tasting fees can quickly add up, wreaking havoc with your budget.  If you know you'll be making a few stops, the budget stretching Wine Walk Passport a chance to visit the eight tasting rooms on the south side of Ocean Avenue for a sample.  When you find a wine you love, pick up a bottle of two for dinner – with the Wine Passport, the corkage fees will be waived at a number of participating restaurants.  Not sure where you want to go to dinner?  Ask at your tasting room; they'll be happy to share their personal preferences and favorites and help you make reservations at just the right spot.  The passport is an $80 value and can be purchased online for $30.
Cheers!
Photo credits:  All from the author's personal collection
NOTE:  The author was the guest of Monterey County Convention and Visitors Bureau; the opinions expressed herein are strictly her own.
Mary Jo Manzanares is a founder and the editor-in-chief of The Traveler's Way, an online travel magazine proving informational and inspirational travel recommendations for curious Baby Boomer travelers. She has been a speaker at various industry events and has a personal travel blog at Traveling with MJ. When she's not traveling, Mary Jo likes lingering over a cup of coffee, wandering in a museum, sipping wine at a cafe, and sharing it all with friends and readers. Mary Jo's top travel destinations are Italy, Portugal, and the Caribbean.