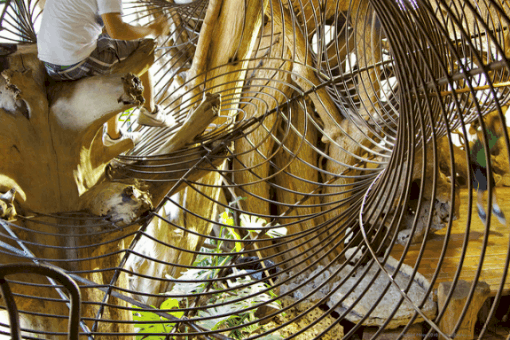 When friends heard that I would be spending a weekend in St. Louis, Missouri they nearly shouted "You have to go to the City Museum!"  Being a fan of the arts and sciences I love museums, so adding this downtown attraction to our itinerary was easy.
Filled with artwork and phenomenal collections of abstract items, my friends were right, I loved this place.  The City Museum is far from a typical museum – it is more of a playground or fun house for visitors of all ages – where visitors are encouraged to touch, feel, climb on or through the exhibits.   Housed in a 600,000 square foot industrial building that was once home to the International Shoe Company, the City Museum is an architectural wonderland.
The award-winning museum is the masterpiece of noted international artist and sculptor, Bob Cassilly.  Cassilly and his crew of 20 artisans, scoured within and outside the city limits for salvage items like the framework of a school building set for demolition, old bridges, soda fountain counters, refrigeration coils from a Budweiser plant, several airplanes, even the chubby mascot of Big Boy Restaurant fame.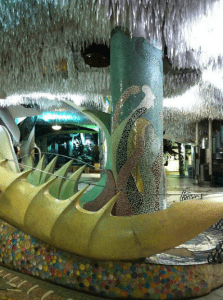 The reused items come together to form amazingly detailed settings, each different and more eclectic that the other.  A life size whale and sea life setting is enhanced by dangling shards of parachutes and beautiful tiles forming the tunnel known as the "Underground Whaleroad".  The Enchanted Caves are an elaborate cave system hand sculpted by Cassilly with lots of hidden features and sculpted characters.
My favorite spot was the seasonally opened rooftop.  With a school bus precariously extended over the edge of the building, stepping stone fountain and an antique Ferris-wheel that offers amazing views of St. Louis, what's not to love?
Cassilly is credited with saying the illusion of danger is essential to any adventure.   MonstroCity is considered one of the most popular areas of the museum and a prime example of this theory put to the test.  Timidly climbing through twisting and curving path of wrought iron bars (with enough space to view the ground below) I urged myself onward to reach my goal of  a castle-like stone turret.  Once there, I could see my next objective looming in the distance, the suspended airplane fuselage.  When my feet were again firmly planted on the ground, I proudly looked up at the massive structure to realize I (the person who can't go higher than the third step of a ladder) had just climbed the four story outdoor playground.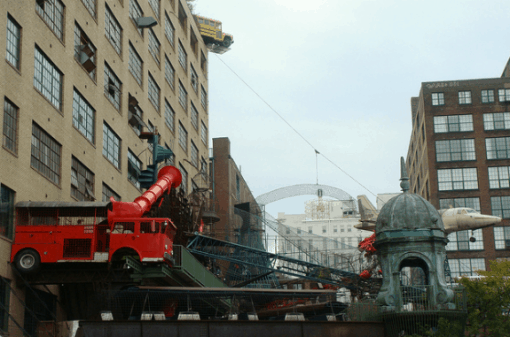 Knowing that what goes up must come down and the existence of the factory's original shoe slides,  (used to transport shoes to other floors within the building) has led to the creation of a wide variety of slides.   One slide transports you down three floors, another makes a rhythmic noise as you slide down,  and by far my favorite, the ten-story slide that curves through the heart of the building.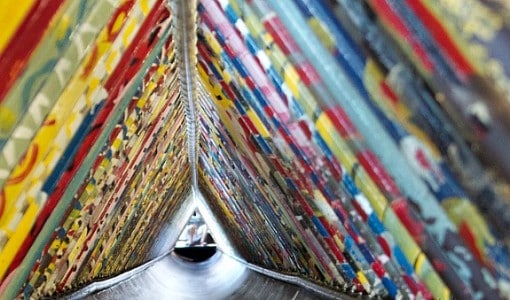 Within the Museum are several concession stands where visitors can grab a snack and beverages, including beer — it is after all the hometown of Anheuser-Busch Breweries.  The snack bar located within MonstroCity, is a great place to catch some fresh air.  Still, situated between two Ball Pit areas it can be rather noisy as youngsters dive and flop in the balls and compete in a riotous game of dodge ball.  Cabin Inn, also on the ground level, holds a restful spot next to the outdoor fire pit or slip inside the cabin said to once have been the home of Daniel Boone's son.
The gift shop on the main floor selling t-shirts and souvenirs is set in the beautifully tiled facade of a former St. Louis business. Additional shops include the fourth floor Baleout, featuring the largest collection of vintage clothing available in the St. Louis area.  For a truly fitting souvenir, stop by the Shoelace Factory and watch as antique machines produce brightly colored shoelaces available for purchase.
My advice for visiting the museum:
Crawling through the maze of tunnels and caves can be rather hard on your knees.  If you plan to do a lot of climbing, wear a set of knee pads.
Keys and phones can easily fall out of pockets and slip through the openings of the tunnels, avoid an expensive loss and secure items in a pocket that buttons or zips closed or leave with a non-climbing friend.  A coat check for bulky items is available in the lobby.
With so many options to maneuvering the museum, it is easy to become separated from other members of your party and at times it might be difficult, if not impossible, to have cell phone coverage. Have a designated meeting spot at prearranged times to reunite your group.
Guests are allowed to exit and re-enter at their leisure as long as wristbands are not removed.  Take the opportunity to visit during the day and return later at night.
Exploring any of these areas is like playing a real life version of I Spy. With so much to see and do, it would be impossible to cover the entire City Museum in one outing.  I can't wait to return and discover more of the hidden gems within.
Location:  701 North 15th Street, St. Louis, Missouri
Hours:   Monday – Thursday, 9 am-5 pm; Friday – Saturday, 9 am-midnight; Sunday 11 am-5 pm.
General Admission:  $12;  Friday & Saturday after 5 pm – $10; seasonal rooftop admission – $5.  Children under 3 are admitted free.
NOTE: Children under 16 years of age must be chaperoned by a paying adult; after 5 pm all visitors under 18 must be accompanied by a paying adult.  Photo id required.
Photo Sources: flickr:  Mike Miley (Steel and Wood) Chris Yunker (Underground Whaleroad) amanderson2 (City Museum -outside)    Mike Miley (Big Slide)
Having been transplanted numerous times, I have learned to explore the sites around our new found hometown, uncovering hidden gems and attractions. When vacation time rolls around, I enjoy traveling with my family and the occasional weekend escape with my husband, coming home to share our travel experiences with others. You can follow me on Twitter @JAIngersoll. My top three destinations are Walt Disney World Resort, the Midwest and any beach I can walk along.