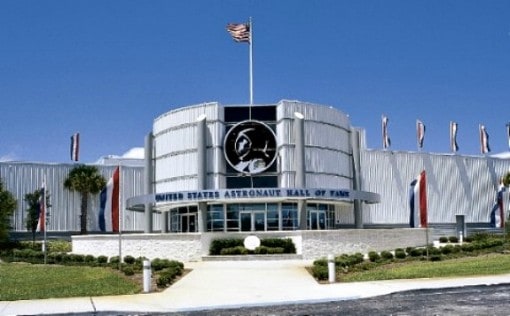 At the US Astronaut Hall of Fame in Titusville, Florida, you'll have an opportunity to experience both the technical side of space travel, as well as the very personal side of it, with exhibits that trace our race into space.  Whether you remember when John Glenn orbited the earth, when Neil Armstrong walked on the moon, or if your only familiarity with the space program is the space shuttle, this museum will tantalize you with the historical perspective of the space program and the personal perspective of the astronauts who participated in it.
You'll see spacecraft from the Mercury and Apollo days, along with fascinating personal memorabilia on display. These artifacts tell the personal stories of the astronauts, their thoughts and dreams and goals, and speak volumes about the individuals who soar so high above the earth.  I found myself looking at the little details, a special memento that accompanied them into space, the patch from their uniform, and a photo or two.  These bigger-than-life heroes became relatable, more personal, after looking at these displays.
The Science on a Sphere exhibit gives you a chance to look at the Earth as if from space with a 3-D display of the earth and planets as seen from space. You'll be able to watch hurricanes moving across the ocean, follow airplanes all over the world, and watch currents and temperatures across the globe.  And, you'll learn how the planets, moons, and technology can be used together to predict hurricane and other global weather issues.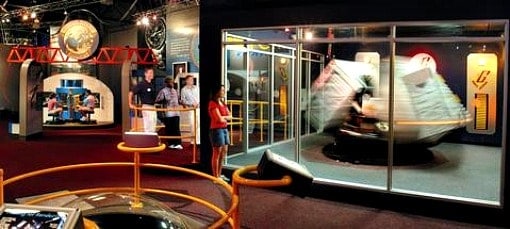 But this isn't a hands off visit!  There are plenty of interactive activities, including a G-Force Trainer (in photo above) that lets you feel the effects of 4-G's, a space shuttle landing simulator, and riding a rover over Mars.  I tried the G-Force trainer and was a little queasy after, but thoroughly enjoyed the space shuttle landing simulator.  While I much preferred the latter, both "rides" were fun and educational.
Inductees into the Astronaut Hall of Fame are selected by a panel after a review of their individual contributions to space exploration. The inaugural inductees were the first American astronauts, the Mercury Seven, and included Alan Shepard (the first American in space), John Glenn, and Gus Grissom (commander of Apollo I, he was tragically killed on the launch pad during pre-flight).
The Hall of Fame now includes all of the astronauts from the Gemini, Apollo, and Skylab program.  The 2011 inductees were Karol Bobko and Susan Helms.  They join the names of all inductees into the Hall of Fame and are listed in a beautiful glass etching along the Hall of Heroes.
The US Astronaut Hall of Fame is a wonderful stop for anyone with an interest in the space race, providing a great look at where we've been and where we could go.  Right now that's just a dream as their are no further space programs being planned.
Space fans who can't get to Florida, may be interested in checking out the space exhibits at a number of other locations, including the Udvar Hazy Center in Washington DC.  A number of other air and space museums around the country also have small exhibits.
Location:  6225 Vectorspace Boulevard, Titusville, Florida.  The Hall of Fame is part of the larger Kennedy Space Center Visitor Complex, and is about an hour drive from Orlando.
Hours:  Kennedy Space Center is open at 9 am daily; closing times vary by season.  The US Astronaut Hall of Fame is open noon- 6 pm daily.
Tickets:  Admission to the Astronaut Museum is included with Kennedy Space Center general admission, ($43 adult/$33 child (ages 3-11) plus tax).  Admission includes the Kennedy Space Center Tour, Shuttle Launch Experience, Exploration Space: Explorers Wanted, STAR TREK LIVE, IMAX space films, the U.S. Astronaut Hall of Fame, and all attractions and exhibits.  If you're likely to visit more than once a year, the annual pass provides a good savings.
Photo credit:  Courtesy of Kennedy Space Center
Mary Jo Manzanares is a founder and the editor-in-chief of The Traveler's Way, an online travel magazine proving informational and inspirational travel recommendations for curious Baby Boomer travelers. She has been a speaker at various industry events and has a personal travel blog at Traveling with MJ. When she's not traveling, Mary Jo likes lingering over a cup of coffee, wandering in a museum, sipping wine at a cafe, and sharing it all with friends and readers. Mary Jo's top travel destinations are Italy, Portugal, and the Caribbean.