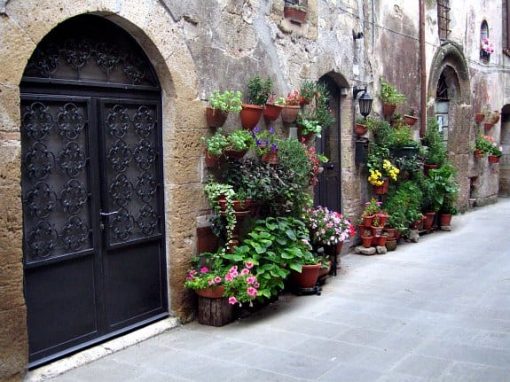 If there's one consistency of the medieval hill towns in Tuscany, it's the winding, narrow, and charming alleyways that you follow along throughout the town.  Once you get off the main street, though, they can all begin to look alike and it's easy to lose your way.  Don't worry – the towns are small, and all the alleyways will eventually loop around and get you back to the town square.  This mean you can dare to be a little adventurous and wander away from the main stream of traffic.
This back alleyway is in the town of Pitigliano, a former Etruscan settlement perched dramatically on a volcanic ridge.  It seems to rise out of nowhere as you round a corner in the countryside, and the first glimpse of it took my breath away.  The town is a pleasant jumble of cobblestone streets and alleyways, brightly adorned with flowers and greenery.
Besides wandering about, my favorite thing to do, you might consider:
Visit the Palazzo Orsini – This 16th century residence of the Orsini family has an excellent collection of Etruscan art in impressively decorated rooms.
Reflect on history with a visit to the town's 18th century cathedral, with a baroque façade and a medieval belfry.
Dig a little deeper into the town's history with a visit to the synagogue.  Pitigliano was home to a large Jewish community until World War II, and while the community has never reestablished itself, there are incredible stories to hear.
Discover the remains of the 14th century aqueduct that once served the town.
Enjoy the views of nearby Monte Amiata.
Choose a gelato shop near the main square and people watch.
Though Tuscany's hill towns share a common history, architecture, and feel, they each have their own special personality.  I don't quite have a feel for Pitigliano yet, but can't wait for a return trip to discover more.
Photo credit:  Courtesy of author
Mary Jo Manzanares is a founder and the editor-in-chief of The Traveler's Way, an online travel magazine proving informational and inspirational travel recommendations for curious Baby Boomer travelers. She has been a speaker at various industry events and has a personal travel blog at Traveling with MJ. When she's not traveling, Mary Jo likes lingering over a cup of coffee, wandering in a museum, sipping wine at a cafe, and sharing it all with friends and readers. Mary Jo's top travel destinations are Italy, Portugal, and the Caribbean.