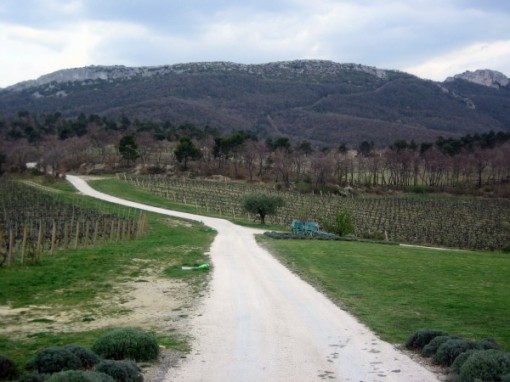 Some travelers might be too intimidated to rent a car during international travel, but once you get over those first few nervous minutes (hopefully in a parking lot and not a major highway) the freedom of a car reveals a depth of culture you might not find otherwise. This is true in France, and specifically in the region of Provence in the southeast section of the country. In a region known for its hilltop villages, vineyards, historic sites, bike tours, lavender fields, and restaurants – you will want to be able to explore at your own pace.
That's where the rental car comes in. During a recent trip to Provence, I opted for a rental with four-wheel drive (which actually came in handy maneuvering mountain roads) and got out an old-fashioned paper map to plot out my road trip. A GPS can also come in handy and are generally available for a modest rental fee along with your vehicle. From soaking in the atmosphere of a Roman amphitheater to strolling the historic streets of Avignon – all of the stops on my itinerary had one thing in common. Not only were they incredibly beautiful, but the scenery between the attractions was equally as striking.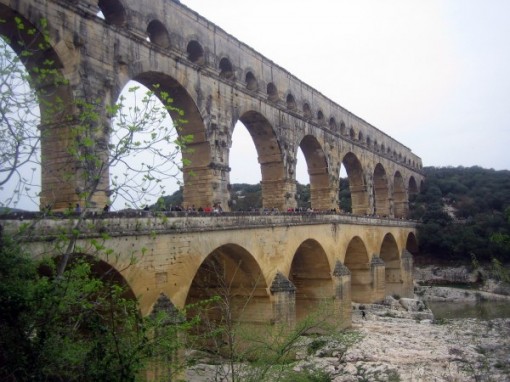 Many travelers might not know where to begin when designing their own driving tour. I started with my main interests: history and cuisine. The first stop on my self-guided tour was the famous Pont du Gard, an ancient Roman aqueduct bridge over the Gard River. This attraction can draw the crowds, so it is best to arrive early to stroll across the bridge and take in its massive beauty from a range of angles before other travelers arrive. As I walked across the bridge, I could hardly believe that the Romans had built it in the 1st century AD. It is the highest of all Roman aqueduct bridges, and certainly one of the most impressive.
All of that exploring on foot left me a little hungry, so the next stop on my itinerary was the city of Orange. Founded in 35 BC by the Romans, this town is home to one fascinating historical attraction – but before we set foot inside – it was time to attend to our stomachs. We followed signs for the Roman Theatre and found ample parking for a few hours. Surrounding the Roman Theatre there are many bistros offering outdoor dining – on this day we picked one that had the sunniest table for a leisurely lunch. The perfect accompaniment to this meal is a glass of local wine – I particularly enjoyed a local rose.
No visit to Orange would be complete without stepping inside the Roman Theatre. The town itself is renowned for its Roman architecture, and this theatre is said to be one of the best preserved of all Roman structures. Some historians have even gone as far to say that it is the single most impressive Roman Theatre in all of Europe. Part of the entrance fee is a headset (available in a variety of languages) that will help you understand the history of the building through a self-guided tour. Taking a seat in the audience, it is possible to envision what attending a dramatic performance must have been like during Roman times, thanks to the spectacular preservation of the theater.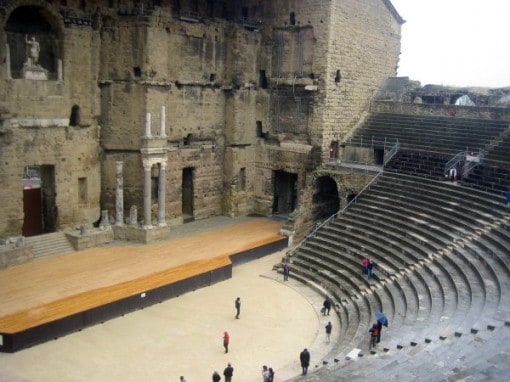 While days could be spent wandering the streets of Orange, my sights were set on another nearby city: Avignon. Most famous for the striking Palace of the Popes, Avignon is also a delightful little city (some of it pedestrianized) for strolling, admiring the architecture, and taking in views of the Rhone River. The ancient town center, surrounded by medieval walls, is easy enough to explore on foot, so we parked the car upon arrival and didn't return to it until it was time to leave Avignon.
Most visitors come to Avignon for one thing: the Palace of the Popes. This is one of the most impressive medieval Gothic buildings in all of Europe – and that is clear before you even enter. In fact, some visitors are so impressed by the exterior, that they choose to take a seat at a table in the square outside the Palace and never even make it inside. There is plenty to see beyond the exterior of this UNESCO World Heritage Site, including the Grand Chapel, a series of towers, and the art of the Saint-Jean Chapel. Travelers with an interest in religious history might be compelled to spend a whole day – or even longer – exploring this massive complex that became the residence of the Popes in the early 14th century.
These three attractions in Provence could each easily consume an entire day of a trip (particularly if you choose to enjoy local dining) or they can be part of a larger exploration of the region. Beyond the historic destinations, it is also lovely to explore towns like Aix en Provence or St Remy for long lunches or Roussillon for its beautiful red ochre rocks. Once you arrive, it will be surprising how much there is to see in such a small region of France. A rental car will place all of these attractions right at your fingertips.
The Details:
Pont du Gard, 400 Route du Pont du Gard, Vers-Pont-du-Gard, France. Entrance fee: 15 euros per person.
Orange Roman Theater (Theatre Antique d'Orange), Pl. des Freres-Mounet, Orange, France. Entrance fee: 8 euros per person.
Palace of the Popes, Place du Palais des Papes, Avignon, France. Entrance fee: 10.50 euros per person.
Photo Credit: All photos from the personal collection of Jessica Colley.
Jessica Colley is a freelance travel and food writer based in New York City. She proudly called Dublin home from 2008 – 2010 and writes frequently about the city and Ireland. Three of Jessica's favorite travel destinations are Ireland, Italy, and Berlin. Find her online at www.thegreatamericantraveldream.com and on Twitter @jessicacolley.