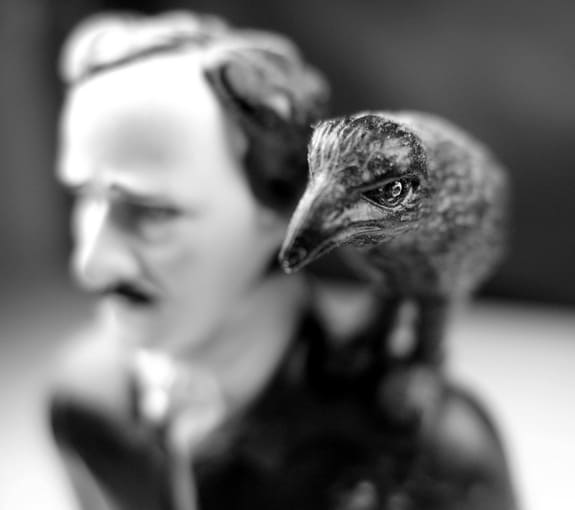 Edgar Allan Poe's home in Baltimore is where the famous writer transitioned from poetry to writing short stories. He won his first literary award in Baltimore during his residence here.
The Edgar Allen Poe House National Historic Landmark is in an excellent state of preservation with much of the exterior and interior original fabric from the 1833-1835 period when Edgar lived there with his aunt, grandmother and two cousins. Visitors walk on the same floors, stairs and wander within the original plaster walls and woodwork that Edgar lived with.
Exhibits tell the story of Edgar Allan Poe's life and death in Baltimore and showcase significant artifacts such as his portable writing desk and chair, a telescope, and china and glassware used by Edgar when living with the Allan family in Richmond, Virginia.
[tweetthis]Have you visited the Poe house in Baltimore? Quote the raven, nevermore.[/tweetthis]
A Poe map shows other significant historical locations throughout the city. A Poe weekend in Baltimore would make a wonderful getaway for any literature lover.
Location:  205 North Amity Street in Baltimore, Maryland
Hours:  Saturday and Sunday, 11 am-4 pm, through December 27, 2015. The last entry to the museum is at 3:40 pm.
Admission:  $5 for adults and $4 for seniors (65+), active military with ID and students (ages 13-21, ID required). Children 12 and under are free when accompanied by an adult.
Photo credit: kevin dooley
Mary Jo Manzanares is a founder and the editor-in-chief of The Traveler's Way, an online travel magazine proving informational and inspirational travel recommendations for curious Baby Boomer travelers. She has been a speaker at various industry events and has a personal travel blog at Traveling with MJ. When she's not traveling, Mary Jo likes lingering over a cup of coffee, wandering in a museum, sipping wine at a cafe, and sharing it all with friends and readers. Mary Jo's top travel destinations are Italy, Portugal, and the Caribbean.