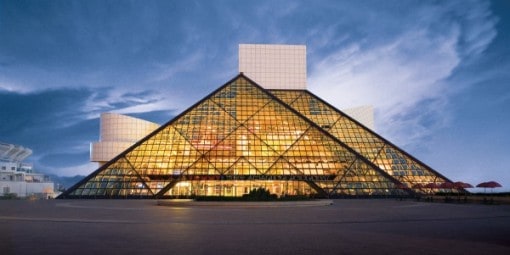 The lyrics in a song by Huey Lewis and The News declares the heart of Rock and Roll is still beating.  Throughout the song numerous cities within the United States are listed as rock towns, Cleveland however is not one of them.  While Cleveland might not have made Mr. Lewis' list of legendary rock hubs , I am here to tell you that the legends of Rock and Roll live on at the Hall of Fame Museum housed within this Ohio town.
Celebrating the spirit and passion of the music many of us grew up with, the Rock and Roll Hall of Fame Museum displays exhibits and artifacts of our rock idols.  Musical instruments, album covers, clothing, concert song lists, even scraps of paper used to jot down lyrics are encased in a true walk down memory lane.  As I stood in front of each performer's exhibit, I found myself singing  their songs in my head, songs I hadn't heard in years, but the tunes were still crystal clear in my mind.  Looking around, I saw that I was not the only one and I watch many people standing, heads bopping to the boom-box beating in their head.
Usually when I visit a museum, I start at the top and work my way down.  Not so at the Rock and Roll, a visit should start at the lowest level where the true history of this music genre begins.  Starting with the music that formed the roots of rock and roll, a wall depicts the of legends of blues, gospel, rhythm and blues, bluegrass and country.  Interactive listening displays here highlight rock legends like Bob Dylan, James Taylor and the Beatles. Other interactive displays are scattered throughout the museum sharing One-Hit-Wonders and other songs that influenced Rock.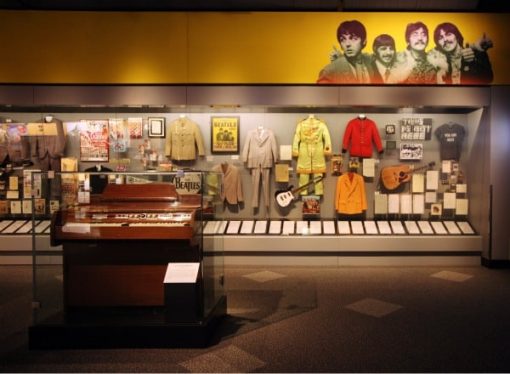 One of my favorite displays featured a video screen depicting Elvis preparing and performing at a concert.  The screen was poised above one of the thirteen Cadillac autos that he purchased in one day at a Memphis dealership.  Just when you think you've heard it all, one fact I did not know about Elvis was that he loved football, but his mother did not allowed him to play.  To compensate, he formed his own Graceland team, proving once again it is great to be The King.
Weaving my way around the cases, I felt as if I was receiving a musical geography lesson of iconic rock towns and the musicians they produced.  From Memphis – Johnny Cash and Jerry Lee Lewis, to Detroit – Diana Ross and The Jackson Five, to London – the Hollies and The Beatles, to San Francisco and its deep alternative roots.  Standing looking at Jim Morrison's baptismal record and his Cub Scout uniform, I was struck that these icons were truly human. And somewhere between a piece of Otis Redding's ill fated plane and the flamboyant costumes of the Rolling Stones and Jimi Hendrix, I literally got lost among the many displays.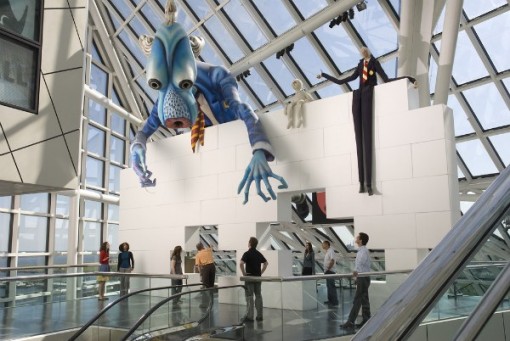 As you ascend each level the music seems to swell inside you until you reach the multi-media Hall of Fame Inductees exhibit where interviews and musical performances by the current year's inductees are shown.  It is at this point that I couldn't restrain myself any longer and the songs were no longer in my head.  I found myself singing along just like when I was a teenager holding a hairbrush microphone in my bedroom so many years ago.  Fortunately the music was loud enough to drown out my slightly off key karaoke version.
On the day of my visit I was accompanied by my two daughters.  While some people had advised against it stating that they might be bored, we are a music loving family that enjoys listening to a variety of musical styles.  With enough visual items to keep the youngest's attention, I enjoyed watching how my older daughter was embracing many of the songs and bands that I loved in High School.  When I shared that Fleetwood Mac was the very first rock concert I attended and pointed out an outfit that Stevie Nicks wore, they were amazed – amazed at the costume and amazed that I could remember back that far!
I was especially glad that they were with me to see the new temporary exhibit Women Who Rock: Vision, Passion, Power.   Illustrating the important roles that women have played in Rock and Roll, the exhibit is held on two levels of the museum.  As you climb the stairs to the second level, the walls are lined with a time line pointing out not only historical events, but release dates of songs by female performers.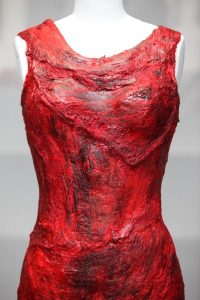 The exhibit acknowledged women who were pioneers in the industry, girl bands of the 60s, the Disco Diva's, Punk Rockers and even the performers that stirred up a bit of controversy. Costumes on display revealed the personalities and extremes of these female stars from the fluffy and feminine gown of Loretta Lynn to Madonna's Blonde Ambition Tour bustier to my daughters favorite, a replica of Lady Gaga's Grammy Awards meat dress and shoes.
With seven floors to explore, I suggest a minimum of five hours to explore the Hall of Fame.  Allow more time to experience the videos and documentaries shown in the theaters including the very popular U2 3D film.
The Rock and Roll Hall of Fame is located at 1100 Hall of Fame Boulevard, Cleveland.  It is open daily from 10 am-5:30 p.m. On Wednesday until 9 pm.  Note:  Evening hours are also available on Saturdays  between Memorial Day and Labor Day.  Admission is $22 for adults, with discounts offered for Cleveland area residents, seniors, military, and kids.
Note:  The author received complimentary admission for the purpose of a review.  
Photo Credits:  Courtesy of Rock and Roll Hall of Fame Museum

Having been transplanted numerous times, I have learned to explore the sites around our new found hometown, uncovering hidden gems and attractions. When vacation time rolls around, I enjoy traveling with my family and the occasional weekend escape with my husband, coming home to share our travel experiences with others. You can follow me on Twitter @JAIngersoll. My top three destinations are Walt Disney World Resort, the Midwest and any beach I can walk along.