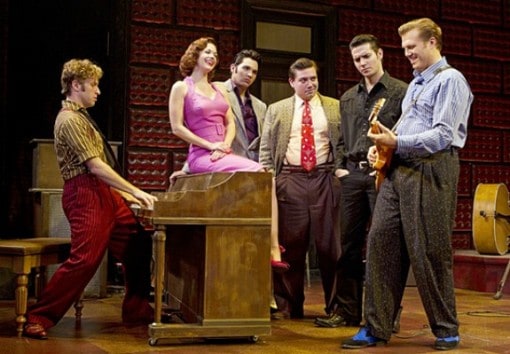 Ah, the office Christmas party – an annual ritual we all must endure. A time to celebrate past achievements, let bygones be bygones, forgive those who stole our ideas without credit, wish success to those who are heading in a different direction and welcome in new members of the team.  Such was the case one December night in 1956.  It wasn't an actual party, though, but a chance encounter that would bring together the talent of four of the most influential legends of Rock 'n Roll.
The scene was a small nondescript recording studio in Memphis, Tennessee that was managed by Sun Records owner, Sam Phillips.  The participants in the encounter were none other than Elvis Presley, Johnny Cash, Carl Perkins and a newly discovered, Jerry Lee Lewis.  Brought to the studio that had launched their careers for different reasons, once there, the quartet formed an impromptu jam session that warranted the comment if a recording was released it would sell a million copies.  The group was quickly dubbed "The Million Dollar Quartet".
A Broadway musical based on this famous night is currently touring the United States through Broadway Across America.  I saw it during a recent stop of in Indianapolis, and I had the thrill of being swept back in time, listening, swaying, tapping my toes and mouthing every word to songs that I have heard, dare I say, a million times before.  Glancing around the theater, I was happy to see that I was not the only Baby Boomer in the crowd.  And we all were having the same reaction.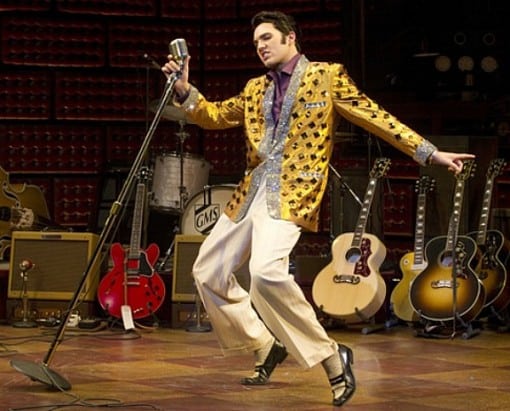 The 90-minute, intermission free performance feels more like a concert than a theatrical production, with song after song shared with only a small bit of dialogue to explain the background and dynamics of this gathering. For instance, the underlying tension between Carl Perkins and Elvis Presley is revealed by explaining that Elvis, having recently appeared on the Ed Sullivan Show, sang Carl's song, "Blue Suede Shoes".  Much to Perkins dismay, the Presley version became more popular.
Another peek into music history comes through background conversation that explains that Phillips, who was broke, sold Presley's contract to another recording company.  While critics describe this as the biggest mistake of his career, Phillips laughs this away by saying that the cash from the sale allowed him to keep Sun Records open, to discover additional talent, and to invest in a start up  hospitality company, Holiday Inn.  Famous for producing the talents of the famous quartet, Phillips is also accredited with discovering Roy Orbison, Ike Turner, Charlie Rich and B.B. King.  I guess he didn't do too bad after all.
Much to his credit, and ultimately leading to his induction into the Rock and Roll Hall of Fame, Phillips encouraged and nurtured his undiscovered talents to develop their own sound, rather that become a cookie cutter of the currently popular trend.  In a bit of foreshadowing, a young female companion of Presley's, brought along for the occasion, pulls Phillips aside and asks him to consider re-signing a contract with Elvis.  She explains that he is being torn in so many directions by people who may not have his best interests at heart.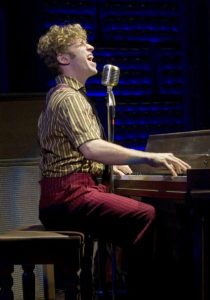 The theatrical production is like listening to the artist who made each of the songs famous, and each song performed in Quartet is a spot on cover.  The music is all performed live, even the instrumentation, with no recordings. With hits like Folsom Prison Blues, Who Do You Love?, Hound Dog, and Great Balls of Fire, it's easy to close your eye and get swept back in time.  But be sure to open them occasionally and I think you'll find that the performers have an uncanny resemblance and mannerisms of the stars they portray.
While December 4, 1956 was the one and only night this talented group of four would ever perform together, you can experience the magic of this night of Rock 'n Roll history when Million Dollar Quartet comes to a theater near you.
Photo credit:  Courtesy of Broadway Across America, used with permission.
While the author was given complimentary tickets for the purpose of a review, the opinions expressed are strictly her own.
Having been transplanted numerous times, I have learned to explore the sites around our new found hometown, uncovering hidden gems and attractions. When vacation time rolls around, I enjoy traveling with my family and the occasional weekend escape with my husband, coming home to share our travel experiences with others. You can follow me on Twitter @JAIngersoll. My top three destinations are Walt Disney World Resort, the Midwest and any beach I can walk along.