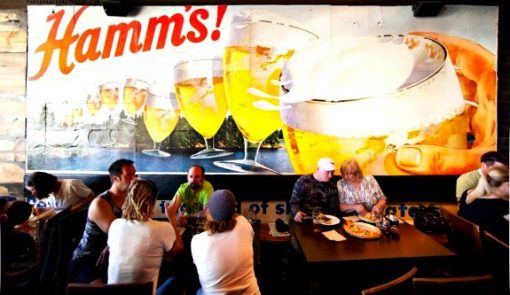 With a casual, relaxed atmosphere, and locals who take good beer seriously without taking themselves too seriously, San Diego is a welcomed escape for a libation vacation.  Industry innovators like Karl Strauss and Stone Brewing make their homes in San Diego, and the region boasts an enviable number of award-winning breweries and a wide variety of pubs and restaurants catering to those who enjoy unique, locally crafted beers.
The following are some of the outstanding places for visitors to discover for themselves why beer lovers are flocking to the region's burgeoning craft brew scene.
Brewery Tasting Rooms
Many San Diego breweries offer tasting rooms and tours that allow visitors to meet the brewers and sample their wares.   The following are a few of the many options:
The award-winning AleSmith Brewing Company in Miramar is an artisan microbrewery specializing in handcrafted brews.  Visitors can find fresh flavors inspired by Great Britain's and Belgium's high alcohol content and strongly hopped beers; AleSmith tours are available Fridays and Saturdays.
Alpine Beer Company, located in the East County community of Alpine, offers a tasting room with six to eight of their signature beers like Pure Hoppiness, a San Diego style IPA, and Captain Stout, a chocolate oatmeal dry stout, on tap.  The tasting room is open from noon to 6 p.m. Tuesday through Saturday.
Ballast Point Brewing Company offers tours and tastings at both their main brewery in Scripps Ranch and home brew store/brewery in Linda Vista.  Guests can tour behind the barrels for tastings of specialty citrus hops, scotch ales and German Klosch-style beer, and purchase a selection of "do-it-yourself" beer making supplies ranging from starter kits to advanced brewing systems.  In Scripps Ranch, public tours are offered at noon, 2 p.m. and 5 p.m. Monday-Saturday and the tasting room is open 11 a.m. to 9 p.m. Monday-Saturday and 11 a.m. to 5 p.m. Sunday.
Guests can find great ales brewed with recipes from the pre-Prohibition era at the Firehouse Brewing Company in Miramar.  A behind-the-scenes tour takes visitors inside the custom-made brew house where the brewery's American Pale Ale and Hefeweizen are created.
Green Flash Brewing Company in Mira Mesa showcases the use of fine, all natural ingredients in their award-winning beers that are brewed in small batches to insure each glass is of the freshest and purest quality.  The brewery is features an on-site tasting room and offers tours on the weekends.
Lightning Brewery in Poway offers fine, hand-crafted European style beers with a distinctively crisp, clean aroma, pronounced maltiness and prolonged, slightly bitter finish known as the "Lightning Finish." Lighting Brewery uses the labor intensive "step mashing" brewing process that furthers flavors and enhances the body of beer by releasing starches.  Guest tours are available Fridays and Saturdays.
Oceanside's first brewery, Oceanside Ale Works, produces an award-winning combination of ales inspired by European brewing traditions and innovative flavors inspired by West Coast brewers. One of the few manual brew houses in the United States, Oceanside Ale Works produces ales true to its Southern California setting like Surfer Stout and Buccaneer Blonde. Guests can sample brews on location daily.
Located in San Marcos, Port Brewing is the home of The Lost Abbey, a niche label focused on brewing beers that follow the monastic and artistic Belgian brewing traditions. Brewed in very small batches, these exquisite beers have won awards – and fans – the world over.
Brew Pubs
In addition to creating outstanding craft beer on-site, the following breweries boast great restaurants where beer tourists can fuel up for further exploration.
Beer-Centric Bars and Restaurants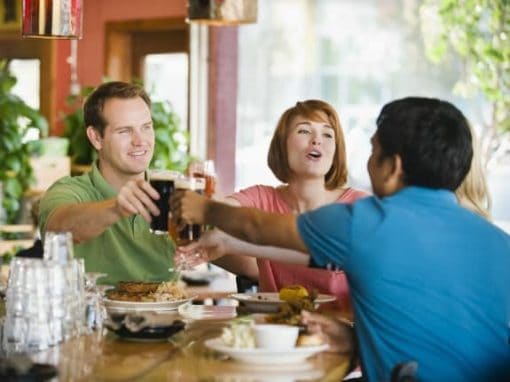 San Diego also offers a diverse range of bars and restaurants that truly specialize in rare beers from local brewers and others from around the globe.
At Blind Lady Ale House (top photo), located in Normal Heights near Balboa Park, 20 taps pour local, regional and hard-to-find Belgian brews from a carefully curated list. Future plans include brewing on-site, but in the interim Chase is brewing Blind Lady Ales at the nearby Mission Brewery facility.  The restaurant also specializes in hand-crafted Neapolitan-style pizzas with fresh mozzarella, house-made sausages, local produce and sustainable meats.
The Yard House in downtown San Diego's historic Gaslamp Quarter is an upscale, casual eatery known for its extensive menu and self-proclaimed "world's largest selection of draft beer." Guests can find a wide range of brews including classic lagers and obscure ales and stouts served in authentic goblets, pints and half-yard glasses.  The Yard House features a transparent keg room containing more than 600 barrels and a fleet of over 130 tap handles.
The laid-back Downtown Johnny Brown's, located in downtown San Diego, has an excellent selection of hard-to-find, specialty local brews from Green Flash, Stone Brewing, AleSmith and Ballast Point. Other selections are also available from top-notch craft brewers from around the country.
Located in downtown San Diego's East Village, Neighborhood offers more than 27 local craft brews on tap and a creative, upscale take on classic American dishes like burgers.  Tasting flights of San Diego beers and international selections are also available.
Toronado San Diego, located in North Park, is a sibling of San Francisco's famous beer outpost. The focus is on craft beer with 50 beers on tap featuring the best from local, domestic and international breweries. Bottled offerings number more than 230 and focus on Belgian, French, German and English brews.
With more than 75 years of service, Hamilton's Tavern in South Park is the oldest beer and wine licensed establishment in San Diego. It offers high quality ales and craft beers from around the world and boasts one of the most diverse bottle selections in San Diego.
The Linkery (photo above) in North Park offers gourmet local food that earned it national recognition as one of the "Best Farm-to-Table Restaurants in America." Guests can find an extensive list of beer made by true artisans, many of them local and regional; rare cask ales are always on tap.
Ritual Tavern in North Park, a dark cozy pub with a modern medieval atmosphere, serves eight local beers on tap and boasts an extensive list of bottled beer that leans heavily toward European imports, with Belgium and Germany well represented.  Its menu favors sustainably and humanely raised meats and locally sourced produce with a nod to classic pub fare.
The 25 taps and extensive bottle list at O'Brien's American Pub in Kearny Mesa features rare brews and local San Diego drafts.  Guests can find an extensive selection of the pub's specialty, hoppy beers, including Alpine Beer Company's Pure Hoppiness, AleSmith's Speedway Stout and Ballast Point's Even Keel, along with a tasty tavern menu.
Pub Crawls: On Foot and by Rail
Sampling San Diego's beer culture can be done on foot by visiting the brewpubs, restaurants and bars in downtown San Diego and the North Park and Normal Heights neighborhoods.
In downtown San Diego there are several options for beer lovers to map out their perfect pub crawl.  Breweries within easy walking distance include Karl Strauss' downtown location and Rock Bottom Brewery in the Gaslamp Quarter. Local beers can also be sampled at downtown pubs and restaurants like Downtown Johnny Brown's, The Yard House and Neighborhood.
The North Park neighborhood is bisected by 30th Street which locals like to call "the best street in the world for craft beer."  More than a dozen restaurants and bars located along 30th Street proudly serve local craft brews including beer-havens like Hamilton's Tavern, Toronado San Diego, The Linkery and Ritual Tavern. Just a short walk east on Adam's Avenue in neighboring Normal Heights, Blind Lady Ale House serves a top-notch selection including their own craft beers.
The San Diego Trolley and Coaster commuter train also enable visitors to ride the rails to their next great pint.
The San Diego Brewer's Guild offers itineraries with detailed directions by rail for visiting local breweries and brew pubs. A Central San Diego route stops at Ballast Point, Gordon Biersch, Oggi's and San Diego Brewing Company; a North County tour begins at Ballast Point and visits both Pizza Port locations in Solana Beach and Carlsbad.
Guided Brewery Tours
For those who want to experience San Diego's beer culture, meet the brewers and leave the driving to someone else, guided brewery tours are an excellent option.
Brew Hop offers custom-designed private brewery tours of San Diego. Visitors can relax in luxury as they are chauffeured to their choice of local breweries.  The 5-hour "Beer Connoisseur" tour includes samples, behind-the-scenes tours at four breweries and a meal.  The 2.5-hour "Beer Tasters" tour stops at two or three breweries and includes samples and tours.
Brewery Tours of San Diego offers regularly scheduled tours on Fridays, Saturdays and Sundays.  Each tour visits three breweries and includes transportation, tastings and lunch.
Photo credit:  via TravMedia
Mary Jo Manzanares is a founder and the editor-in-chief of The Traveler's Way, an online travel magazine proving informational and inspirational travel recommendations for curious Baby Boomer travelers. She has been a speaker at various industry events and has a personal travel blog at Traveling with MJ. When she's not traveling, Mary Jo likes lingering over a cup of coffee, wandering in a museum, sipping wine at a cafe, and sharing it all with friends and readers. Mary Jo's top travel destinations are Italy, Portugal, and the Caribbean.