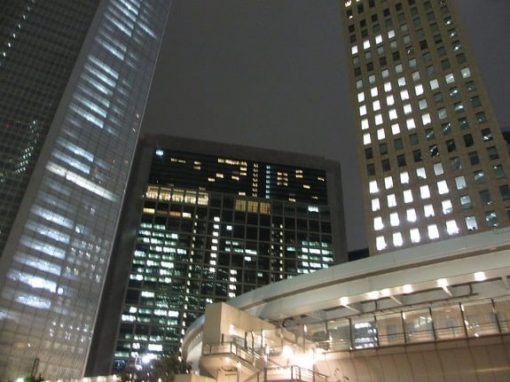 In a city as large and diverse as Tokyo, I knew I'd be overwhelmed without a city tour to help me get my bearings.  I needed to get to know the layout of the city and I needed more than the maps could provide me.  I had a long list of sights to see in Tokyo and I needed help narrowing down the list to a manageable number to see in a few short days.  Let's face it – Tokyo is a city of over 12 million people spread over 23 wards and I needed major help figuring it all out.
I chose to get to know the city with a Tokyo city tour from Viator:  the Panoramic Tokyo Day Tour, an all day tour that combined several of the major attractions, some time for personal exploration, and some relaxing time on a boat ride.  This is a primarily a bus tour with stops at a few sites, so if that's an off-putting idea, then this may not be for you.  I'm an independent traveler.  I like wandering on my own, seeing what I want to see when I want to see it.  But I'm also a realistic traveler.  And I knew there was no way could navigate Tokyo in the time I had without assistance.  The bus tour would get me to the places that I wanted to see in a timely fashion and then I could decide if I wanted to go back and spend more time. It was a busy, jam-packed day, but it presented huge value and time savings.
I put my trusty pocket wifi device in my purse, so I could tweet and upload photos about the wonderful places I was seeing, and set off to see Tokyo with our guide Nobu.  Nobu-san was welcoming and gracious and obvious proud of her city and the history and culture of Japan.  No endless prattle or inane puns on this tour, Nobu provided interesting commentary and answered questions in an engaging way.  She even gave us a little lesson in recognizing some of the Japanese characters.  Simply put, she was lovely.
Here are some of my favorite stops on the tour, ones that I think are worthy of a return.
Meiji Shinto Shrine

The Meiji Shinto Shrine is dedicated to Emperor Meiji and his wife, the Empress Shoken.  The complex is a large one, covering about 175 acres of land, but our visit was to the Naien, or inner precinct.  Walking past a free standing, wall-sized display of sake barrels, we arrived at the inner shrine buildings where we learned about the significance of some of the rituals like the cleansing of hands, posting prayer requests, and praying.  For me, though, the highlight involved a bit of serendipity – a wedding procession was in progress when we arrived and we got to share in the joyous occasion right along with the bride and groom.
Tip:  Write a prayer request on one of the small pieces of wood (provided) and hang in on a peg on the large prayer board.  There is a box for a small donation.  Taking a few moments to walk around and look at the prayer boards showed lots of different languages.
Asakusa Temple

My favorite stop was Senso-ji, better known as the Asakusa Kannon Temple, and the adjacent Nakamise shopping  street.
This Buddhist Temple, the oldest in Tokyo, welcomes guests with red and black paper lanterns that are said to be suggestive of thunderclouds and lightning.  I'm not sure if I caught that same symbolism, but they are eye catching.  Visitors are allowed inside the temple in the public area, with a separate area set aside for worship if you are Buddhist.  A large incense pit sits in front of the worship area and visitors wave the incense smoke over their heads asking for wisdom, over parts of their body asking for healing, and over their hearts asking for love.  There is a smaller incense pit outside the temple as well.
Nakamise-dori is the street leading to the temple.  It's lined with small shops and eateries and I knew immediately that I would go back to the area later.  And I did.  The stalls along the street provide food and good, and while you'll find the typical souvenir and tourist shops, if you look a little closer you'll also see shops offering traditional noodles, snacks, pastries, and more.  Most shops have a sample tray out front, so don't be afraid to try something new.
Tip:  Try the street food.  I loved the age-manju, a fried dough treat with various fillings served warm. The sweet potato (a basic dough with a soft, sweet filling) and sesame (with black sesame seeds in the dough) were my favorites.  They cost about about a dollar and were worth every delicious bite.
Imperial Palace
The Tokyo Imperial Palace is the primary residence of the Emperor and Empress of Japan.  It's a large complex built on the site of the old Edo castle and contains several buildings and private residences of the imperial family.  The Museum of Imperial Collections and the East Grounds are available on tour, but most of the Palace buildings and grounds are private.
Tip:  The Palace grounds are opened to the public on January 2nd for the New Year's Greeting and on December 23rd for the Emperor's birthday.  Thousands of people line up at the main gate to enter the grounds and to get a glimpse of the Emperor, Empress, and other members of the imperial family.
Odaiba
After a cruise on Tokyo Bay we headed to Aqua City on Odaiba.  This man-made island is reached by going across the Rainbow Bridge, a symbolic transition from historic Tokyo to the modern.  With beaches, amusement parks, restaurants, shopping, the Fuji television studios, and a replica of the Statue of Liberty, Odaiba is HUGE, and is almost too much to take in.  It's impossible to cover the entire island, with its vast entertainment complexes, in a day.  If this is your cup of tea, plan for repeat visits.
Tip:  Odaiba is the last stop on the tour and I recommend that you extend your time here rather than returning to your hotel on the organize tour.  Just let your tour guide now and it's all good.  Try to make it to the top of the Fuji building to watch the sunset and enjoy the night views of the Rainbow Bridge and the city.  Do a little shopping and pick up souvenirs to take home with you.  Have dinner, drinks, and enjoy Odaiba's nightlife.
Tour Information
The Panoramic Tokyo Day tour is a full day event lasting approximately eight and a half hours.  The tour provides for a pick up and return to many of the area's hotels, a professional tour guide, bus transportation, admission, the Tokyo Bay cruise, and local taxes.  It also includes lunch.
The tour was not crowded and that made for a very pleasant experience.  It was a nice small group feel rather than feeling like a herd of sheep being led about.  There were infants and toddlers on the tour and parents struggled to keep them entertained and quiet.  I think the tour is fine for older kids, but all day sightseeing was a bit too much for the small fry and at most stops a parent remained behind on the bus with a sleeping child.
The city tour will whet your appetite to see more of the city, so use it as a research tool to select the neighborhoods you'd like to go back to.  These were a few of the places I thought were deserving of a second look.
Tour price starts at $124.32 and is available most days of the week during the peak travel season and on weekends year round.
Photo credits:  All from the author's personal collection
Disclosure:  My trip to Tokyo was sponsored in part by All Nippon Airways' iAmbassador program. Viator provided this complimentary tour.  Global Advanced Communications provided a complimentary pocket wifi and data coverage, my lifeline to the world while in Japan.
Mary Jo Manzanares is a founder and the editor-in-chief of The Traveler's Way, an online travel magazine proving informational and inspirational travel recommendations for curious Baby Boomer travelers. She has been a speaker at various industry events and has a personal travel blog at Traveling with MJ. When she's not traveling, Mary Jo likes lingering over a cup of coffee, wandering in a museum, sipping wine at a cafe, and sharing it all with friends and readers. Mary Jo's top travel destinations are Italy, Portugal, and the Caribbean.