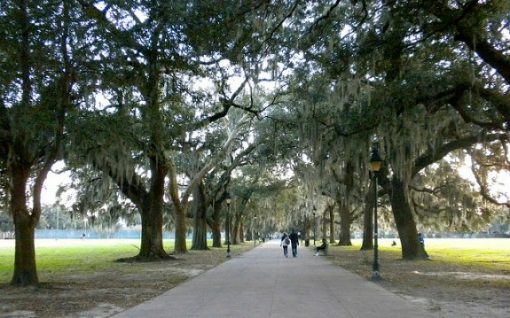 Having been first a Brownie and then a Girl Scout, I was familiar with the name Juliette Gordon Low.  She is, after all, the founder of Girl Scouts of the USA.  Yet, I really knew nothing about the creative woman or her dynamic family history.  That is until a recent trip to Savannah, Georgia, the birthplace of not only Juliette, but of girl scouting.
Walking the streets of Savannah, the beauty of the Civil War era homes is overwhelming.  The massive structures with their ornate ironwork railings face plazas set in the middle of a block of homes.  Designed to serve as a barricade and protection from enemies, these plazas, or squares as they are called, are now peaceful gardens dotted with  Live Oak trees adorned by dangling  Spanish Moss.  They often feature fountains and statues commemorating Savannah's past and local heroes.
Several noteworthy homes are open for public tours, including that of Mrs. Low.  Arriving at the home in time for the next scheduled tour, I sheepishly looked to my husband fearing the tour might not be his cup of tea, promising the next item on our agenda could be his choice.   Almost instantly, as the tales of this remarkable woman's past are told, we both were enthralled and hung on our young guide's every word.
Juliette, or " Daisy" as she was fondly known, was the second of six children.  She was very well educated, a skillful artist and quite determined.  Evidence of her artwork is visible throughout the house in paintings and sculptures, even several decorative wrought-iron gates were designed and forged by Daisy after she took up the hobby of blacksmithing.  One piece was created for the family home, the second displays the Girl Scout Crest.
Far from the appearance of this grand house, the Gordons were actually considered a middle class family, albeit widely influential in business, politics and society.  The original home was a two story dwelling, one story of living space set atop a raised basement.  It was during renovations in the 1880's that brought the now four-story home to its grand appearance of today.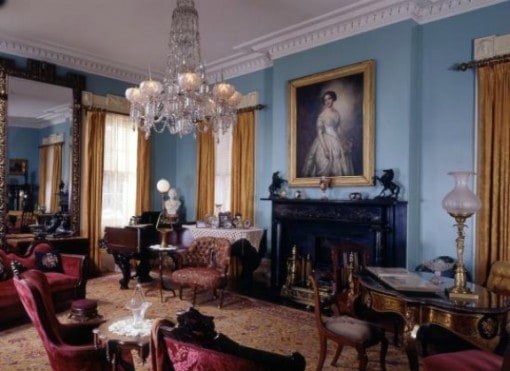 The Gordon's entertained often, and over the years many prominent guests visited their home. I particularly liked the anecdotes of the visits of President William Howard Taft, a fellow Yale grad and college chum of Daisy's father.  Known for his grand physical size,  Mrs.  Gordon was afraid that their dated furniture might not hold up under the weight of President Taft.  Though relatively unheard of during that day, she purchased a dining table and chairs to be delivered by the Sears & Roebuck Company.  Just to be certain.
Another guest, and a controversial one, was a family friend of Mrs. Gordon, Union officer, General William T. Sherman.  He visited during the height of the civil war, after being given orders by President Lincoln to divide the Confederate states and set up a blockade.  His capture of Atlanta and march onward through Georgia, is an integral part of southern history.  Falling in love with the city of Savannah and its people, Sherman left the town intact.  Upon their surrender, he presented Savannah as a Christmas gift to President Lincoln.  This gesture preserved  the pre-civil war beauty and charm displayed in the architecture of Savannah.
The home remained in the Gordon family until 1953, when fear of demolition prompted the Girl Scouts of the USA to purchase the home as national program facility for girl scouts and a historic home museum open to the public.  The history of the house is quite significant and was the first dwelling in Savannah to earn the historic landmark status.
Daisy Gordon married Englishman and fellow Savannah resident William Low and divided much of her time between living in England and the United States.  The home of her wealthy father-in-law, Andrew Low, is another of the Savannah homes open for public tour.  Touring this grand home, the modesty of the Gordon home becomes much more evident.
While living in England, Juliette met Robert Baden-Powell, the founder of Boy Scouting.  Upon his insistence, Juliette returned to Savannah to begin an organization for young women.  The first official meeting of the girl scouts was held in Savannah on March 12, 1912.
The first mention of girl scouts selling cookies began in 1917 when a troop in Oklahoma sold homemade cookies in their school cafeteria as a fund raising effort.  During the 1920's and 30's troops  used the same sugar cookie recipe across the US to make and sell door to door to fund their individual troop activities. Now selling Girl Scout cookies with my own daughter, I am grateful for this incredible woman and her dedication to forming this organization over 100 years ago.
And, like General Sherman, I fell in love with the beauty of Savannah during my visit and long to return.
Location:  Juliette Gordon Low Birthplace, 10 E. Oglethorpe Ave, Savannah, Georgia
Hours:  Open 10 am – 4 pm, Monday-Saturday; 11 am – 4 pm on Sunday during March through October; November through February open every day but Wednesday.  Check the website for closures.
Photo credits:  Juliette Gordon Low Birthplace (interior), flickr: Jennifer Morrow
Note:  The author was the guest of Visit Savannah and was granted complimentary admission to the home for the purpose of a review; the opinions expressed herein are strictly those of the author.
Having been transplanted numerous times, I have learned to explore the sites around our new found hometown, uncovering hidden gems and attractions. When vacation time rolls around, I enjoy traveling with my family and the occasional weekend escape with my husband, coming home to share our travel experiences with others. You can follow me on Twitter @JAIngersoll. My top three destinations are Walt Disney World Resort, the Midwest and any beach I can walk along.