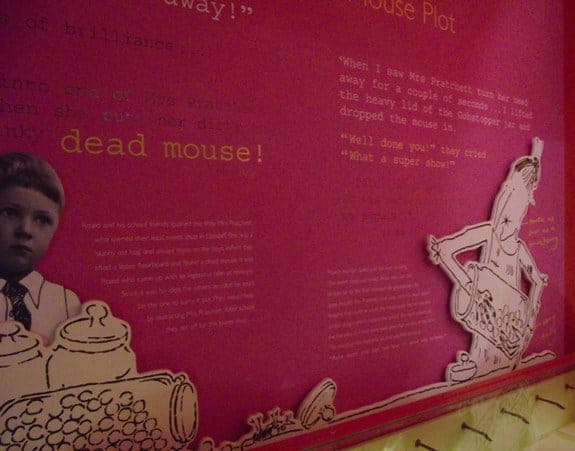 The towns and villages of the Chiltern Hills make for a great day trip from London, offering a perfect slice of English life, with rolling green countryside, picture-book cottages and quiet country churches. But in one of the villages, Great Missenden, there is an altogether more quirky attraction: The Roald Dahl Museum.
The museum was opened in 2005 to celebrate the life and work of Britain's most beloved children's author in the village where he spent the final years of his life. Housed in an old coach inn and painted a suitably whimsical shade of eggshell blue, the museum is a treasure trove of all things Roald Dahl. In fact, it is almost like stepping inside one of his stories. It's designed with children in mind and particularly aimed at 6-12 year olds, so it's a great place for a family day out.
There is a series of exhibition rooms to explore, the first of which focuses on Dahl's childhood. As in the rest of the museum, Quentin Blake's delightful illustrations feature prominently around the walls, while examples of Dahl's early writing, including correspondence with his mother from his boarding school days, is pored over eagerly by children and parents alike.
The next room takes us to Dahl's adult life. The first thing to encounter is the discomfort of his days spent in North Africa as an RAF officer during World War II, brought to life with sounds of bombing and low-flying aircraft. Then there is the more pleasurable environment of his writing den , recreated in real size with some of his original 'curiosities', including seashells and rocks. But the most interesting thing has to be his ideas book, a notebook kept behind glass, in which Dahl jotted random story ideas that came to him. On one page, among a scattered, messy collection of notes, 'BFG' has been circled. I couldn't help but feel a tingle of excitement to see the very first seed of one of my all-time favorite stories.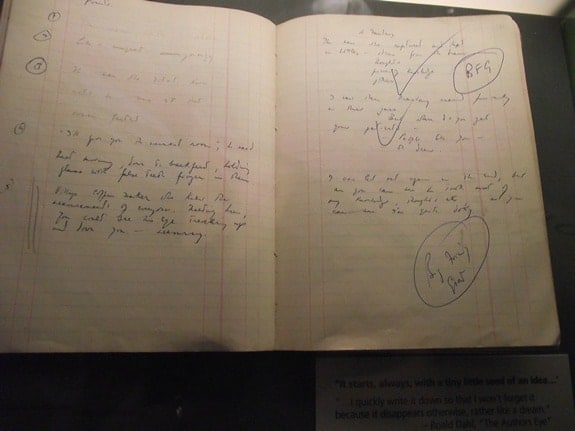 Finally, the museum opens up into a large space full of brilliantly 'hands-on' activities for kids. It's bright, lively and very enticing for little ones – and even bigger ones! Whether it's magnetic poetry, creating mini films or dressing up as a favorite character that grabs their attention first, there is plenty here to spark children's imaginations and to engage them. They can even sit in a replica or Roald Dahl's green armchair, in which he did much of his writing to see if it gets their own creative juices flowing.
Café Twit
After all of that excitement, refreshments are in order. The onsite Café Twit ensures a continuation of the Roald Dahl magic. The menu bursts with Fizzlecrumplers (lemonade and ice cream) Grabbles and Skiddles (desserts) and, of course, Bruce Bogtrotter's epic chocolate cake. Light lunches, in the form of toasted sandwiches and jacket potatoes, are also on offer and it is all very reasonably priced – ranging between $3 and $6.
When to visit
The museum is open all year round, from 10 am to 5 pm on weekdays and 11 am-5 pm on weekends. It is closed on Mondays, apart from bank holiday Mondays. The best time to go is in the Spring and Summer, in order to take full advantage of the outdoor courtyard, complete with Enormous Crocodile table, and the village trail, which takes you around the places Roald Dahl used to walk and where some of his stories are set. Maps for the trail are available from the museum. However, if possible, it is best to avoid bank holiday weekends because every family with children of a certain age living within a 50-mile radius seems to descend on the place.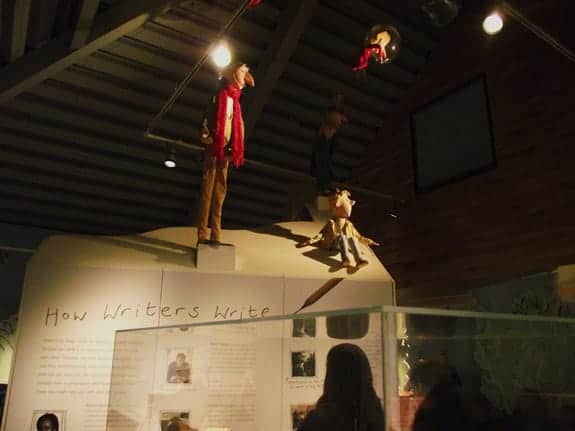 Admission prices
Tickets to the museum cost $9 for adults and $7 for children, or $30 for a family ticket, which covers two adults and up to 3 children. Tickets are valid all day, and visitors are provided with wristbands, enabling you to leave the museum and return as many times as you like, though you can see and do most of the things in the museum in under two hours. This makes it an ideal half-day excursion from London, or you could combine a visit here with further exploration of the Chilterns.
How to get there
It's just a 40 minute journey from central London to Great Missenden, with trains departing from London's Marylebone station every half an hour. Round trip tickets cost from $20 per person, and it makes for a pleasant day trip.
Photo Credit: All photos are the author's own.
Katy is a writer with wanderlust. Originally from the UK, she has lived in France, danced in Argentina and stargazed in Chile. She writes for numerous travel sites and you can always find her at www.starryeyedtravels.com.