Kerala, also known as God's own country, is one of the most beautiful places in India. You will need a minimum of 10 to 15 days to visit all the places in Kerala. Here is a suggested itinerary for covering all the best places in Kerala, along with recommended spots and special experiences that Kerala has to offer.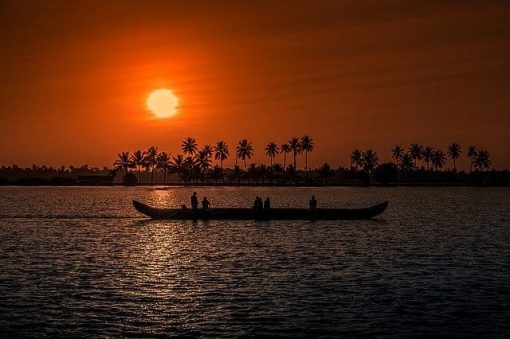 If you are flying in Kochi or Trivandrum are the nearest airports. From there you can hire a taxi, or take a bus or train to reach all the places.
The best time to plan your trip to Kerala would be from October to February when the weather is pleasant and cool.
Places to visit in Kerala
Kochi
The most famous place to visit in Kochi is the Fort Cochin where you can check out the interesting Chinese Fishing nets which have huge spider-like structures and require a minimum of four people to operate.
You can visit the Jew Town and the Dutch Palace which is now a museum. To enjoy the culture of Kerala, watch a Kathakali Dance at Kerala Kathakali Center.
The Best day trips from Kochi would be the famous Athirapally Falls and Cherai Beach. Athirapally is around 45 miles from Kochi. Cherai Beach is reached by taking a short ferry from Fort Kochi to Vypeen island.
Kerala is the home of Ayurveda, you can try an Ayurvedic massage at a spa and relax your soul. You can take cooking classes and also you can watch the oldest martial arts show called Kalarippayattu.
Kovalam and Trivandrum
Take a train, bus, or flight from Kochi to reach Trivandrum.
The Padmanabhaswamy temple is one of the richest temples in the world. It is said that below the temple a huge snake is guiding the door to help.
Additional recommendations include visiting Sankhamukham beach, spending some time in the Botanical Gardens, and staying in the floating houses at the backwaters of Poovar.
Kovalam is one of the best beaches in Kerala. It located around eight miles from Trivandrum. The beach is very clean and surfing is popular here. Surfboards are available for rent.
Also, climb up to the lighthouse of Kovalam – the view from above is mesmerizing, especially the sunsets. There is a lift inside the lighthouse if you can't climb the stairs.
Alleppey
One of the unique experiences of Kerala is cruising through the backwaters and living on a houseboat. The traditional houseboats are made up of palm leaves and wood and is equipped with all the facilities like a hotel. Spending the night on a houseboat often includes a chef who will make you a traditional Keralite meal with coconut oil. It is a must-try. While cruising through the backwaters you can see the life of a local up close, children going to school and farmers working in their paddy farms.
Additionally, you can visit the Alappuzha beach and lighthouse. If you are traveling in the month of September you can also witness the Snake boat race.
These backwaters stretch to nearly 650 miles and are used by locals as their daily communication.
You can go to Alleppey from Kochi by train, it will take approximately one hour.
Varkala
Varkala has beautiful beaches with a hippie vibe. The beach is very clean and the sunrise from above the cliff is mesmerizing. During the night people are not allowed near the beach as the tide rides and water dashes against the cliff.
Other suggestions are to spend time in the street markets, do beach yoga, enjoy drinks and dance in the pubs. It is like a mini Goa party in Kerala. Highly recommended is enjoying a seafood meal with a cold beer.
This is a temple town, so be sure to visit the Janardhana Temple, one of the sacred places of Varkala.
You can reach Varkala from Kochi by taking a direct train. It will take around three to four hours.
Thekaddy
Kochi to Thekaddy takes around five hours by cab.
Periyar Tiger Reserve is the main tourist attraction of Thekaddy. You see tigers on a jungle safari.
The spice plantations and nature walks are also an amazing way to explore the place. You can hire a local guide to accompany you. Another option is boating or river rafting on Periyar Lake. There are also trekking options available in the surrounding areas.
Munnar
You can find many buses that run between Kochi and Munnar. It about a four to five hour trip.
The best thing to do in Munnar is to stay on an estate located in the tea plantations.
You can enjoy the beautiful sunrise from your room itself, then spend the rest of the day with a visit to the tea factory and museum where you can learn about the tea making process. You'll have an opportunity to try various types of tea – you'll want to take some home with you.
Other main attractions include Eravikulam National Park, Mattupetty Dam, Matayoor Dolmens, Pothamedu viewpoints, and Anamudi.
If you are looking for some adventure you can go trekking to Chokramudi, known for its misty clouds and lush greenery.
Wayanad
You can take a direct bus from Kochi to Wayanad. The best experience at Wayanad is to stay in a treehouse at Vythiri. There are options at all price points.
You can also go jungle trekking, a guide is recommended. And don't forget to keep an eye out for leeches.
There are options for jungle camping in Wayanad, too. The major points of attractions are Banasura Dam, Edakkal Caves, Chembra Peak, Soochipara Falls, Kuruva Dweep and Pookode Lake.
Wayanad Wildlife Sanctuary is great for seeing elephants in the wild and they also offer jeep tours.
The tribal life of Wayanad is unique, and a local tour will give you an opportunity to learn more about it. A tour gives you a chance to spend time with members of the tribe and learn more about them personally as well as their daily life. Buying handmade handicrafts from them is a way to support their economy, so plan to make this a shopping stop.
Guest Author Bio: Shalini is a curious girl bitten by wander bug at Eager2Travel. She has been traveling for the last three years with a full-time job. She loves exploring new places, meeting the locals and trying new food. Follow her on her journey of juggling with the dream to travel the world and cubicle life.
The Travelers Way occasionally accepts guest posts from fellow travel bloggers, friends within the travel industry, and as advertorial content.