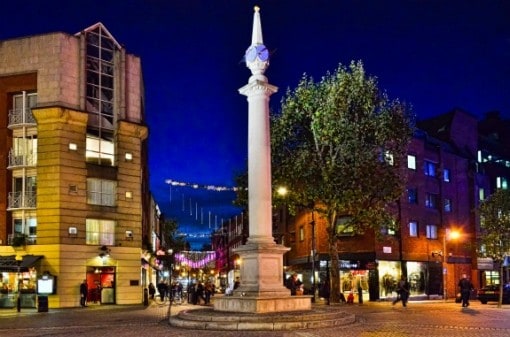 Seven Dials is a mystery.  It's a strange name for a district of London. Even when you think you've solved the puzzle – the name refers to the sundials on the pillar at the junction of seven streets – another mystery raises its head – why Seven Dials when there are only six?  And why this strange junction, where instead of a typical London crossroads seven roads meet at a column.
That second question has logical answer. When Thomas Neale developed the area in the 1690s, he used a star-shaped plan to maximize the number of houses he could build on the site. By creating the strange junctions of roads, it gave him more roads, more frontages and more properties than the square plots of land which were being built upon elsewhere in London.
The column with its sundials was set up as a public utility, in the same way that Victorian and Edwardian buildings hosted clocks on their façades. In the Restoration you could walk from Seven Dials to Westminster and pass 20 sundials on your way – though not all of them kept perfect time, and if it was cloudy – which it usually is in London – they'd be no use at all!.
Neale's idea was to create another fashionable residential area like Covent Garden or St James's. But Seven Dials never really took off and in Charles Dickens's day it was a notorious slum.
That's not the case today. Now Seven Dials houses a quirky mix of businesses, from astrologers to coffee shops, from boutiques to cheese mongers. Monmouth Coffee Company, for instance, sells a remarkable range of fine coffees, and though they don't roast it here any more, the shop is still an olfactory treat. It's an architectural gem too, with its fine shop front – many of the houses in Monmouth Street still date from Neale's original development.
Even the charity shops here are funkier than elsewhere.  Oxfam Originals in Earlham Street offers designer gear and the occasional great vintage piece. There is Beadworks in Tower Street if you want to make your own jewelry – a handful of sparkling murano glass or tiny silver beads can provide inexpensive happiness.
Then there are one-off shops like Mysteries, with its mix of astrology, tarot readings, crystals and books on paganism.  And the Dover Bookshop in Earlham Street, with its cheap paperback books on graphic arts.  And some really good stalls in the street outside selling food and fruit juices.
Probably my favorite place in the whole area though is Neal's Yard.  Named after the original developer of the area, it's a tiny courtyard hemmed in between tall buildings, with its own dairy and salad bar. Neal's Yard Dairy was set up in 1979 and now sells a huge selection of British cheeses.  There's almost always something new to taste, and the wonderful creamy, slightly astringent smell of cheese in the air never fails to prickle my nose whenever I drop in.
Now back to those sundials.
The one you see in the area now is a replacement for the original, and was put up in the 1980s as part of the revitalization of the area.  And as to the mystery of why the area is called Seven Dials when there are only six? In addition to the six dials easily seen, you also have to count the column itself – it serves as the gnomon of a huge sundial made on the ground by the seven streets running into the junction.
Mystery solved.
Where to stay in Seven Dials? That's easy – it would have to be the Radisson Edwardian Mercer Street (a recently-renovated Covent Garden boutique hotel) which overlooks the sundial column.
Photo credit:  Garry Knight via flickr
Author bio:  Andrea Kirkby is a freelance travel writer based in the UK who has travelled extensively in India and counts Bundi, Rajasthan as one of her all-time favorite destinations.

The Travelers Way occasionally accepts guest posts from fellow travel bloggers, friends within the travel industry, and as advertorial content.