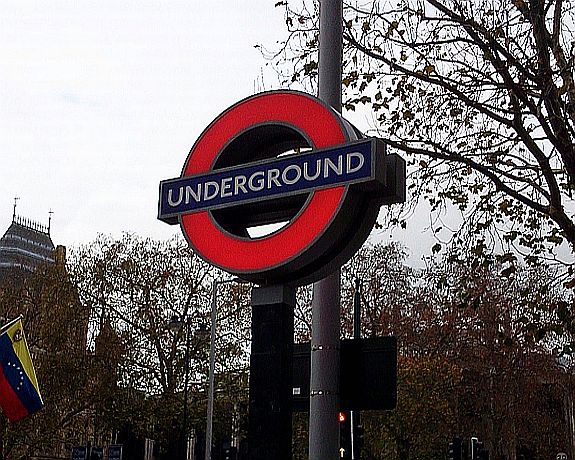 There are so many things to do and see in London, from finding a bargain in Portobello Market to visiting one of the many museums or galleries. However, it is a huge and sprawling city,  famed for its traffic jams and congestion.  With so many transportation options, it can be hard to know which to use. Hopefully this will help you to find your way and to make the most of your time in London.
The London Underground
London's subway system is known as the Underground or the Tube. It's the oldest and one of the most extensive underground railways in the world. The colorful map with its poetic stations is fairly easy to navigate, with usually at least a couple of options to get from point A to point B. It is also a pretty speedy option, with many central trains arriving every two minutes. However, it can get extremely hot and crowded, many stations have step-only access and getting in and out can involve long walks down soulless passages. If you have luggage with you or it's the rush hour, the tube is probably best avoided if possible.
London Buses
The trademark red double-decker buses go all over London, though they are generally a slower option than the tube. The main advantages are that it's cheaper and you get to see the city as you travel, rather than zipping through a dark tunnel. The Transport for London website has a useful journey planner, meaning you can find out the bus numbers and routes you need by typing in your starting point and destination.
One ticket can cover you for both the bus and tube, giving you greater flexibility. If you're just in town for a day or two, then a day Travelcard might be your best bet. If you even make just two tube journeys, a Travelcard is cheaper ($11) than buying two single fares ($6 each). If you're staying for any longer, consider getting an Oyster card. This is a plastic card which you simply top up with money and off you go. It also works out as the cheapest overall option – bus fares, for example cost $2 when using the Oyster, compared to almost $4 if paying for a single ticket in cash. The maximum daily cap for using the tube is the same as when using a Travelcard – $11.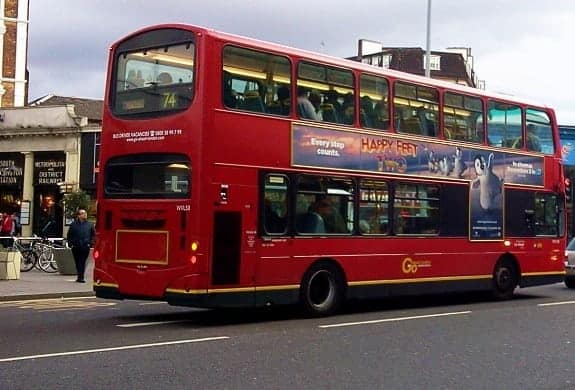 Cycling
The rows of blue bikes outside tube stations and at other points all over the center are a relatively new feature and offer a pay-and-go option, with payment machines to insert your cash, then you take the bike and off you go, dropping it off at any other official bike point. There is a £1 usage charge, then a charge for length of use  – it really only makes economical sense to do short journeys.
I have not tried them out, because, quite frankly, I'm terrified at the thought of cycling on London's roads. You often see cyclists weaving in and out of buses like they have a death wish and I don't know my way around the traffic system well enough to feel confident. More cycle lanes are being introduced, but at the moment I'd really only recommend the bikes if you're confident cycling on busy city streets – and on the left!
Walking
An even cheaper option, of course, is to walk. This is one of my favorite ways to get around parts of London, particularly if I have time to spare. It isn't actually too difficult to navigate your way around some of the central sights and London is blessed with beautiful and plentiful green spaces which make the city a surprisingly lovely place to take a stroll through. In the center, there are frequent signs with clear maps showing the immediate area in relation to where you are and point the way to the nearest landmarks. This makes it easy to find your way without having to walk along with your face pressed into a crumpled map.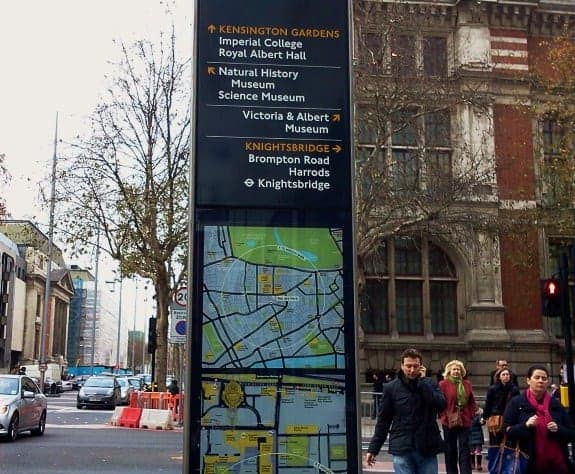 Cabs
Black London cabs will always have a special place in my heart, because I remember vividly going in one on my first-ever trip to London at the age of 5 or 6. We had just been to the Natural History Museum and we were off to have a picnic lunch in St. James' Park before going to see Buckingham Palace. For a little girl growing up in a small town, it was a magical day. Though I am in London very frequently nowadays, living just outside it, I still have a great fondness for the city and its cabs.
However, if you want to save money and don't want to spend half a day sitting in traffic, cabs are best used for short journeys. To deal with the airport transfer, for example, there are express trains and direct coach services from all the London airports into Central London. This is an easy and cheap option to get the majority of the way, but then a cab ride from the station to your hotel – rather than navigating the tube with all your bags – might be a good idea. Cabs can be flagged down in the street, but make sure they are licensed black cabs. Other taxis must be booked in advance to make sure that they are licensed and safe.
You will find more information about all these options, as well as journey planners, maps and fares on the Transport for London website.
Photo Credit: All photos are Katy's own.
Katy is a writer with wanderlust. Originally from the UK, she has lived in France, danced in Argentina and stargazed in Chile. She writes for numerous travel sites and you can always find her at www.starryeyedtravels.com.