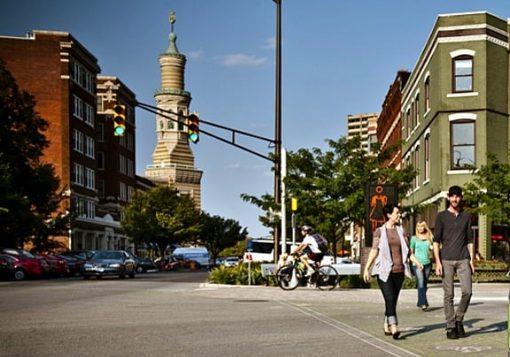 As all mothers know, a weeknight out of the house can be too few and far between.  So when the chance for me to let the dust lie, the laundry pile up and the kids settle their own squabbles, I shouted "Thank Heavens!" and headed to the theater.
Quite an appropriate response really, as the performance I was headed to see was Sister Act.  As part of the Broadway Across America series, the touring show is based on the popular movie that starred Whoopi Goldberg.  The stage version follows very closely to the storyline portrayed in the film as a flamboyant disco singer witnesses a murder and must take shelter in the most unlikely place, a convent.  As the musical diva comes to accept the unconditional friendship of the nuns, she sees the opportunity to use her talents to bolster their choir and infuse new life into the struggling church they serve.
Set in the 1970's, and featuring a score written by Alan Menken and Glenn Slater, the musical comedy offers a blend of musical stylings including Motown, soul, gospel, disco, and even one number that pays homage to the one and only Barry White.  The multi-talented cast made this a fun, enjoyable evening to laugh, clap and enjoy the company of other hard working women. Check the Broadway Across America site to see when Sister Act will be touring near you.
To enjoy a full night, I have a few recommendations for pre and post theater stops in Indianapolis. Sister Act was performed at Murat Theatre located in the Mass Ave District of downtown Indianapolis, so the options in the area are vast.  Established in 1820 as one of the main diagonal streets leading into Indianapolis, Massachusetts Avenue is currently listed on the National Register of Historic Places.  Anchored by two buildings steeped in history, The Athenaeum, established in 1894 and The Murat Shrine built in 1909, the district is now a thriving art, theater and dining center.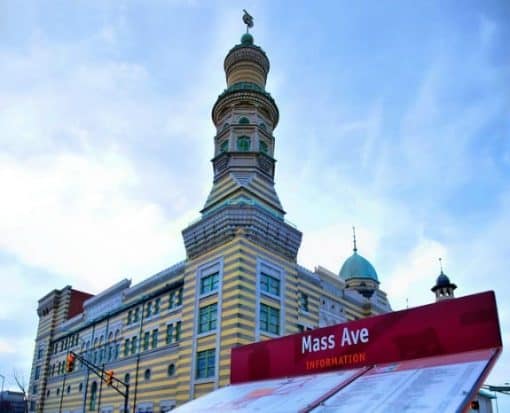 Ethnic options like Chatham Tap and Ball and Biscuit (British Pubs), Rathskellar Biergarten & Kellerbar (German) and MacNiven's Restaurant and Bar (Scottish) offer authentic food, beverages and atmosphere.  Inventive American classics are the order of the day at Bru Burger Bar, Bazbeaux Pizza and Old Point Tavern.
One of my favorite dining spots in the Mass Ave District is Mesh on Mass.  Mesh serves innovative twists on American classics in a relaxed and comfortable atmosphere.  Looking around I noticed business men conducting a dinner meeting seated next to a couple sharing a romantic dinner and more than a few tables of friends enjoying a meal together.
While the entrees and nightly specials served at Mesh are outstanding, one of my favorite menu items  is The Cheese Board (listed under the appetizers).  Chose a selections of three or six varieties of cheese, there are many to choose from, and be sure to ask your server to make recommendations. Add a glass of wine and you have the perfect start to your evening.
A popular dining spot, Mesh can be quite crowded, especially when events are being held at the Murat.  Consider grabbing a quick bite at the bar while enjoying hand-made cocktails and select items off the $2 bar menu served before 6:00 pm and again late-night.  Since the Murat is within walking distance and with convenient street parking, why not return for dessert and a night-cap?!
If you are in the mood for bar food, I suggest a visit to MacNiven's Scottish-American Restaurant and Bar.  Housed in a 100 year old building with exposed bricks and hard-wood floors, this bar might seem a wee bit manly for a ladies night out, yet the friendly staff made us feel more than welcome.  Serving American bar staples and classic Scottish fare including Scotch Eggs, Whiskey-laced Onion Soup and Belhaven Beer-battered Fish and Chips, what visit to a Scottish bar would be complete without a sampling of Haggis?!
Sticking with a lighter fare, I opted for a cup of the Beer Cheese Soup.  Warm and creamy with a sharp after bite of the beer, it was the perfect thing to take off the evening's chill.  When my dining companion ordered the Seared Ahi Tuna, it took all of my will power not to say out loud, "Seriously, Ahi Tuna in a Scottish bar?".  Yet, to my amazement it was perhaps one of the best Ahi Tuna I have ever experienced – perfectly seared with a peppery outer crust.  With large garage style windows that roll up to expose bustling Mass Ave, I cannot wait to return to this charming spot once the weather warms.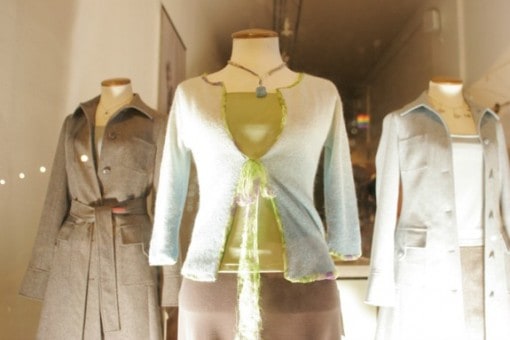 Window shopping while walking to the Theatre made me wish I had more time to enjoy the offerings provided by local merchants. Inviting shops like Silver in the City, Mass Ave Toys and The Best Chocolate in Town beckon me to return for my next Ladies Night Out.
While the author was given complimentary tickets to the performance for the purpose of a review, the opinions expressed are strictly her own.
Photo selections: Courtesy of Visit Indy,  flickr: Sergi Melki Murat Theatre
Having been transplanted numerous times, I have learned to explore the sites around our new found hometown, uncovering hidden gems and attractions. When vacation time rolls around, I enjoy traveling with my family and the occasional weekend escape with my husband, coming home to share our travel experiences with others. You can follow me on Twitter @JAIngersoll. My top three destinations are Walt Disney World Resort, the Midwest and any beach I can walk along.