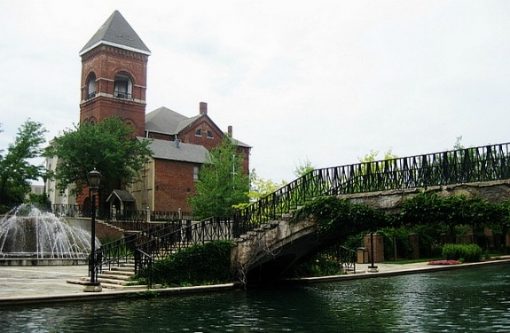 In Indianapolis there are six cultural districts, each with a personality – original, lively and only found in the Hoosier state capital.  Enjoy your favorite district, or find a new one, and enjoy some neighborhoods find that include fun dining experiences, funky restaurants and cafes, shops, galleries, and more, all with that distinctive Indy style.
Canal & White River State Park
A 250-acre urban state park centered in downtown Indianapolis, White River State Park (in photo above) is the site of numerous festivals and live outdoor entertainment. The Park is also home to major attractions including the Eiteljorg Museum of Western Art, Indiana State Museum and Indianapolis Zoo, one of the only accredited combined zoo/aquarium/botanical gardens in the nation.
Sports lovers can thrill to the crack of the bat at minor league Victory Field and relive moments of collegiate glory at the NCAA Hall of Champions.  A 3-mile looped Canal Walk will help you stay fit, or try renting paddle boats, bicycles or surreys.  You can even hire a gondola for an unforgettable ride through the canal.
A number of  restaurants and cafes connected to the museums allow patrons to dine without paying museum admission.  Many of the cafes have outdoor dining patios with views of the attractions around the Park.
Broad Ripple
North of Downtown Indianapolis you'll find the Cultural District known as Broad Ripple, named where the White River calms to just a ripple. Once a spot where city folks built quaint summer getaways, today, Broad Ripple is known as the place to spend a night out with friends.  From cozy pubs to night clubs with live music and dance floors, night owls can hop from one spot to another on Broad Ripple Avenue.
What I love most about multiple personality Broad Ripple, is that one block off the Avenue, the village proudly displays tidy and well preserved architecture filled with locally owned and operated businesses.  You'll find places to shop for eclectic gifts and vintage clothing, including my favorite Girly Chic Boutique, and art lovers can stop off at the Indianapolis Art Center where visitors can not only view art, but make it as well.
Take a stroll by the 1920's era, Indianapolis Fire Station 32.  The oldest working fire station in Indianapolis, #32 is listed on the National Register of Historic Places.
Enjoy the outdoors at Broad Ripple Park, a large park with a separate dog park.  Hit the Monon Trail or Central Canal towpath, two popular fitness trails running through Broad Ripple.
And now that you have worked up an appetite, enjoy any of the ethnic eateries including Ambrosia Ristorante for Italian, Brugge Brasserie for hand-crafted beer and frittes, or my true guilty pleasure, BRICS for hand-dipped ice cream.
Indiana Avenue
A showplace of Indianapolis' rich African-American history, Indiana Avenue is home to Madame Walker Theatre Center, Freetown Village – living history museum – and the Indianapolis Urban League.  Sitting west of Downtown, Indiana Avenue Cultural District is also home to the Stutz Artists Association, the campus of IUPUI and several major medical facilities.
In the 1920-30s, Indiana Avenue was the place to go to hear live jazz.  Keeping this tradition alive, Madame Walker Theatre is the site of monthly Jazz on the Avenue performances featuring live music and southern cooking in the Grand Casino Ballroom.  I think it makes a great night out. Additional educational, entertainment and family-friendly programs are held at the Walker, named for hair-care product magnate and the first self-made female millionaire in America, Madame C.J. Walker.
Stutz Artists Association is housed in the Stutz Business Center, the former Stutz motor car factory. With space for 80 artists in a wide range of mediums, the Artist Association hosts First Friday gallery openings from noon to 5 pm on the first Friday of each month.  Following the gallery tour, grab some dinner at Bourbon Street Distillery or Creation Cafe, located in historic Buggs Temple.
Fountain Square 
Self described as funky, artsy and retro, Fountain Square is the place to go for an out of the ordinary experience in Indianapolis.  Originally settled in the 1870s, Fountain Square was the turn-around spot of the interurban and is still referred to by some as "The End". Now undergoing a revitalization, Fountain Square is home to more than 75 artists who live and work in the area.
In Fountain Square you can shop at stores that have been around for years,  like 50 year old Arthur's Music, or that sell merchandise from times past.  Try Claus' German Sausage and Meats, or Hero House's collection of graphic novels and comics, or the Indianapolis Downtown Antique Mall.  For a throwback in entertainment head to Fountain Square Theatre Building for a night of swing dancing.  Be sure to rent a lane and try duckpin bowling here, and trust me, it is not as easy as it looks!
Searching for a new dining option, Fountain Square offers Greek, Peruvian, Mexican, Thai, Italian, Pan-Asian, St. Louis style BBQ, German, British and even Mead Wine at New Day Winery.  On a clear night, guests 21 and over should head to the roof of The End of the Line Public House for a taste of 15 local beers on tap.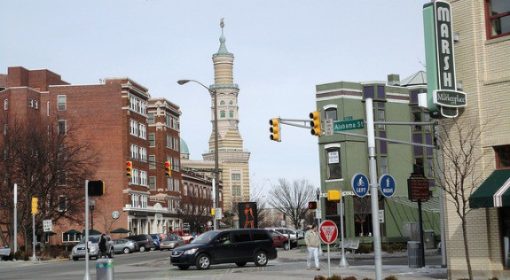 Mass Ave
A set of four diagonal streets leading into downtown comprise the district commonly referred to as Mass Ave (in photo).  Known for its public and performance art spaces, historic architecture, diverse shopping and dining choices, the entire district is listed on the National Register of Historic Places.
Noted architecture includes The Athenaeum, built as a gathering place for local German societies in the 19th century, today it holds the Rathskeller Restaurant and extremely popular live music Biergarten. The Murat Shrine Temple hosts Broadway shows and concerts in the exotic building with onion domes and a minaret tower. Two residential neighborhoods are steeped in history – Lockerbie Square includes the home of Indiana poet James Whitcomb Riley and Chatham Arch homes dating back to the Civil War.
Some of my favorite restaurants are located in Mass Ave District including Mesh on Mass and Bazbeaux Pizza.  MacNivens Restaurant offers the best in Scottish fare, including Haggis, and Old Point Tavern, located in one of the areas flatiron or triangular buildings, is also a good choice.
Warehouse District
Perhaps the most familiar district in Indianapolis, the Warehouse District is located in the heart of Downtown.  Loaded with sports action, fine dining and 13 hotels, most of which are linked to indoor walkways protecting you from any inclement Indiana weather.  From Lucas Oil Stadium, home of Superbowl XLVI, Hilbert Circle Theater home of the Indianapolis Symphony, shopping at Circle Center Mall and the suspended seven-story glass-domed performance space, the Artsgarden, the Warehouse District offers something for everyone.
Photo credits:  Both from flickr.  Canal cherrylet;  Mass Ave  Paul Sableman
Having been transplanted numerous times, I have learned to explore the sites around our new found hometown, uncovering hidden gems and attractions. When vacation time rolls around, I enjoy traveling with my family and the occasional weekend escape with my husband, coming home to share our travel experiences with others. You can follow me on Twitter @JAIngersoll. My top three destinations are Walt Disney World Resort, the Midwest and any beach I can walk along.