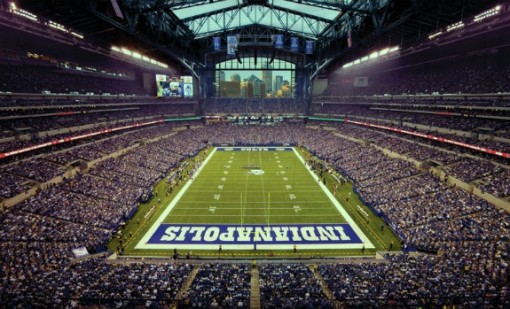 Indianapolis is the capital of the state of Indiana and a capital city for hosting sporting events.  From Auto racing to Big Ten Tournaments, NCAA Men's and Women's Final Four Basketball Championships to Olympic Trials for swimming, diving and track and field, and  host of NFL Super Bowl XLVI, Indianapolis is the place for sports.
Guests visiting the Hoosier capital will want to look beyond the hot dogs and popcorn served at the sporting venues and explore the many dining gems the city has to offer.  There are over 200 dining options within a two block radius of the sports center, so you'll have plenty of super Sunday options.
Steaks and Steakhouses
A fair number of chain steakhouses are located in Downtown Indianapolis, The Capital Grille, Morton's The Steakhouse and Ruth's Chris Steak House.  However,  it is the small independent, St. Elmo Steak House  that I would recommend.
Known to locals as St. Elmo's, it has developed a following with media and sports figures world-wide. While the food is delicious, they are probably best known for their trade-marked, World Famous St. Elmo Shrimp Cocktail.  It's not the shrimp that makes this cocktail so famous, in fact I found the shrimp to be quite average.  It's the spicy-hot, horseradish loaded cocktail sauce that literally brings tears to your eyes that keeps guests coming back for more!
Since it is not uncommon to witness professional athletes or sports commentators dining at St Elmo's, reservations can be at a premium during major sporting events.
Luckily, a sister restaurant, Harry & Izzy's, is located down the street.  (They also have locations at Northside Indianapolis and at the Indianapolis Airport.)  Named for the original owners of St. Elmo's, Harry & Izzy's proudly serves the famous shrimp cocktail as well.  Personally, I prefer to order Calamari as an appetizer here and request some of that potent cocktail sauce to accompany it.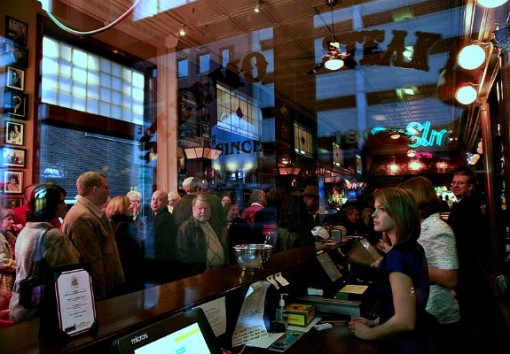 Burgers
Not in the mood for a steak but still interested a little beef?  Burgers are an outstanding option at several downtown eateries including Weber Grill Restaurant.  Serving up half-pound, charcoal seared burgers that taste like they came from your own backyard grill,  Weber Grill is easily located by the over-sized red grill extending from the building.
Also located nearby is the Indianapolis Colts Grille serving up burgers but a truly unique and filling, dare I say artery clogging, Deep-Fried Cheeseburger.  One bite and you will swear you are at the State Fair!
Scotty's Brewhouse  is another local establishment serving up a variety of burgers, sandwiches and appetizers at numerous locations around Indianapolis.  Don't let the name fool you, it is very family friendly.  In fact, children 12 and under eat free on Tuesdays and Sundays!
You can't get more family friendly than my favorite, Bub's Burgers and Ice Cream located in an older home adjacent to the Monon Trail in suburban, Carmel, Indiana.  Home to the one-pound "Big Ugly", Bub's has been featured on the Travel Channel's popular show, Man vs. Food.  Don't miss the popular Elk Burger or my favorite substitute for beef, the grilled Mahi-Mahi sandwich.
Deli
Long before the Subway founders were even born, Shapiro's Kosher Style Delicatessen and Cafeteria was serving customers in Downtown Indianapolis.  Opened in 1905 as a grocery store, Shapiro's became more of a restaurant in the 1930s following the repeal of prohibition.  Shapiro's sold beer for 10 cents a bottle, and customers began ordering the now famous corned beef and salami sandwiches to accompany the beer.  They serve family favorites and sandwiches piled so high with meat even I can't open my mouth wide enough.  Just try to save room for dessert!  For the ultimate "carry-out", Shapiro's has a location at the Indianapolis Airport.
Pubs and Taverns
A plethora of watering holes are scattered throughout Indianapolis and in neighborhoods or districts like Fountain Square, Broad Ripple or my favorite, Mass Ave.  Known for its eclectic array of merchants, Mass Ave, as it is known to locals, is home to upscale Mesh on Mass Ave ,  lively Mac Niven's Scottish-American Restaurant  & Bar and the historic Rathskeller.
Speaking of history,  The Slippery Noodle Inn is known as the oldest bar in Indiana and was a noted hangout for the infamous, John Dillinger. The Noodle provides live blues music seven nights a week, and is in close proximity to Lucas Oil Stadium and Bankers Life Fieldhouse.  It's often home to athletes celebrating a recent win.
Classy
Looking for something a little more subdued?  I suggest you head to the lobby of the  Conrad Indianapolis, flanked by Tastings- A Wine Experience, on one end and the Capitol Grille on the other.
With a preloaded card in hand, guests can purchase a taste of a variety of wines at Tastings.  Not to your liking, simply swipe and sip another blend or purchase a glass of a new found favorite.  Clusters of tall tables, couches and a short bar create an atmosphere perfect for relaxing with friends.
Likewise, the dark wooded bar of the Capitol Grille is a great spot to unwind.  Its known for its extensive wine list, but is is their signature, Stoli-Doli, made with pineapple infused vodka, that I prefer.
You can have a super meal in Indianapolis every day of the week – not just on Super Sunday.
Photo credits: Visit Indy
Having been transplanted numerous times, I have learned to explore the sites around our new found hometown, uncovering hidden gems and attractions. When vacation time rolls around, I enjoy traveling with my family and the occasional weekend escape with my husband, coming home to share our travel experiences with others. You can follow me on Twitter @JAIngersoll. My top three destinations are Walt Disney World Resort, the Midwest and any beach I can walk along.