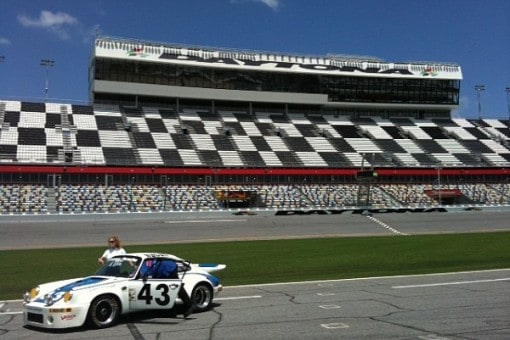 With so much to love in Daytona Beach, Florida where do you start?  How about with the 4 S's?
Speedway
At the top of the list of things to do in Daytona is a visit to the Daytona International Speedway.  On some visit days, you'll have the chance to see the drivers testing the cars.  That's a real treat, but even on off days the Daytona International Speedway is still a great stop.  The Daytona 500 Experience at the Speedway is a family friendly attraction with simulators, track tours and an IMAX 3D movie presentation, and a live pit stop challenge.  You really could spend all day there, especially if you're a big racing fan.  You may also want to schedule your trip to take advantage of the Richard Petty Driving Experience. It includes a few laps around the 2 1/2 mile track at speeds as high as 150 mph along with a tour of the track.
Ticket prices and options are highly variable, but for some sample prices the Richard Petty Driving Experience starts at $135 and the track tours start at $22.
Sweets and Spa
What's a relaxing holiday without a couple of spa visits thrown in for a bit of pampering.  At the Daytona Beach Resort & Conference Center the Terra Acqua Day Spa is one of the best in the area with Sothy's of Paris products and treatments that include the Lava Shell Massage, a Detoxifying Seaweed Wrap, or a European or anti-gravity facial.  Take your pick; all start at around $125.
Another option is the Shores Resort & Spa offering Indonesian and Thai rituals beginning at $150 for a full slate of massage therapies and body treatments.  Enjoy the Far East and choose between jasmine and frangipani if you opt for a Balinese or Thai massage.
A spa day just wouldn't be complete without chocolate so head on downtown to Angell and Phelps Chocolate Factory. It's been around since 1925 and you can ask for a free guided tour and watch more than 100 different kinds of hand-made chocolate being made and boxed.  My favorite sweet treat was the chocolate and caramel pretzels.
While a spa has plenty of health benefits, there's evidence that traveling has lots of health benefits.
Spirits
The little town of Cassadaga, just 25 miles southwest of Daytona Beach, has been named  Historic District on the National Register of Historic Places, but yes, it is indeed a town where people live.  For history buffs it's a real find, but for folks into the metaphysical it's even better.
I actually found someone who did aura photography.  I have been looking for an aura photographer for a couple of years.  The cost was merely $40 to have a psychic take my photo with an aura camera (meaning a camera that has a mechanism to pick up the color of a person's aura surrounding him) and then explain to me what the color of my aura was.  A person's aura is the energy surrounding him and it can be bad or good depending on a mood or a situation going on in one's life. Mine was blue and that's good.
Overall, this town is a tiny community primarily made up of what are called spiritualists (the spiritualist camp was founded in 1894) or psychics and I knew I had come to the right place for not only the aura reading, but for tarot card readings or other types of divination.  Other options in Cassadaga include spirit and orb tours and an amazing bookstore with books you won't find anywhere else. If you are more interested in the history of the place the folks at Cassadaga will also give you a tour.  More reason to visit – the Cassadaga Spiritualist Camp, the oldest active community of its kind in the southeastern part of the United States.
It's the kind of town that you have to see to believe and when you do you will either become even more interested in what the late 19th spiritualist movement was all about or you won't care. Many of the houses at Cassadaga even still boast what was called spirit doors on the second story in order for spirits to leave the house after a séance.   No charge to get in, but the tours and reading prices do vary.
Something Else
Have some free time?  Climb the Ponce de Leon Lighthouse. It's the tallest lighthouse in Florida at 175 feet. It was completed in 1887 and is listed on the National Register of Historic Places.  Count the steps, all 203 of 'em, as you ascend for a look at a stunning view.  The lighthouse is open from 10 a.m. to 6 p.m. daily, but one tour you might want to consider happens just one evening a month.  The Climb to the Moon Tour ($25) offers folks a climb to the top of the lighthouse to find spectacular views of the Atlantic Ocean, Ponce Inlet and a good bit of the coastal wetlands under the glow of the setting sun and the rising of the full moon.  The lighthouse keeper is the tour guide and he will also point out details of the past highlighting the history of this National Historic Landmark.  Group size is limited to 25 people.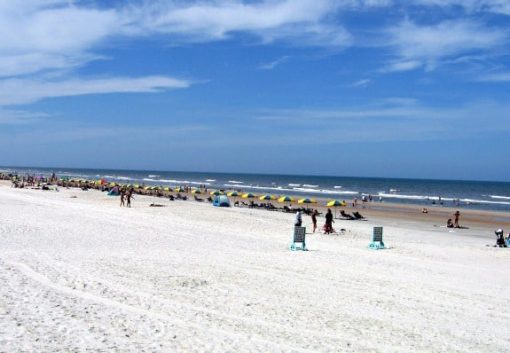 And the Beach
Just because you're tackling all these other things to do in Daytona Beach, don't forget to spend some time on 23 miles of the "World's Most Famous Beach."  The beach is accessible and free for pedestrians and bicyclists 24 hours a day depending on tides and weather conditions.  Driving is permitted on the beach from sunrise to sunset, November 1 through April 30. Surfing is also a popular pastime, with designated surfing areas established during high seasons (9:30 a.m. – 5:30 p.m. from the Saturday before Memorial Day through Labor Day).  All other times of the year surfing is allowed in all areas of the beach, except within 300 feet of the Daytona Beach Pier.
Photo credits:  Courtesy of Mary Jo Manzanares
Rita Cook is a writer/editor with over 1000 articles. She can be heard on Insider Mag Radio at KPRO 1570 am and she also reviews cars for the Washington Times Communities (Behind the Wheel). Her most recent published books include "A Brief History of Fort Worth" as well as two haunted books on Dallas and Fort Worth to be published in the fall 2011. Rita's favorite travel destinations are Italy, India and Kenya.