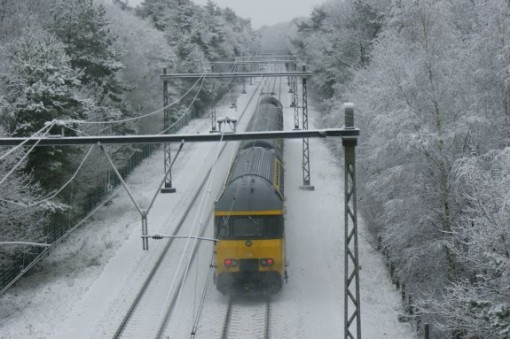 I'd like to take a train trip.  I'm not sure if it's the romance of rail travel that interests me, the slower nature of the voyage, or perhaps it's more social and less stress.  Whatever it is that piques my interest, I've yet to take that journey by rail. Someday soon, though, some day soon.
With the assistance of Canada's VIA Rail, here are 10 reasons why traveling by train is a smart vacation decision:
Fewer delays: Improved infrastructure and the low impact of weather means trains run pretty darn close to on time.  No need to wait for the airport snow ploy or the de-icing truck, the rails are all good to go.
Convenience: Unlike airports, commuters need not show up at the station hours in advance or wait out security check lines. Save yourself time with a reasonable check in time at the station.
No baggage fees: Rail passengers are able to check up to two bags at no cost, which means savings and ease of travel.  And lost baggage is practically non-existent.
Deals:  There are still plenty of deals to be found.
Traffic immunity: You won't need to worry about road traffic, construction, or other delays.  And unlike a road trip, you won't need to stop for food or a rest stop – the train offers sanitary bathroom facilities and gourmet food options.  
Look out the window:  Whether from your seat, the dining car, or one of those glass domed observation cars, there's some pretty spectacular scenery out your window.  No need to focus on the tail lights in front of you, just relax and see a part of the country you wouldn't otherwise see.
 Social networking:  Whether you're chatting with your traveling companions or making new friends on board, it's a relaxing mode of transportation. And if your definition of social networking includes Twitter or Facebook, you'll find wi-fi on many of the routes.
Greening. Travelers can appreciate the efforts rail carriers are taking to cut fuel consumption and greenhouse gas emissions.  While there's certainly much more to be done, the current efforts represent a good start.  Some lines are stepping up their recycling efforts and serving fair trade coffee.
Comfort: With more legroom than on a bus, plane, or car, the train also offers the   freedom of not having to buckle up or stay seated during take-off. Sleeper cars during overnight trips save time and planning for hotel booking, and you can enjoy a berth, suite or cabin for one, two or three people, as well as amenities including a shower.
Cell phone service and Wi-Fi access: You're likely to have cell phone service on the train (depending on your carrier and plan, of course), and depending on the line and route, you'll often have wi-fi.  Use the time to get a little work done, stay in touch with family or friends, or just do some random surfing.  Traveling by rail lets you stay connected.
Have you traveled by train?  What do you like about it?
Photo credit:  SXC
Mary Jo Manzanares is a founder and the editor-in-chief of The Traveler's Way, an online travel magazine proving informational and inspirational travel recommendations for curious Baby Boomer travelers. She has been a speaker at various industry events and has a personal travel blog at Traveling with MJ. When she's not traveling, Mary Jo likes lingering over a cup of coffee, wandering in a museum, sipping wine at a cafe, and sharing it all with friends and readers. Mary Jo's top travel destinations are Italy, Portugal, and the Caribbean.