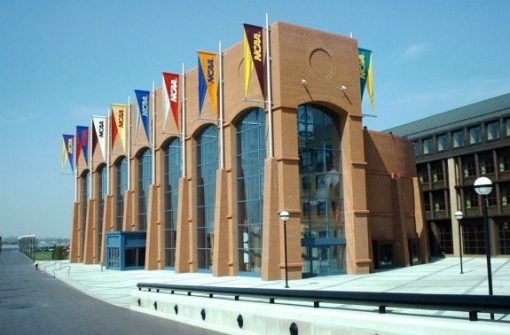 You don't have to be an athlete or even a sports fan, for that matter, to enjoy the NCAA Hall of Champions in Indianapolis.
Located on the west side of the city's downtown area, the Hall, which pays tribute to athletic, academic and character-related accomplishments by individual student-athletes, teams, coaches and administrators, is part of a museum-heavy section of Indianapolis called White River State Park. Nearby, visitors will also find the Indianapolis Zoo, the Eiteljorg Museum of American Indians and Western Art, Victory Field (home of the Indianapolis Indians, AAA affiliate of Major League Baseball's Pittsburgh Pirates), NCAA world headquarters and the Indiana State Museum.
Originally opened in March 2000 after the NCAA relocated to Indianapolis, the NCAA Hall of Champions is a two-story museum that features 23 state-of-the-art sport-specific exhibits and several interactive displays for guests to learn from and engage with.  The 30,000-square-foot facility even has meeting and hospitality space.
I was intrigued moments after having entered the building while examining a group of  bronze-colored statues positioned in what appeared to be a semi-circle, a few feet beyond the building's ticketing area. As I approached the oddly-shaped formation, I suddenly recognized it as football's Flying Wedge.  As the exhibit's description confirmed, the Flying Wedge was a dangerous tactic first employed by Harvard University in an 1892 football game against Yale University. The concept involved an interlocked group of players in a semi-circle or "V" shape who move forward at a slow run while protecting their own ball carrier and literally running over opponents in some cases. Once debuted by Harvard, the Flying Wedge quickly became a standard opening play for teams all across the country. However, after causing numerous deaths, the tactic was outlawed following two season of utilization.
Of course, the NCAA Hall of Champions is about much more than just football. In fact, there's even a small theater area where guests can watch a short film that provides an inside look at what it takes to be an NCAA student-athlete.  The theater walls there are decorated with graphics that are intended to celebrate the energy, drive and determination of student-athletes too.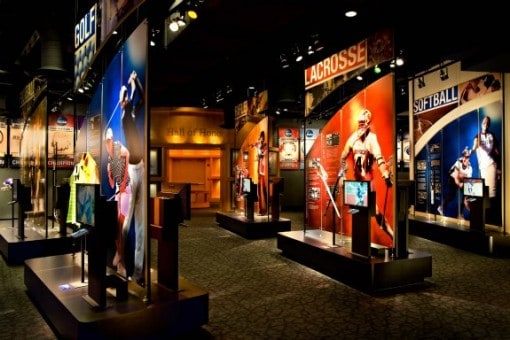 My favorite part of the NCAA Hall of Champions is a section called "Arena" on the first level. In this colorfully-decorated area, each of the NCAA's 23 championship sports has its own display featuring graphics, relevant artifacts or memorabilia and photos. An interactive computer kiosk in front of each exhibit allows for video watching and trivia challenges while providing interesting facts regarding each sport's history, past champions, current rankings and statistics.
While there, I particularly enjoyed learning more about sports I was somewhat unfamiliar with including fencing, rifle and water polo.
The NCAA championship banners that seasonally grace the area's curved back wall are also impressive. Each banner represents the current national championship team in a given sport for NCAA Divisions I, II and III.
Nearby, the Hall of Honor celebrates current and former NCAA student-athletes for their academic and athletic achievements as well as their leadership and contributions to society. This somewhat quiet room is dedicated to recognizing past recipients of the NCAA's highest honors and awards.
Another first-floor must-see is the NCAA History of Women in Intercollegiate Athletics exhibit. The wall-based timeline highlights the journey of women in intercollegiate athletics and dates back to 1866 when Vassar College fielded the first two women's amateur baseball teams.
If you're looking for additional interactive opportunities while at the Hall, visit the second floor "Play" area, which is filled with hands-on exhibits varying in complexity and technological sophistication. You can stand in front of a clear, enclosed cage and experience what it's like to see a tennis serve coming at you at nearly 100 miles per hour or try on a fencing mask. Try to lift a rowing skull, test your balance on a beam, stand on a swimmers' starter platform or experience simulator areas that test skills in basketball, football and soccer.
The NCAA Hall of Champions can easily be toured in a half-day visit but the facility is understandably a popular field trip stop for large groups of children so plan your visit accordingly.
Fun Facts:
The NCAA's first national office opened in Kansas City, MO in 1951. The Association also has a government relations office in Washington, D.C.
The NCAA is a non-profit organization with 96 percent of its revenues benefiting its membership through distributions or services.
More than 46,000 student-athletes compete in the NCAA's 88 championships in 23 sports across three divisions.
Location:  Downtown Indianapolis in White River State Park (700 West Washington Street)
Hours:  Tuesday through Saturday, 10 a.m. to 5 p.m. and from noon to 5 p.m. on Sundays. The facility is closed on Mondays and major holidays.
Admission:  General admission tickets are $5 for adults; $3 for youth (ages 6-18), and $3 for senior citizens (age 65 and older). Children ages five and under are admitted free of charge.
Photo Credit:  Courtesy of NCAA
Indianapolis-based Greg Seiter is a 22-year freelance veteran who specializes in family travel. While embracing a background in athletics, the travel enthusiast has written for the Associated Press and various NCAA Championships publications in addition to AAA and Resort Condominiums International. Greg's top three travel destinations are Orlando, Fla., Pigeon Forge, Tenn. and Myrtle Beach, S.C.