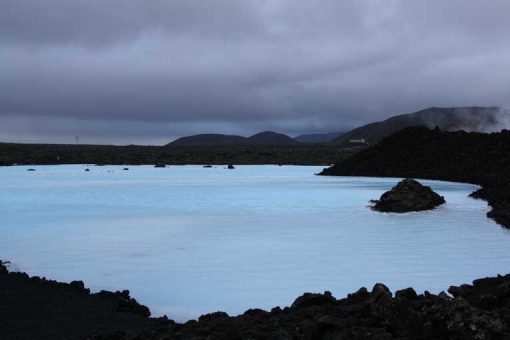 The Blue Lagoon, a geothermal spa in Iceland, will wow travelers of all styles and ages with its remarkable beauty, inviting water, and top-of-the-line spa. It's a natural phenomenon unlike anything else in the world. Visitors can come year-round to enjoy a swim in the lagoon, spa treatments, and fine dining experiences at the LAVA restaurant.
What is the Blue Lagoon?
The Blue Lagoon is a geothermal spa–the remarkable result of science and nature working in perfect harmony. Natural forces heat seawater approximately 6,500 feet below the Earth's surface, where it comes in contact with cooling magma. This is where the water of the Blue Lagoon picks up its unique minerals–most notably, silica. It's one of the many sights you'll want to plan for on your Iceland itinerary.
A soak in the Blue Lagoon and a spectacle of the northern lights: it's going to be an experience. The Blue Lagoon is one of the best places to see the northern lights in Iceland. Consider scheduling your trip around the northern lights season.
What does this mean to you?
It means that you reap the benefits of a mineral known for its healing powers simply by relaxing in it. This is a 100% natural experience. Common bacteria don't thrive in this environment, so no cleansers or chlorine is added to the water.
When you plan your trip to the Blue Lagoon, do yourself a favor and don't just go to see it, go to experience it. Here are a few tips to help maximize your once-in-a-lifetime spa treatment.
Allow time to truly relax. Because the lagoon is only a 20-minute drive from the Keflavik International Airport, some travelers prefer to go on their last day in Iceland on the way to the airport. Not a bad way to end a trip, but if you have a difficult time relaxing on travel days or have a tight schedule, go another time.
The Blue Lagoon is only 40 minutes from Reykjavik, and plenty of buses come and go (usually on the hour). You can stay for an hour or five, then catch a convenient bus back to Reykjavik – and you don't have to decide until you get there. If you're renting a car while you're in Iceland, you can drive yourself, enjoy a glimpse of nature along the way.
Beware of the effects the water has on your hair. While silica may be great for your hair, all of the salt in the water isn't. It will dry out immensely. One recommendation is to thickly coat your hair with conditioner (without rinsing) before going into the lagoon. I followed this tip and still struggled to get a brush through my hair for about a week. My best advice is to keep your hair out of the water.
Use the silica mud. It's located in wooden boxes all around the lagoon. It's free, so don't be shy, help yourself! The silica mud cleanses, exfoliates, and strengthens your skin. Take advantage of the free stuff, and spoil your skin with nature's wonder while you're there. Purchasing the silica mud mask from the gift shop will run you about $100 (USD).
Explore the area. The lagoon has a number of little nooks and caves for relaxing, two geothermal steam baths, a sauna, and a waterfall. The sauna and steam rooms sit just along the edge of the lava rocks and offer a wonderful view of the lagoon.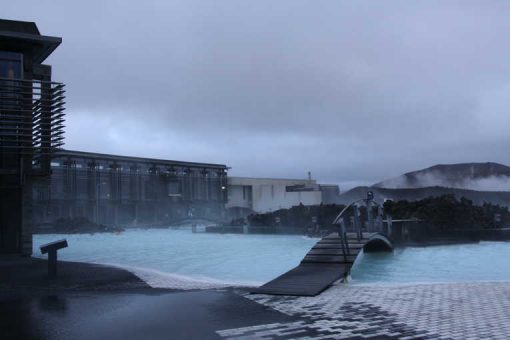 Book treatments and massages in advance. The spa offers a variety of beauty treatments, skin care products, and in-water treatments. Keep in mind, an in-water treatment may not be as enjoyable in the cooler seasons. These are all offered for an additional fee, and they book up relatively quickly. If you're set on buying a treatment, it's best to book in advance to ensure you get want you want. This is especially true for the peak season, mid-June through August.
Water is warmer in some spots than others. The water temp is between 98˚ and 102˚ F. It's a bit cooler than a hot tub, but if you explore the whole area, you're sure to find the spot that's not too hot, not too cold, but juuuust right.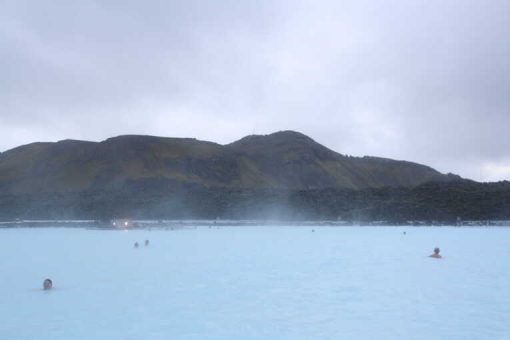 There are lockers included in the admission fee, so, yes, you should bring it. Bring whatever you would want when you get out of the shower on a typical day. I wished I would have brought lotion, but of course, you can always buy some there. Hair dryers are available in the locker rooms. All of your personal belongings will be safely stored, so you can relax and know that you've got everything you want locked up safely.
You don't have to go to your locker for money. When you pay your admission fee, you'll get a bracelet that can go into the water with you. The bracelet has a magnetic strip that will lock/unlock your locker, and you can use it to charge items to your credit card. If you want to order a drink lagoon-side, they'll just scan your bracelet. Yes, I know, dangerous.
Locker rooms may not offer the privacy some Americans prefer. Everyone is encouraged to shower naked in a communal shower room before entering the lagoon. Don't freak out. It's not unisex. If this still makes you uncomfortable, there are a couple of showers with curtains. Just remember, it's a courtesy, and it ensures we're all entering the lagoon squeaky clean. Keep an open mind. No one is judging you. The lagoon, on the other hand, requires that you wear a bathing suit. If you didn't bring one, you can rent one for $11.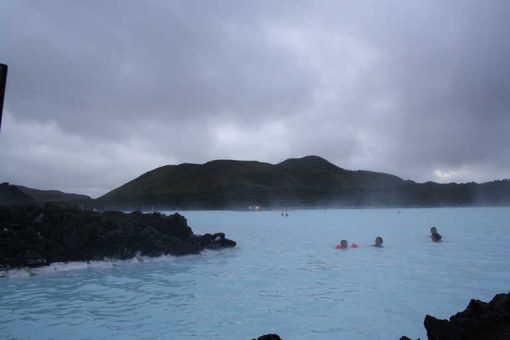 This is a luxury geothermal spa, not a secluded hot spring. You will not be the only person here. There are buses of people, turnstiles, kids playing, restaurants, busy locker rooms, and a gift shop. With that said, it's still an incredibly relaxing experience. But if you've stumbled upon hot springs in remote places of the world, remember at the Blue Lagoon you have to share this wonder. It's so worth it.
Location: 240 Grindavík
Hours: June 1 to August 31, 9 am to 9 pm; September 1 to May 31, 9 am to 8 pm.
Admission: The standard entrance fee is between $44-50, depending on the season and the exchange rate. Children 14 and older are $18, and children under 14 are free. Towel rental is an additional $6. Spa packages, combining admission and a variety of services, are available. NOTE: Iceland's unit of currency is the Islandic Krona (ISK).
Getting there:
Bus fares to and from Reykjavik (BSI Bus Terminal) or Keflavik International Airport:
Round trip including entrance = $70.00
Round trip without entrance fee = $25.00
One-way fare = $12.50
Review your travel options and bus schedules.
Photo credits: All courtesy of Beth Yost
Beth is a self-proclaimed "travel instigator" and earns a modest but satisfying living by freelance writing. She relishes in the unknown, slightly unprepared but overly enthusiastic. She prefers adventure, honest connections, and last minute decisions.
Beth taught high school English in Chicago for four years, has a BA in English, and a MA in Secondary Education. Currently, she's living in sunny Seattle but is a born-and-raised small town, Midwesterner. (She also enjoys throwing people off with random oxymorons.)