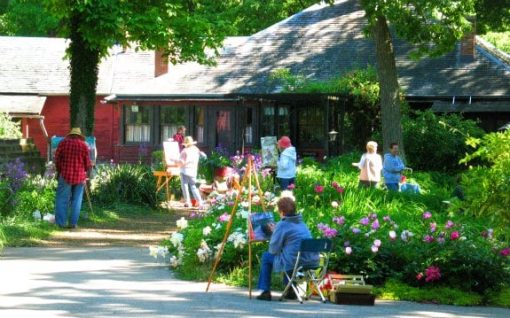 Approximately one hour south of Indianapolis and easily accessible by State Road 135, Nashville, a town that has no mail delivery, is a surprising hub of activity. As the only incorporated town in an area known as Brown County, it is frequently referred to as the "Artist Colony of the Midwest," because hundreds of craft, specialty and antique shops can be found here.
The quaint one square mile village sits peacefully secluded among nearby rolling hills, ridges, and valleys.  It's breathtaking fall foliage colors are a seasonal draw for visitors, but with a unique collection of shops, galleries, and eateries, Nashville is a destination that can be enjoyed year-round. It's especially popular from early spring through the holiday season.
Many artists and craftsmen live and work in the area and as a result, are commonly accessible to visitors who are eager to find things such as original watercolor paintings, sculptures, stained glass, wood carvings, handblown glass and even locally-made clothing. But simplistic street-side shops, many of which resemble cabins or formerly served as historic homes, also offer a variety of other items including toys, solid wood furniture, metal sculptures, pewter, perfumes, wind chimes, candles, music and bird lodgings.
The Candy Emporium on Main Street is a popular stop for those in search of jelly beans, malted milk balls, fudges, gummies, licorice and just about every other type of sweet imaginable.
Wine enthusiasts will enjoy spending time at the Chateau Thomas Winery wine bar and gift shoppe (222 S. Van Buren Street).
Or, if you're like me, enjoy some people watching from a nearby park bench while snacking on a bag of Carmel Corn Cottage popcorn.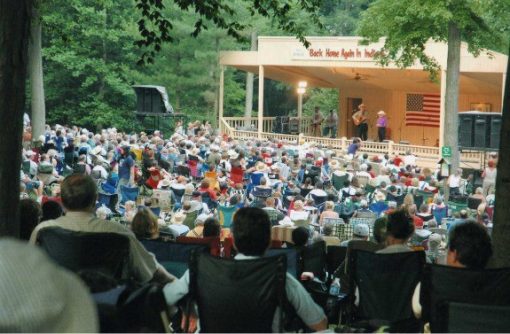 This Nashville also has quite a reputation among country music fans.  Known by some as "Little Nashville," the area was actually home to the Little Nashville Opry for 25 years before the facility was destroyed by fire.  Year-round music celebrations still exist and are a cherished tradition for many locals.
Late Bluegrass great Bill Monroe made neighboring Bean Blossom his home away from home for more than forty years and in 1967, held his first two-day festival there. The Bill Monroe Memorial Bean Blossom Blue Grass Festival is now the oldest, continuously-running bluegrass festival in the world.
Some visitors come to Nashville for single-day shopping experiences while others use the town as a base from which to explore nearby offerings.  There are lots of walking and biking trails in Brown County State Park which is literally less than a 10-minute drive down the road.  And located just south of Nashville on State Road 46, Indiana's largest state park offers picnicking, hiking, mountain biking, camping, fishing, horseback riding and approximately 20 miles of scenic, winding roads.
But art enthusiasts will find it hard to break away from the Nashville area itself.  In addition to local artisans, the Brown County Art Gallery & Museum has a permanent collection of early Indiana/Brown County art.  Located at the corner of Artist Drive and Main Street, it is one of the oldest art associations in the Midwest.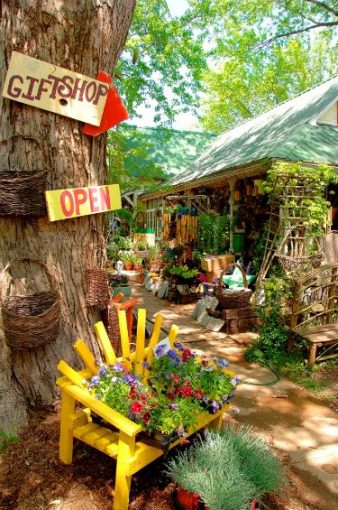 When you're ready for a bite to eat, you can find breakfast, lunch and dinner at the Artists Colony Inn & Restaurant (105 Van Buren Street).  It's furnished with Shaker-style pieces made by local craftsmen.  Other popular eateries include the Muddy Boots Cafe (136 North Van Buren Street), and Harvest Moon Pizzeria (140 East Main Street).
I recommend taking the time to enjoy homemade ice cream from Miller's Ice Creme House.  It's a brick-finished Village Green Building off West Main Street, and at 3-stories is Nashville's only skyscraper.
Know Before You Go
While restrooms can be found in some restaurants, there are a total of five public restrooms in the village area itself:
The Courthouse (open Monday through Friday from 8 a.m. to 4 p.m.)
Mound Street (open seven days per week)
The Nashville House Old Country Store (open seven days per week)
Antique Alley on Jefferson Street (open seven days per week)
School House Lane (open seven days per week)
Parking
Street parking is available, but hard to come by, especially during the peak fall season. Parking lots can be found on both sides of Van Buren Street (the main street), but are often hidden behind buildings with minimal signage. The town is easily walkable so if you find an open space, I suggest that you take it.
Store Hours
Most stores in the Nashville area are generally open from 10 a.m. to 5 p.m. daily; some stay open later on weekends.
Photo Credit: Courtesy of the Brown County Convention & Visitors Bureau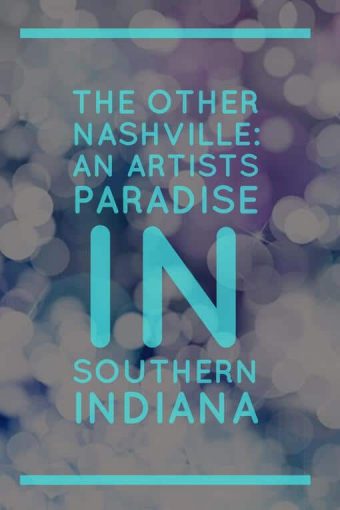 Indianapolis-based Greg Seiter is a 22-year freelance veteran who specializes in family travel. While embracing a background in athletics, the travel enthusiast has written for the Associated Press and various NCAA Championships publications in addition to AAA and Resort Condominiums International. Greg's top three travel destinations are Orlando, Fla., Pigeon Forge, Tenn. and Myrtle Beach, S.C.