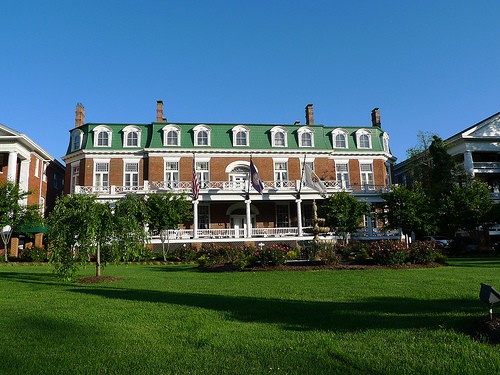 Virginia's small towns are treasure troves of great food, warm hospitality, immense history, and Southern charm.  Culinary connoisseurs, antiquers and outdoor enthusiasts equally will be at home in these 10 destinations promising all of the above and more.  When it's time to plan the next trip, take time to strike out on the road less traveled, and discover these small town Virginia gems.
1. Abingdon
Abingdon is surrounded by the beautiful Blue Ridge Mountains, making it the perfect destination for outdoor activities. The Virginia Creeper Trail begins in downtown Abingdon and is great for biking, walking, jogging or horseback riding. The historic downtown district begs for a walk along the cobblestone sidewalks, and delicious finds aren't far away. Get pampered with a spa treatment at The Martha Washington Hotel & Spa (in photo above), dine at a tasty restaurant serving locally-grown menu items, catch a play at the famous Barter Theatre, or grab a craft brew and listen to live music at Wolf Hills Brewing Co.
2. Culpeper
Culpeper, a National Trust 2012 Great American Main Street, is home to some great wineries and one of Virginia's moonshine distilleries, Belmont Farm Distillery.  Along with great dining options like It's About Thyme Markets' brick oven pizza or Foti's uniquely inspired farm-to-fork creations, visitors can shop for one-of-a-kind items including global treasures, earth-friendly gifts, antiques, original art, and handcrafted-in-the-USA items.  Just a short drive out of town, find Culpeper's well-preserved Civil War battlefields at Cedar Mountain, Kelly's Ford and Brandy Station for a self-guided or guided tour.
3. Damascus
Damascus is known as "Trail Town USA" thanks to the seven trails that intersect there, namely the Appalachian Trail and the Virginia Creeper Trail, which connects to Abingdon.  Damascus is a gateway to the 191,000-acre Mount Rogers National Recreation Area and Virginia's highest peak.  The Damascus Old Mill is a historic staple in the center of town.  Located on the banks of Laurel Creek, the mill overlooks the grist mill waterfall, while ducks and geese float peacefully on the mill pond.  The Mill serves as an inn, restaurant and local watering hole.  Damascus is ideal for vacationers who are tired of sitting in traffic, waiting in long lines, and spending lots of money in crowded, hectic conditions.
[tweetthis]10 small Virginia towns you should visit @VisitVirginia[/tweetthis]
4. Fincastle
Historic Fincastle boasts southern charm and is deeply rooted in historical significance.  Fincastle is a designated Lewis and Clark community, having ties to both Meriwether Lewis and William Clark prior to and after their western expedition. There is a self-guided walking tour that leads visitors to many of the town homes and buildings, some dating back to the late 1700s and early to mid-1800s.  Stay in one of the two bed and breakfast's in the historic district, perfect places to sit back, relax and enjoy the simple comforts of home and southern conversation.  Stop in to the Heritage Family Market for fresh deli meats and cheeses, the perfect take-home taste of Fincastle.
5. Gordonsville
When in Gordonsville, spend time walking in the steps of extraordinary history, then take a stroll down Main Street to enjoy timeless charm and great food traditions.  During the Civil War the elegant Exchange Hotel became a receiving hospital for more than 70,000 troops. Today it has been restored to its original grandeur.  Downtown, find quaint shops and galleries that combine modern styles with antiques and country sensibilities.  Don't miss contemporary food gems like Pomme, where acclaimed French Chef Gerard Gasparini has brought a taste of Paris to the heart of Virginia.  Looking for a taste of traditional country cooking? Don't miss the annual Gordonsville Famous Fried Chicken Festival. Gordonsville is recognized as "the chicken-leg center of the universe" because of how the history of the southern staple traces its roots to women serving the treat to 19th century train passengers.
6. Lexington
Lexington has an exceptional concentration of museums, historic sites, art galleries, music, theaters, and other cultural and outdoor offerings.  With strong connections to Civil War and military history, visitors often enjoy carriage rides through historic downtown.  Don't miss a stop at Lee Chapel where General Robert E. Lee is buried.  Steps away, museums and historical sites such as the Virginia Military Institute, George C. Marshall Museum, Stonewall Jackson House and Memorial Cemetery – where General "Stonewall" Jackson is buried – chronicle stories of the U.S. military.  Lexington also features attractive shops, hotels, businesses and top-rated restaurants.
7. Luray
Luray is a charming small town with big prospects for all varieties of travelers. "Choose your Level" is the mantra, referring to the mountains, river valley and underground topography.  Home to Luray Caverns, Shenandoah National Park and the Shenandoah River, the area has become a hub of outdoor recreation.  Lodging options include a restored Jazz Age-era hotel, a number of B&Bs and hundreds of vacation cabins and country homes, making it the "Cabin Capital" of Virginia.  Many dining choices ensure every palate finds its complement.  Visitors may relax at a local winery, enjoy live music or theater, or browse Main Street, where shop owners offer locally-made artisan goods, outdoor equipment or bargain-priced estate sale finds.
8. Orange
The town of Orange is a true old-fashioned small town experience, with a few special twists. The Historic Orange Train Station on Main Street is surrounded by an eclectic and historic downtown commercial district with local shops, homes, the 19th century County Courthouse, historic churches and sites, and local restaurants with affordable to fine dining options.  Don't miss the James Madison Museum, the first to commemorate our fourth president, called the Father of the Constitution.  Modern amenities mix with home-spun style at places like the stately federal-style Holladay House.  Year-round you will find unique experiences in Orange, but whenever you visit, you are sure to be welcomed like a local, fed like a farmer, and sleep like a baby in comfort and style.
9. Smithfield
Smithfield is perpetually stuck in the weekend.  It has a slower pace, there is always something going on, and it constantly smells of bacon. There are plenty of towns that have historic buildings, kooky museums, and unique eateries, but, when it comes to the best of all of them, one needs look no further.  Waterfront dining complete with sunset? Smithfield Station.  Regional, national, and international musical acts and performances?  Smithfield Little Theatre.  Locally grown fresh produce? The farmers' market on Saturday. Unwind and have a few ham biscuits at the Smithfield Inn, there's no rush.
10. Washington
The very first Washington is a sweet place indeed, and you may have heard it called Little Washington. There's no doubt you'll fall in love with the  world-renowned restaurant, superb bed and breakfasts, and a wealth of artisans to delight your eyes and ears. Take in a show at The Theatre at Washington, Virginia or sip fine wines at Gadino Cellars or Little Washington Winery and Vineyards; the countryside and all its awaiting treasures are yours.
Photo credit: dmott9
Anthony has found travel provides a healthy balance to his day job as a criminal defense attorney. Living on the periphery of blogging for years, he's now decided to flex his creative muscles with a little writing and photography of his own. Anthony's favorite travel destinations are the Caribbean, Italy, and Ireland.