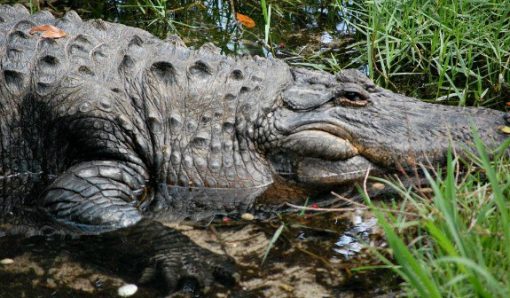 With the economy in a bit of an upheaval, it has been difficult for some businesses to stay afloat.  Particularly hard hit have been tourist destinations.  Many attractions in the Gulf Coast cities have had an especially hard time facing a decrease in tourism. Not only because of the economy, but equally devastating to the area was the cruel hand dealt by mother nature as several hurricanes pounded the area with merciless succession.
One attraction that has suffered through these setbacks and yet remains open is the small family friendly Alabama Gulf Coast Zoo located in Gulf Shores, Alabama.  Perseverance, dedication and hard work have not only kept the zoo open, but it is the subject of an Animal Planet series entitled "The Little Zoo That Could".
Drawing attention as the only zoo in the United States to conduct a full evacuation during a hurricane, Gulf Coast zoo director, Patti Hall relocated 270 exotic animals, her staff and their families to her inland home to wait out the devastation of Hurricane Ivan.  Destroyed by the category 4 storm, the zoo was in the process of rebuilding when two more evacuations were needed – just 10 months later – to avoid Hurricanes Dennis and Katrina.  While once again totally destroyed, the zoo was able to reopen within 14 months.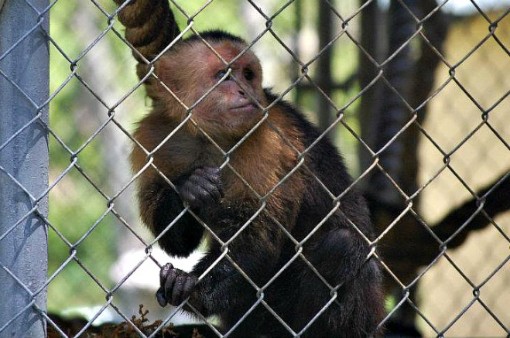 Located just a few blocks from the beach, the zoo is a popular attraction for visitors and locals alike. A trip to the zoo is the perfect diversion on a rainy day or when visitors have had a little too much sun.  That's how I felt when, seeking refuge from the sun, I visited the zoo on a recent trip to Alabama.
The Little Zoo is tucked behind a miniature golf course and after pulling into the modest parking lot I found a humble, but inviting entrance. Admission tickets are purchased within the small gift shop that is packed with merchandise.  In the gift shop you can purchase a souvenir cup filled with food to feed several of the resident animals.  The simple charm is evident.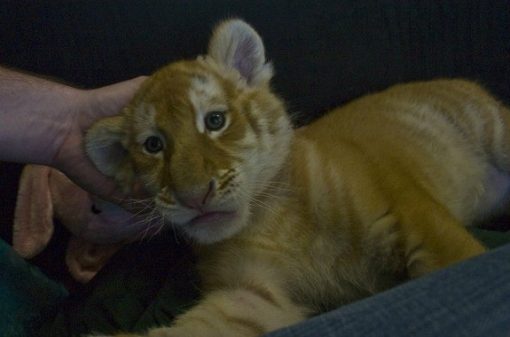 Additional animal encounters are available with personal time spent with some of the younger animals like goats, bunnies, tigers and red kangaroos or the fun loving lemurs. For a once in a lifetime experience, guests can hold, play with and have photographs taken with the animals.  You won't want to forget your camera!
The fee for the animal encounters, in addition to general zoo admission, range in price from $1 per person for a trip to Babyland to $50 for an adult, ($25 per child)  to meet the infant white Bengal tigers.  NOTE:  Children under 12 must be accompanied by a  participating adult during any encounter.  Encounters with tigers and lemurs were available on the day of my visit.  If you want an encounter with your favorite animal, call the zoo to find out the schedule of which animals will be available.
Home to a reptile house, aviary, petting zoo and lemur playhouse, the zoo counts hundreds of animals as residents – and with the recent additions of a pair of Bengal tigers, the Gulf Coast Zoo is the only zoo in the United States to own a tiger in each of the four color categories.  I loved that this zoo is large enough for visitors to enjoy several hours with entertainment, yet small enough to allow a leisurely visit.  And if you're traveling with kids, you don't have quite as much worry about them running off and getting lost.   Although the zoo is compact and easy to navigate, wagons are available for rent and complimentary wheel chairs are available on a first come, first serve basis.
Publicity from the Animal Planet series resulted in increased support for the zoo including the donation of 25 acres of land on which to build a new zoo.  This new location, inland from the coast and on higher ground, will give more protection from the threat of future hurricanes and possible flooding.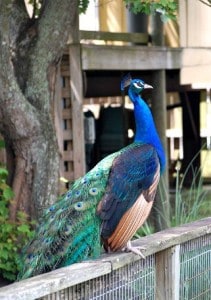 The new facility is scheduled to open in 2013 and will be far from the modest structure of the current zoo. Noted theme park designer, Dennis Thomas is the designer of the new zoo facility.  Thomas is credited with the design of Walt Disney World Resort's Animal Kingdom theme park, Universal Studios Orlando, and Atlantis, Bahamas.
Designed to be the first environmentally sustainable zoo in the world, the new "green"  zoo will be constructed from non-toxic, natural, organic, biodegradable and recyclable materials.  Alternate power sources, water retrieval and waste product conservation will lead to the goal of achieving a zero-carbon footprint while maintaining the living standards of the animals.  Using hydroponic and aeroponic gardening techniques, the zoo will also have the ability to grow some of its own food.
I thoroughly enjoyed my afternoon at the charming Little Zoo that Could, and can't wait to explore the amazing new amazing facility next year.
Location: 1204 Gulf Shores Parkway, Gulf Shores, Alabama
Hours: 9 am until 4:00 pm daily (closed on major holidays)
Admission: $10 (age 13-54), $8 (55+), $7 (age 3-12).  Discount offered with valid Military ID.
Photo Sources: personal photos,  flickr: The Pug Father (Bengal Tiger)
Having been transplanted numerous times, I have learned to explore the sites around our new found hometown, uncovering hidden gems and attractions. When vacation time rolls around, I enjoy traveling with my family and the occasional weekend escape with my husband, coming home to share our travel experiences with others. You can follow me on Twitter @JAIngersoll. My top three destinations are Walt Disney World Resort, the Midwest and any beach I can walk along.