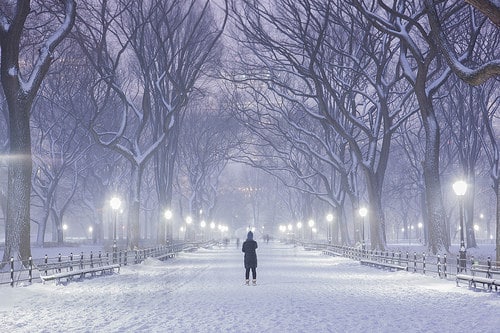 Our family recently relocated from the Midwest to New England. One of the best parts of relocating is getting to explore new places. The possibilities are endless for short jaunts, day trips, and weekend getaways. The problem is deciding which trip to do first. A mid-winter break in the New England schools provided the perfect time, the problem now was deciding where.
I settled on New York City and more specifically, Central Park. I know what you are thinking, Central Park in winter? Granted there are a few things to keep in mind. Not everything will be open in the Park, some areas are seasonal and therefore closed for the winter. But, by the same token, you can't ice skate in July either. Limited daylight hours, will also limit the amount of time that you can safely enjoy strolling the grounds. To maximize your time there, find a place to store your luggage when you come into the city and get out into the park as early as possible. With much smaller crowds you can stroll at your own pace and see more in the process.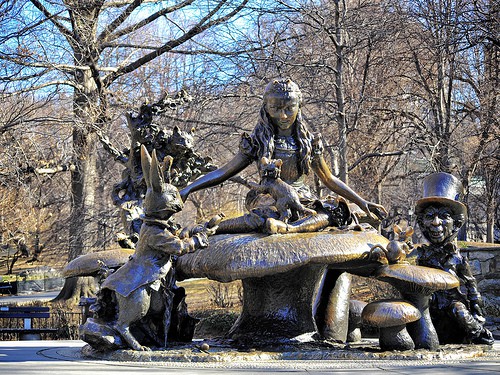 I was pleasantly surprised to discover that many of the park benches have dedication plaques, including one to the late puppeteer and New York native, Jim Henson. With fewer people resting on the benches, the plaques were more visible making it a fun game to "spot the famous dedication". Another game to play while strolling through the Park is to identify the scene and movie where portions of the Park served as the backdrop. A number of movies have been filmed, or a portion has been filmed, in Central Park and how many spots you will recognize.  It gives the Park a familiar feel, even if it is a first-time visit.
Unlike other parks, the statues within Central Park are encouraged to be touched and explored. Adults and children alike can be seen posing with the likes of Balto, Hans Christian Anderson, and Alice in Wonderland. Don't forget your camera and be sure to pack an extra hat and pair of gloves because if you are lucky enough to be in the Park when it starts to snow it is so magical you won't want to leave.
If you would like a little memento of your visit, head to the Central Park Dairy. Built in 1870, this beautiful building was once the spot where City children could come for fresh milk. Now, it serves as the information center and gift shop and is a great little stop to warm up a bit.
If you chose to explore Central Park from a different perspective, Pedicabs and horse-drawn carriage rides are readily available. Lined up one after the other along Central Park South, it is quite the site to see. While the Pedicabs and carriages provide blankets for their customers' comfort, in either case, snuggle up close for extra warmth. Although there is a regulated standard rate and set length of time for each ride, negotiations for lower rates and longer rides were openly taking place. I overheard one gentleman negotiating his fare with the inclusion of "tip and taxes", but be aware, taxes are NOT collected on these services and should not be charged. Most of the drivers are very knowledgeable about the facts and highlights of Central Park. So, if you are still arguing over where the snowball fight scene in Elf took place, just ask, your driver will know.
Immediately across the street from this caravan of coaches sits the Park Lane Hotel. Located on Central Park South, it faces the Park and is situated between two stately neighbors, The Plaza on one side and The Ritz-Carlton on the other. The Park Lane proved to be a great base from which to explore Central Park. My room was clean and spacious and since spending a great deal of time in the room was not in the plans, I opted for a less expensive city view room. If you do splurge on a park view, and it is not a big splurge, I might add, I would recommend requesting a higher floor for a sweeping view of the Park.
The Park Lane Hotel offers valet parking for a 24 hour period. A word to the wise, the operative words here are 24 hours, a minute over and you will be charged for an additional day.
The Café on the Green is a convenient counter service spot serving muffins, sandwiches, salads, and beverages. Located just off the lobby it is perfect for a reasonably priced bite on the run, snack in the park or the adjacent courtyard. The Park Lane hosts a reception each evening in The Park Room with complimentary hot beverages, soft drinks, beer, wine, fresh fruit and a variety of hot and cold appetizers. The offerings were replenished quite frequently throughout the reception and the only thing lacking was sufficient seating. To avoid this arrive early or pull up a chair and converse with a fellow traveler. By far the hit of the reception is the freestanding candy counter loaded with back-in-the-day penny candy like Red Vines and Tootsie Rolls, Bit 'o Honey and Mary Janes. For a brief moment, I was once again a giddy kid in a candy shop! The reception is a great way to unwind a little before heading back out for a night on the town.
While you might not think a trip to New York's Central Park in winter is ideal, remember with the holiday traffic gone and the warm weather rush yet to arrive, lighter crowds can trigger lower hotel rates and make it not only easier to get around but make it easier to see more of the sites you came to see. Having seen Central Park in winter, I can't wait for spring!
 Photo credit: Anthony Quintano  (blizzard), diannlroy.com (Alice), waterlooHildreds (Dairy)
Having been transplanted numerous times, I have learned to explore the sites around our new found hometown, uncovering hidden gems and attractions. When vacation time rolls around, I enjoy traveling with my family and the occasional weekend escape with my husband, coming home to share our travel experiences with others. You can follow me on Twitter @JAIngersoll. My top three destinations are Walt Disney World Resort, the Midwest and any beach I can walk along.