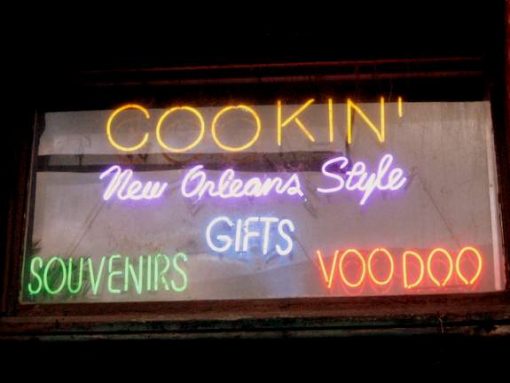 After a few meals in New Orleans, it's easy to see why entire books have been written about this city's cuisine. While many American cities have a regional specialty, New Orleans is laden with options, incorporating such diverse influences as French provincial, Spanish, Italian, West Indian, African, Native American and good old southern American. Here are a few must-eat items to consider on your next visit:
Red Beans and Rice
You will find red beans and rice on menus all over the Big Easy. Even the fanciest restaurants serve up this humble dish. If you really want to follow tradition, order this on a Monday, when it is often featured as the special. As one local told me, "Monday is when Mama did the washing. So for an easy dinner, she'd leave a big pot of red beans simmering all day long."
What I really want to know is exactly how Mama spiced it, because this simple dish is sublime, and I can't seem to replicate the flavor at home.
Gumbo
Native Americans introduced early settlers to the use of ground sassafras as a thickening agent. Called filé, it's a key ingredient to many dishes in New Orleans such as gumbo, a thick stew of rice, okra, chicken, and your choice of either seafood or andouille (a spicy Cajun pork sausage.)
Jambalaya
Chefs riff on jamabalaya the way jazz musicians riff on familiar tunes, which is why this spicy rice dish, reminiscent of Spanish paella, can feature seafood, ham, or andouille, among other items.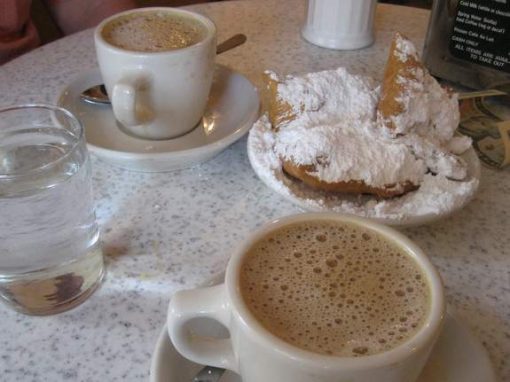 Chicory coffee and beignets
Beignets are deep fried dough balls liberally doused in powdered sugar, a messy indulgence best accompanied by a cup of chicory-laced coffee. Chicory was originally used to stretch coffee reserves when supplies were scarce, such as during the Civil War. It complements the flavor of coffee so well that local companies (such as Community Coffee and Cafe du Monde) continue adding chicory to their roast even today.
Cocktails
Somewhere around 1830, a local pharmacist named Antoine Peychaud created the sazerac, a blend of bitters, sugar and lemon combined with either bourbon or whisky. This was the first cocktail ever, and many believe that the word cocktail is derived from mispronouncing coquetier, which is the French word for the egg cup he served it in.
While the sazerac is world's first cocktail, it's certainly not the only one invented in New Orleans. For those, like me, who find it too strong for their tastes, there are plenty of other native drinks to sample such as the fruity Hurricane, the sophisticated Vieux Carre, and the refreshing Ramos Gin Fizz.
Crawfish Étouffée
What you may call crayfish are known as crawfish or even crawdaddies down in NOLA. Étouffée is French for smothered, and refers to a slow-cooking method which creates a thick, spicy sauce. I love this dish!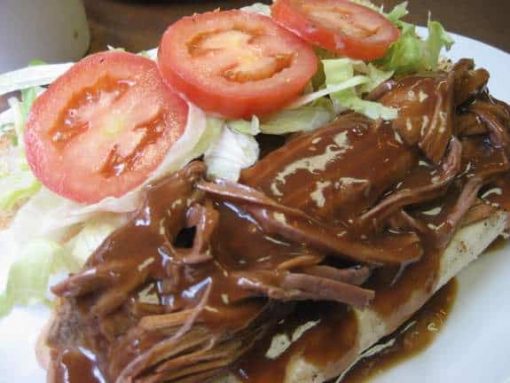 Muffalettas
If you crave a sandwich in the Big Easy, skip the grilled cheese and go native. The muffaletta, which traces its roots to Italian dockworkers, features cold cuts, provolone, chopped olives, and cauliflower on a large round loaf.  I say loaf because these hearty sandwiches typically feed two people!
Po'Boys
Another local sandwich creation is the po'boy. This comes on a submarine roll and features fried shrimp, fried oysters, beef or ham. No matter which sandwich you order in New Orleans, you will be asked if you want it "dressed," which simply means the addition of tomatoes, lettuce and mayonnaise on top of everything else.
This is a mere sampling of the many different flavors you can experience in New Orleans. When you visit, I bet you will find even more to add to this must-eat list.
Photos: Courtesy of author
Tui Snider is passionate about exploring the world, and loves sharing what she finds at home and beyond in her travel writing and photos. You can find her online at Discovering-Dallas-Fort-Worth.com, mentalmosaic.com/blog and on Twitter @mentalmosaic. Her top three travel destinations are Italy, London and anywhere a cruise ship will take her.