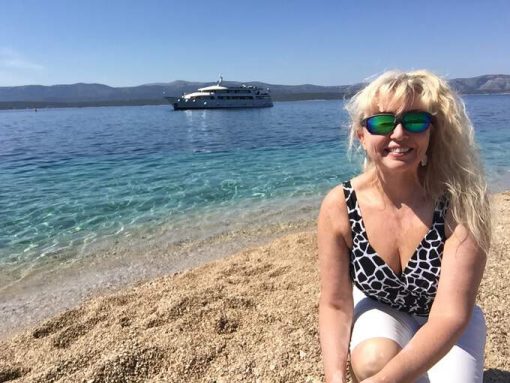 They sit shimmering in the Adriatic Sea off the coast of Croatia, mostly unknown to American tourists.  Island hopping around these undiscovered gems onboard a small ship cruise is discovering paradise, over and over again.  Bustling marinas, medieval town squares, sapphire and turquoise beaches, boutique hotels, al fresco dining, and chic bars are all part of Croatia's Dalmatian coast and islands.
I chose a water journey around the islands, but make no mistake…this was no ordinary cruise. My ship of choice was the Diontis of the Katarina Line, a traditionally-styled but modern boat with two-masts, holding a mere 25 passengers and 7 crew members.  It was intimate, and it was a blast! Brush up on a little sailing jargon and have the time of your life.
Dubrovnik
Our adventure actually began on land, with a day in Dubrovnik. This stunning, medieval city overlooking the azure of the Adriatic has captured the imaginations of many, including the HBO hit series "Game of Thrones" which films its King's Landing scenes here.  It's easy to see why this city has mesmerized the masses – it's nothing short of magical.  Ancient castles, red-roofed buildings, and narrow cobblestone streets all run down to the bluest sea imaginable.  A better place to kick off the cruise is not to be found.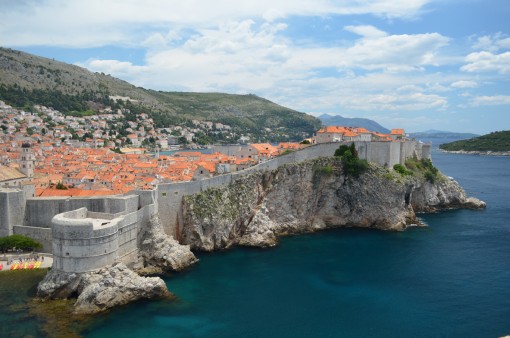 Our boat set sail the next morning just as the passengers were finishing up our buffet breakfast made by our own private cook and eaten on the shaded, open-air deck. With such a small group, it was easy to chat over coffee and new friendships began to take hold.  Unlike "regular" cruises which travel during the night, the closeness of the islands lend to a short morning cruise time.  This also has the advantage of allowing travelers to spend a good part of the evenings on the islands for dining and entertainment.
We were about to be introduced to four delightful islands.
Mjet
On the first day, we reached the island of Mjet, written about by the Greek poet Homer in The Odyssey.  As we entered the port, my first impression was one of a colorful but laid-back fishing village.  Setting foot on land, the comfy atmosphere of the tiny village is at once welcoming. If you have the stamina to ascend and descend a series of some 120 steps to enter the national park, you'll be treated to a stunning panorama of the forested lake encircled by a natural hiking path. After hiking for a while on the picturesque path, we boarded on a small motorboat to the center of Great Lake to the tiny island of Saint Mary to explore the 12th century Benedictine monastery, and more panoramic views.
Korčula
Korčula is arguably the most popular of the Croatian islands.  Its captivating medieval capital, Korčula Town, offers a mixture of urban tourism and relaxed beachcombing.  The town has 14th-century masonry walls adorned with growling lions and exquisitely inscribed Romanesque pillars. Beyond the town is a network of vineyards producing some of Croatia's best and most diverse wines.  There are wine-tasting opportunities and I can attest that the wines were quite good!
[tweetthis]After sailing in the Dalmatian Islands, @VagabondPatti says "hvala" [/tweetthis]
Hvar
Next up was the long, thin island of Hvar, hailed by many as their favorite Croatian island because of the natural beauty of marina, which rests at the foot of a medieval castle. The capital, Hvar Town is well-preserved and glamourous, with stylish bars and clubs and can be a bit hedonistic after the sun goes down. For this reason, it is very popular with young, well-to-do, jetsetters.  But there are also Gothic palaces, a Benedictine cathedral, one of Europe's most romantic piazzas, and a cobblestoned labyrinth of shops and dining for those seeking a more laid-back island experience.
Brač
Closest to Split is the island of Brač with its attractive village welcoming you as you step off the boat and into the marina. The village isn't as old as the medieval towns on some of the other islands, but it makes up for the lack of crumbling cathedrals with its tidy, cozy vibe and lovely seaside promenade. Not to be missed is the stunning, breezy beach in Bol called the Golden Horn due to its shape.  The crystal clear aqua surf surrounding this peninsula is a thought by some (me!) to be the prettiest beach of all the Croatian islands.  There are a lot of amenities at this beach making it popular with local families as well as tourists.
Split
After our tour of the islands, our last stop of the cruise was at the seaside city of Split. We toured Diocletian's Palace, an impressive contained city of 4th century Roman ruins. The fortress was built in an irregular rectangle with numerous towers and facades and is still a living city which makes it unique in comparison to other ruins. At sunset, we were treated to a wonderful view of the harbor and farewell dinner on the roof terrace at Varos restaurant.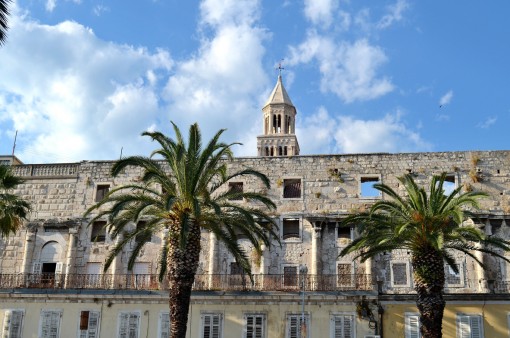 Except for our "Captain's Dinner" night, most nights of the cruise we were free to dine at our choice of one of the charming local restaurants and subsequent entertainment establishments on the islands.  Our buffet breakfasts and delicious 3-course lunches of Mediterranean and Croatian delicacies were prepared daily on board by our private cook.  There was a bar on board complete with our own bartender.  The crew of the Katrina Line small ship cruise was very attentive and friendly and made sure every need was taken care of.  We even had free WiFi! I can't think of a single thing that would make it better.
Disclosure:  The author was honored to be the guest of Katrina Line during her stay in Croatia, but as always, the opinions, reviews and experiences are her own. All photos are provided courtesy of the author.
Author Bio: Patti Morrow is the founder and editor of Luggage and Lipstick – a travel blog for baby boomer women adventurers, author of the book Girls Go Solo: Tips for Women Traveling Alone, and freelance travel writer with bylines in over 30 publications, includingThe Washington Post, International Living Magazine, Travel Girl, Epicure & Culture, andLadies Home Journal.  She has traveled throughout most of the USA and around 50 countries and islands abroad.
Mary Jo Manzanares is a founder and the editor-in-chief of The Traveler's Way, an online travel magazine proving informational and inspirational travel recommendations for curious Baby Boomer travelers. She has been a speaker at various industry events and has a personal travel blog at Traveling with MJ. When she's not traveling, Mary Jo likes lingering over a cup of coffee, wandering in a museum, sipping wine at a cafe, and sharing it all with friends and readers. Mary Jo's top travel destinations are Italy, Portugal, and the Caribbean.