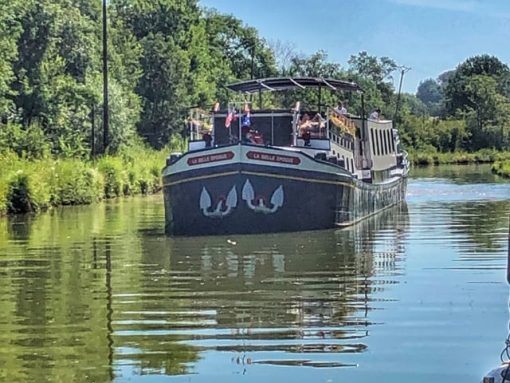 My wife suggested that we take a cruise in France. We had done river cruises in Europe before and we enjoyed the experience. This time, the cruise would be through the canals in the Burgundy wine region of France. Canal cruises are very different from our prior experiences.
I admit to being apprehensive about a small barge with a maximum of 12 people onboard. Unlike many cruises where you can remain anonymous and limit interaction with other passengers, the close quarters on a barge make that impossible. I worried that it might be possible to have barge-mates with whom I have nothing in common. That could make meals and activities very uncomfortable. Three meals a day, excursions, as well as cruise time with people you don't particularly care for, would make for a very long 7-day cruise vacation.
Plus, the usual apprehensions about a vacation in a foreign country were still at the back of my mind. I'm not as adventurous of a traveler as my wife and I worry about the language barrier and unusual foods.
From day one of our adventure in France with European Waterways, all my concerns were laid to rest. Despite the brutally hot weather (unseasonably so) in France, it was the beginning of a great week of barge cruising in Northern Burgundy.
We were greeted at our hotel by Luke, the barge captain. He was cheerful and outgoing but seemed a little young to be a captain. As he drove us from Paris to the French countryside to board the barge, his friendliness and knowledge put me at ease.
The drive was like seeing France for the first time. We've visited France before, earlier this year in fact, but this was our first time seeing the French countryside. It's beautiful. We relaxed in the van as we put the busyness of Paris behind us and got in the mood for our cruise on the French canals.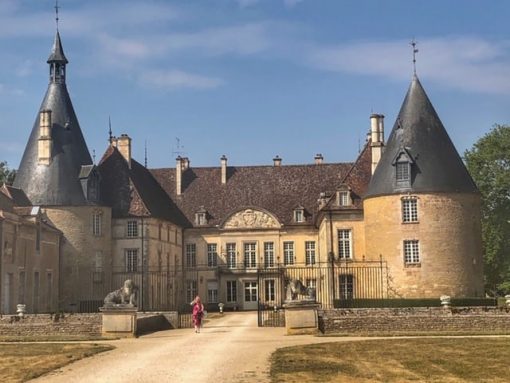 It took us nearly three hours to get to La Belle Epoque. Upon arrival, we were greeted by the crew with a glass of champagne and warm smiles. Luke introduced us to the rest of the crew, all equally young and enthusiastic, following which we were shown to our cabins. While we were having our toasts on the deck, our luggage had been delivered to our cabins, so all we had to do was settle in and freshen up for dinner.
Dinner was our first opportunity to truly interact with our fellow passengers in what would be the first of many meals for the next seven days. It was a little awkward at first, as being thrown together with a bunch of strangers can be, but once the ice was broken, conversation flowed. My apprehension about not getting along with people never came to pass. I learned later that our fellow passengers shared similar concerns about cruising with American strangers.
The meals, for the most part, were delicious and if something wasn't to your liking the staff was happy to honor special requests. If you couldn't find something to your liking, you weren't really trying.
Wine flowed at lunch and dinner, and often into the evening, too. At every meal, our hostess would present the wines with tasting notes and a little story about the winery and region is was from. It was a nice introduction to the wines as well as to the wine regions of France. Our final night was the Captain's Farewell Dinner and it was Luke's turn to present and explain the wines. He rallied through it, although wines were clearly not his forte, and I think the hostesses got a kick out of his occasional struggles with the information.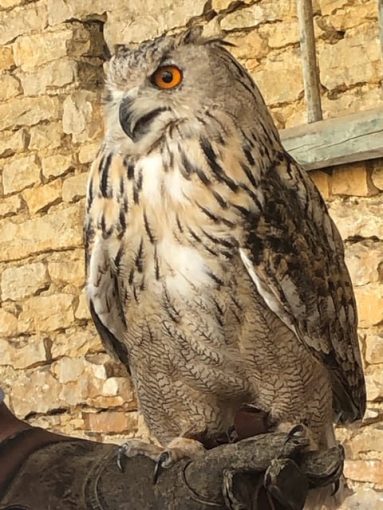 During the cruise, we did a tour of some kind every day. With only eight passengers, the tours were intimate – no lollipop signs and tour leader making sure you didn't get lost. We visited small French towns, wineries, manor houses, met a Baron and Baroness, visited a champagne house, and saw a falconry demonstration. All in the French countryside of Northern Burgundy.
Our last night on board was special. The Captain's Farewell Dinner was bittersweet, knowing it was the end of our trip. After dinner, Luke and a captain from a next-door barge serenaded us on deck. At one point, we all joined in to sing Hotel California. We were awful. But it was fun. Lots of wine helps you sing better.
We said our goodbyes where we started, at our hotel in Paris. What started out as a vacation full of apprehension, ended with lifelong memories of a shared sailing along the canals in Burgundy.
For more information about our itinerary on La Belle Epoque, the various food and excursions, and information to help you decide if a barge cruise is right for you read Mary Jo's post: Enjoy Barge Cruising in Burgundy with European Waterways.
Anthony has found travel provides a healthy balance to his day job as a criminal defense attorney. Living on the periphery of blogging for years, he's now decided to flex his creative muscles with a little writing and photography of his own. Anthony's favorite travel destinations are the Caribbean, Italy, and Ireland.