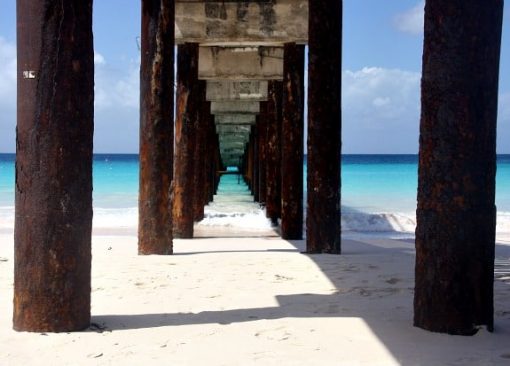 The island of Barbados, located deep in the Caribbean, is a wonderful spot for a beach vacation. Barbados is an independent nation, but since it functions as a constitutional monarchy recognizing Queen Elizabeth II as head of state, it offers visitors a fun blend of casual island atmosphere tempered with a bit of good old British formality.
Here are just a few reasons why you should consider Barbados for an island getaway:
Barbados is a small island, only about 14 by 21 miles, yet it manages to boast over 70 miles of powdery, white sand beaches. That means you'll have plenty of spots to pull up a lounge chair and spend some quality beach time.  You can opt for a beach at your own resort or head out to explore and find something a bit more remote, but either way, you'll find low-key beaches that are crowding you out.
What's not to like about a destination that has sun all year round?  Barbados boasts over 3,000 hours of sunshine a year, which means it's highly likely you'll have temperatures around 80-85 degrees when you visit.  Yessiree, that's weather that makes us smile.
Shopping is one of the top vacation activities, and you can enjoy a lot of it in Barbados' tax free boutiques, modern department stores, and trendy shops.  Whether you want chic fashion or something a bit more simple, you'll be able to find a perfect fashion souvenir here.
The water is warm.  I hate those euphemisms like "it's fine once you get used to it" or "it's warm once you get in."  Hey, the water is either warm or it's not, and when you use terms like that, it's not.  In Barbados the water really is warm, a great temperatures for enjoying water activities like swimming with the turtles, snorkeling, or a boat ride.
Delicious ethnic cuisine.  With strong influence from around the world, Barbados gives a special twist to Caribbean cuisine.
Great beverages. Barbados may not have invented rum, but one taste of the famous Mount Gay rum and you'll think that they did.  There are plenty of refreshing rum drinks around the island, so take a chance on something new.
You get more for your money in Barbados.  There aren't many places where the dollar gets you a favorable exchange rate, but with a valuation of $1 US equals $2 BDS, you can enjoy more bang for your buck.
Moderately high standard of living. Third world vacations aren't for everyone, and there's nothing wrong with wanting modern conveniences when you travel.  Barbados sports modern hotels and resorts, first class shopping and dining, and is the first country to offer free internet access.
English is the primary language on Barbados. While I think navigating an unknown language and culture is a wonderful experience, it can be taxing. And it's a deal breaker for many travelers.  In Barbados you'll find English spoken everywhere, and with a charming British-island accent as an added bonus.  It's very sexy.
History and culture. Continuously under British rule until its independence in 1966, Barbados still has a strong British flavor about it. This is the only place outside of the U.S. that George Washington ever visited. If it's good enough for George, it's good enough for me!
What tempts you to travel to Barbados?
Photo credit:  SXC

Mary Jo Manzanares | Mary Jo Manzanares is a founder and the editor-in-chief of The Traveler's Way, an online travel magazine proving informational and inspirational travel recommendations for curious Baby Boomer travelers. She has been a speaker at various industry events and has a personal travel blog at Traveling with MJ. When she's not traveling, Mary Jo likes lingering over a cup of coffee, wandering in a museum, sipping wine at a cafe, and sharing it all with friends and readers. Mary Jo's top travel destinations are Italy, Portugal, and the Caribbean.