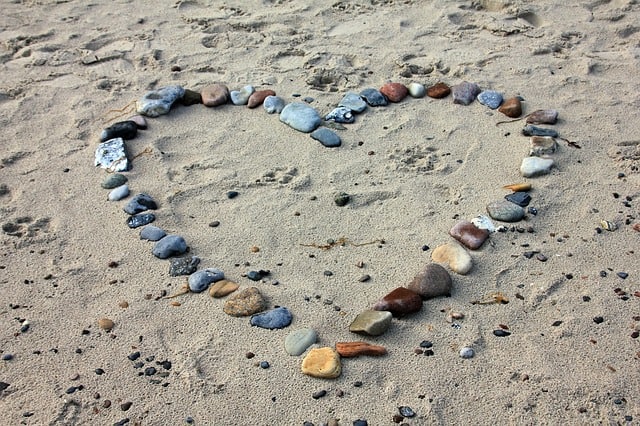 Travelers weary of overdeveloped and crowded beaches will find the perfect remedy on Georgia's Atlantic coast. Whether the destination is one of Georgia's famous Golden Isles, a windswept national seashore like Cumberland Island, or the diverse experience that is Tybee Island, there's a place where the shore is calm and uncrowded.
1 – Cumberland Island National Seashore
The most southern of Georgia's barrier islands, Cumberland Island is a wonderful place to discover our country's eastern shore as the early inhabitants knew it. Accessible only by a twice-daily ferry from St. Marys, Georgia, Cumberland Island National Seashore's unspoiled beaches are known for excellent [easyazon_link identifier="1535107928″ locale="US" tag="thetravelersway-20″]shell collecting[/easyazon_link], as well as wild horses, manatees, dolphins and nesting sea turtles. You'll also want to spend time hiking the trails through the forests, marshes and historic ruins that make this quietly beautiful place so attractive to nature lovers.
2 – Little St. Simons Island
Does being one of less than three dozen people on a private island appeal to your need for solitude? [easyazon_link identifier="0913720909″ locale="US" tag="thetravelersway-20″]Little St. Simons Island[/easyazon_link], another barrier island just off Georgia's coast, is a privately owned sanctuary with seven miles of undeveloped beach. An ecological gem, this island also offers unspoiled maritime forests and marshland easily accessible to its vintage vacation cottages. River and surf fishing, kayaking, nature hikes through the forests and, of course, swimming and shelling at the beach are favorite activities for visitors to [easyazon_link identifier="0820348872″ locale="US" tag="thetravelersway-20″]Little St. Simons Island[/easyazon_link]. Where to stay:  Try the Lodge on Little St. Simons Island (reservations here).
3 – Driftwood Beach, Jekyll Island
Just north of Cumberland Island and directly across St. Simons Sound from St. Simons Lighthouse, the lonely spot known as Driftwood Beach on Jekyll Island will give you a whole new perspective on beach vistas. The erosion of the island's northern point has resulted in dozens of downed trees left to bleach and dry along the sand. It's a stunning sight and a favorite of photographers. Enjoy the whole Jekyll Island experience by visiting the Georgia Sea Turtle Center and touring the historic district, where fabulous island "cottages" were once part of the Jekyll Island Club, a private retreat for the wealthy.
4 – Mid Beach, Tybee Island
The most northern of [easyazon_link identifier="B00CHR8WSG" locale="US" tag="thetravelersway-20″]Georgia's barrier islands[/easyazon_link], Tybee Island is the quintessential Georgia coastal vacation experience. With its legendary fort, lighthouse, beach resorts and almost endless outdoor recreation, this island is extremely popular with locals and tourists alike. Amid all that island activity, however, it's still possible to enjoy uncrowded beach time, thanks to family-friendly Mid Beach. Walk the wide stretch of shoreline in search of shells and sharks' teeth, and keep an eye out for dolphins in the waves. Bring your shovels and buckets for sand castle building.
For Pinterest: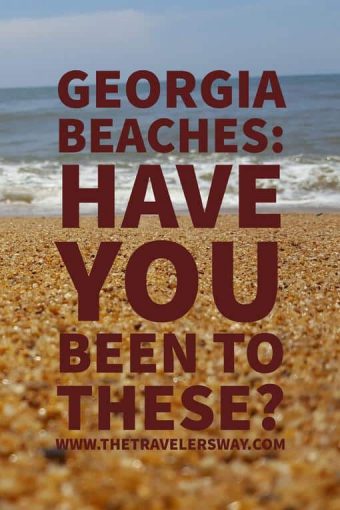 Disclosure:  This post contains affiliate links. Clicking through for additional information or to make a purchase may result in a small commission being paid. By doing so, you help support this site and its authors, and we thank you.
Mary Jo Manzanares is a founder and the editor-in-chief of The Traveler's Way, an online travel magazine proving informational and inspirational travel recommendations for curious Baby Boomer travelers. She has been a speaker at various industry events and has a personal travel blog at Traveling with MJ. When she's not traveling, Mary Jo likes lingering over a cup of coffee, wandering in a museum, sipping wine at a cafe, and sharing it all with friends and readers. Mary Jo's top travel destinations are Italy, Portugal, and the Caribbean.