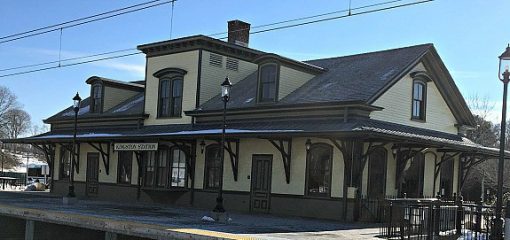 My father used to say that the vacation started the moment you left the driveway. Perhaps this was his way of curbing the inevitable, "are we there yet?", but, I think his philosophy was more the journey is part of the adventure, so relax and enjoy the ride. I took this advice to heart when scheduling a trip to [easyazon_link identifier="1628872829″ locale="US" tag="thetravelersway-20″]Washington, D.C.[/easyazon_link]and with several transportation options available, decided to relax and ride the train.
Amtrak's Northeast Corridor runs between Boston and Washington, with service to several stops in between. One of these stops would be our starting point, the station at Kingston, Rhode Island.
The station is listed on the National Historic Registry and has been in continuous service since it was built in 1875. Walking into the station with its wooden bench seats and teller cage ticket counter you feel you have stepped into the 19th Century, only the soda machine and computerized schedule of departing trains hint at modern times. On-site parking is free but limited to 150 spaces. On weekends and long holiday weekends, be sure to arrive early to ensure a spot.
Though this was not my first train trip, this one had prior trips from Union Station in Indianapolis to Chicago beat based on scenery alone. Instead of staring at cornfields and farms there were small towns sprinkled in snow and marinas with boats wrapped tightly waiting for the warmer weather of spring. Traveling south you will want to be in the seats of the left side for more scenic views of the coastline. I can only imagine the sites of this trip during summer and a colorful New England autumn.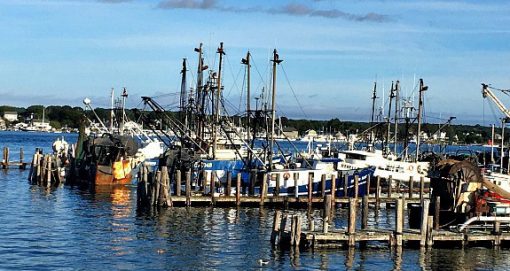 As smaller towns blended into more metropolitan cities, the sight of the distant highways becoming more congested made me relax a little more knowing that we were moving on a train and not sitting in a car. While not having a car could limit your activity in some destinations, Washington, D.C., Philadelphia, New York and Boston are easily explored on foot or by using public transportation.
Little conveniences like electrical outlets at each seat, wifi connection, restrooms, and a dining car can be huge when traveling, especially with children. And the ability to stretch your legs while continuing your journey is perfect at any age.
The Northeast Regional has a Café Car where travelers can purchase light meals, sandwiches, pizza, snacks and beverages including beer, wine, and some liquor. Longer routes may offer an additional dining and/or lounge car. There are tables where guests may sit and eat, and chair-back trays make it convenient to dine at your seat while you continue to stream a video. Having multiple food allergies to contend with, we opted to bring lunch and snacks from home. Being able to carry food onboard provides a nice break to the trip, with the added bonus of saving some money and not having to wait in lines that can be quite long on crowded trains.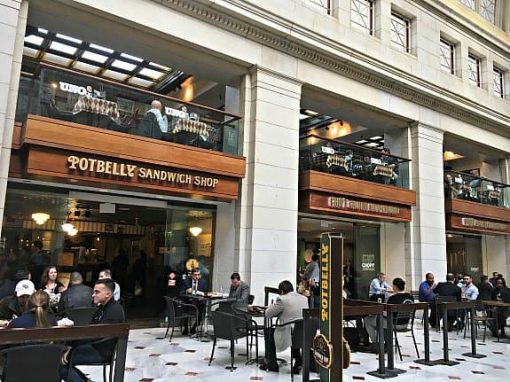 I was slightly concerned with how we would maneuver this aspect of the trip on the return route, yet once we arrived at Washington's Union Station, I knew we had it in the bag, or in this case, in the foldable cooler. Union Station DC is a mixed-use facility with a variety of shopping, dining, and services offered. Located just two blocks from Capitol Hill, it is a popular spot for locals and travelers alike. From fast-food to sit-down dining, boutique stores to souvenir shops, a Walgreens drug store, a US Post Office, even jewelry and shoe repair, Union Station has got it covered.  This is a great place to keep in mind for any vacation emergency while visiting the District.
I was impressed at the speed in which the stops along the route were managed, some so efficiently it barely felt like we had stopped. The only lengthy stop on this route was at [easyazon_link identifier="B01MXQOW2L" locale="US" tag="thetravelersway-20″]New York's Penn Station[/easyazon_link] where a crew change takes place. A point to keep in mind, the Café Car closes during this layover as well. Keep your ticket handy as it will be rechecked should there be a change in conductors.
With cities like [easyazon_link identifier="1596292210″ locale="US" tag="thetravelersway-20″]Mystic, Connecticut[/easyazon_link]; [easyazon_link identifier="1250038820″ locale="US" tag="thetravelersway-20″]New York[/easyazon_link], [easyazon_link identifier="0147546222″ locale="US" tag="thetravelersway-20″]Philadelphia[/easyazon_link] and [easyazon_link identifier="0899977014″ locale="US" tag="thetravelersway-20″]Baltimore[/easyazon_link] on the Northeast Corridor, I caught myself adding cities to the list of  weekend destinations and am pretty sure there will be more train excursions in my future.
Photo credits: J. Ingersoll
Pin this to your favorite travel board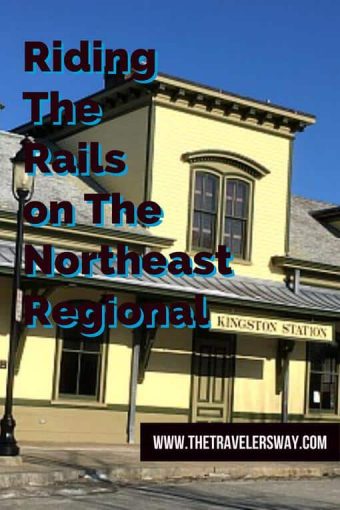 NOTE: This post contains affiliate links. Clicking through for more information or to make a purchase may result in a small commission coming our way. Thank you for supporting this site.
Having been transplanted numerous times, I have learned to explore the sites around our new found hometown, uncovering hidden gems and attractions. When vacation time rolls around, I enjoy traveling with my family and the occasional weekend escape with my husband, coming home to share our travel experiences with others. You can follow me on Twitter @JAIngersoll. My top three destinations are Walt Disney World Resort, the Midwest and any beach I can walk along.