When thinking about a vacation in Europe, Albania is not a country that first comes to mind. With a picturesque landscape showcasing beautiful beaches, long mountain ranges, and glittering lakes, Albania is one of the most fascinating and underrated countries in Europe.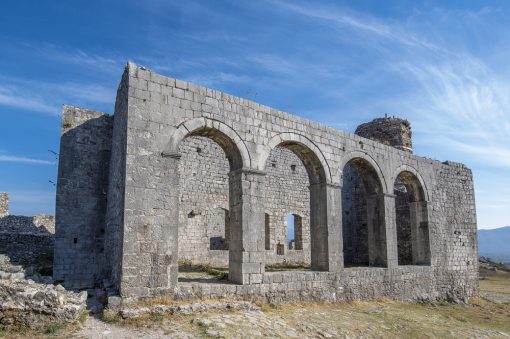 It has everything you might be looking for – from beautiful places in the mountains to four UNESCO World Heritage sites, from ancient ruins to high mountains, from historic sites to dense forests, to ancient city walls to great beaches. Albania has plenty of things to do, plus lot more that you didn't even know you were looking for.
Let's learn more about all the things to do in Albania.
Where is Albania
Albania, or more formally the Republic of Albania, is a small country located in southeastern Europe. It is bordered by the Adriatic Sea and the Ionian Sea to the West, which separates the country from Italy. The population of this country is around 2,876,591 and the major language spoken here is Albanian. Albanian people refer to their country as Shqipëri or Shqipëria which translates to "Land of the Eagles" and "Children of the Eagles" respectively. 
Albania shares its borders with four other countries – Montenegro, Kosovo, North Macedonia, and Greece. From these countries, you can directly travel to Albania by land although it's a fairly long journey.
How to Get to Albania
The major airport in Albania, Nënë Tereza (airport code: TIA) is located in the capital city, Tirana. Direct flights to Albania are available from some major European cities, along with Israel and Turkey. If you're traveling from another continent, you need to connect through a major city in Europe.
Another fun way of traveling to Albania is by taking a ferry from Italy or Greece. 
Good to Know About Albania
The Albanian lek (ALL) is the national currency of the Republic of Albania and one Albanian lek consists of 100 qindarka. 1 USD is 115 ALL and 1 Euro is 121 ALL. Check for the most up-to-date currency exchange rates here.
Electrical output is the standard voltage is 220-240V, and the major electricity sockets which you will find are Type C and Type F.
10 of the Best Things to Do in Albania
Having a long and interesting history, Albania's cities and the countryside is full of amazing old castles and museums. So, let's start with such a historical museum.
1.Visit Bunk'Art
Albania's cities and the countryside are full of amazing old castles and museums, so let's start with a historical museum. One of the most famous and historical attractions of Albania, Bunk'Art is a history museum and a contemporary art gallery located in Tiranë, the capital of Albania. This five-story bunker was originally designed by a former dictator and communist leader Enver Hoxha to protect himself and his ministers in case of a nuclear disaster. But the idea was never completed and now 24 rooms of this shelter have been converted to create an art and culture center
This place holds high historical value. You have to go through a spooky tunnel to enter the museum. Once inside, you will see the original infrastructure of the leader and his cabinets from the 1970s. The old bunker theatre is also used to host concerts. Plan your trip carefully and you may be lucky enough to attend one.
2.Swim in Crystal Clear Water
With a coastline of over 295 miles, Albania has some of the best beaches in Europe. You'll find empty white sand beaches and crystal clear turquoise water in what is largely an undiscovered beach paradise. An undiscovered beach paradise in Europe sounds impossible, but that's part of what makes Albania special.
Urban beaches are slightly more crowded than those found in suburban areas, but it's still easy to find luxurious hotels and facilities. Alternatively, there are areas like Ksamil where you can enjoy a more isolated beach experience without the glitz and glimmer of luxury properties. Choose your version of paradise.
One of Albania's most famous beaches is the mirror beach in Saranda. On sunny and bright days the sun reflects into the crystal clear waters of the sea, giving off a beautiful mirror effect. It's worth visiting.
3.Hike Theth to Valbona
If you are up for hiking, the hiking trail from Theth to Valbona should be on your bucket list. The trail connects two very famous villages, Theth and Valbona, and marks the beginning of their respective national parks. The trail consists of several mountain passes and winds across majestic alpine meadows. While walking the trail through the Albanian Alps, you'll come across small towns and villages. The Theth to Valbona trail is a one-way path and just a one-day hike or day trip. If you have more time, add a stay in Theth for a couple of days and discover their other adventurous hiking trails.
After reaching Valbona pass, be sure to spend some time enjoying the beauty of the mountains. This is one of the most beautiful mountain views the Balkans has to offer.
4.Visit the Blue Eye Spring
If you're spending a couple of days in Theth, you'll want to add on a tour to the Syri I Kalter or the Blue Eye Spring. This karst is spring-fed from an underground source and, from a distance, looks like a big blue eye. The outer iris part is dark blue and the inner part is dark. The "eye" leads to a cave that goes down to the bottom of the river.
The water of the spring is very cold and crystal clear. Swimming is not allowed, however, you can dip your feet into the water. It's a popular spot in summer, so can be crowded. But dipping your feet into cold water during hot summer days is one of the best feelings, isn't it? The least crowded time to visit is off-season, between September and March, although the weather may be chilly.
5.Camp at Divjaka-Karavasta National Park
The Divjaka-Karavasta National Park is the largest non-coastal complex in Albania. The park consists of four lagoons, numerous sand dunes, and also has a delta. On the outskirts of the Karavasta lagoon, a Mediterranean pine forest stretches to the beach and contains one of the most interesting faunas in the country. This is one of the best places for camping – a beautiful spot, warm sea breezes, a beautiful sunset sky, and a sky filled with birds.
The park is a delight for birdwatchers as the lagoons provide ideal breeding conditions for more than 5% of the world's bird population. Also, wild camping and stealth camping aren't illegal in Albania, so if that's your choice, you don't have to worry about getting into trouble. You will need a good-quality camping tent and proper gear, so plan accordingly.
6.Enjoy Delicious Seafood at Affordable Prices
No vacation is complete without fresh and tasty food. And for a country that is famous for its beaches, seafood is a must-try in Albania. Albanian cuisine is similar to other Mediterranean countries and is centered around fresh vegetables, fruit, and fish.
The most famous food in Albania is Byrek (sometimes spelled Burek). It is a kind of salty pie made from paper-thin layers of dough and stuffed with meat, cheese, and/or vegetables. Think of it as an Albanian pita. Delicious flavors and priced for every budget. Other popular dishes include Fërgesë (a stew eaten hot or cold), Tavë Kosi (baked chicken or lamb in yogurt), Trilece (delicious milk cake dessert), Qofte (meatballs), and Zgara (grilled meats).
In restaurants located along the Albanian coast, you can find fresh and high-quality fish for less than €10.
Personal recommendation: Plan a trip to Dajti Mountain (part of the Skanderbeg range). Stop by the award-winning restaurant Ballkoni Dajtit. It is constructed in a traditional log cabin style and offers fantastic views overlooking Tirana, and often as far as Durre and the Adriatic Sea, while you enjoy your meal.
7.Warm-Up in Benja Hot Springs
Whether you want to ease your weary body, de-stress. or maybe just warm up on a cool day, a hot spring is a great place to relax. . Walking or driving around a winding road outside the small town of Permet, you will come across a blue-green river and some man-made pools. An ancient bridge arches over the water, helping people cross the sulfur-rich river since the Middle Ages. Near the bridge, you will find the Benja Hot Springs or the Benja Thermal Baths.
Warm water rushes through the river and eventually, a portion of it gets diverted into the man-made pools. The water gets warm due to geothermal activities underneath the ground. You can spend time soaking in the warm waters, much like in a Japanese onsen. Overnight camping is available here, although the air has a strong odor of sulfur.
8.Visit Rozafa Castle
Located around the city of Shkoder, Rozafa Castle (also known as Shkodër Castle) has its fair share of historical importance. It was built back in the 9th century BCE, and since that time has been conquered by many different people and countries. The Romans, Venetians, and Ottomans all laid claim to the castle at one time. As a result of the Italian invasion in 1939, the castle was heavily damaged and then abandoned.
Today it serves as a popular destination for visitors. From the top of the castle, you can see some panoramas of Lake Shkodra as well as other rivers and mountain ranges.
The castle got its name from a local legend. According to the legend, the castle walls kept collapsing whenever they tried to build it. So, a woman named "Rozafa" was buried inside the walls and then only the castle could be built. Creepy! That's only a small part of the tale. To know more, you have to check it out yourself.
9.Rafting on Konami Lake
Konami Lake is a picturesque lake, perfect for a getaway in the summer months. Start the day from the Koman terminal and then sail for around 40-45 minutes in the crystal clear waters of the lake before arriving at Peace Island, home to the famous Guest House. Have lunch at the Guest House, soaking up the natural beauty of the lake and surrounding mountains.
You can go solo or group kayaking and explore the magnificent panorama of the Albanian fjords. Or you might want to explore the beach and enjoy some beachcombing. Or head to the Shala River for a bracing swim in its cool, clear water.
10.Experience Everything on Dajti Mountain
Dajti Mountain is a mountain and national park on the edge of Tirana. It's a popular tourist attraction in the country and has lots of activities to choose from. Some ideas include:
Take a cable car to the top of the mountain, a 15-minute journey over forest, farms, and even bunkers.
Enjoy a beverage at the rotating bar which completes a rotation every 45 minutes and gives you 360° views of the surroundings.
Play a round of mini-golf. Located at the top of the mountain, this 18-hole course has floodlights so you can complete it even after sunset.
Hiking, mountain climbing, paragliding, or mountain biking.
It's your choice to make if you want to relax or opt for some adventure time.
Conclusion
Albania may be a little country but there's a lot to see and do in this isolated Balkan country. We have talked about 10 things that you can experience in Albania but that's only a very small part of the wealth of things that you can experience in this culturally diverse country. So what are you waiting for? Start planning now for your wonderful trip to Albania.
For Pinterest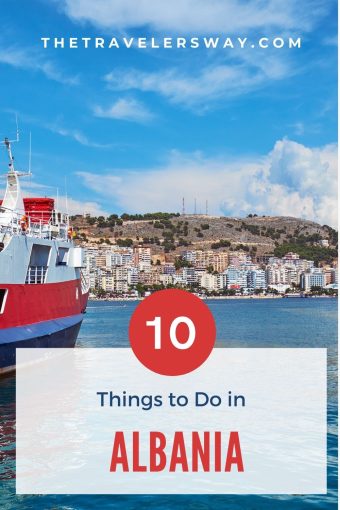 Guest Authro Bio
Hussain from Hiker Needs is a passionate camper and traveler that loves the outdoors and enjoys what nature has to give. Whenever he can he loves to write and give tips and honest reviews to help others get outdoors and just seek more unforgettable experiences. You can also find on Pinterest as well.
The Travelers Way occasionally accepts guest posts from fellow travel bloggers, friends within the travel industry, and as advertorial content.