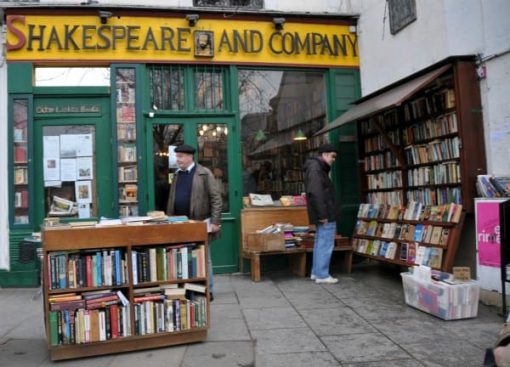 Some travelers scoff at visiting popular attractions, but this attitude often results in missing out on important pieces of history and culture. Take Paris and the well-known Shakespeare and Company bookshop for example. This independent bookstore on Paris's left bank was originally founded in 1919 by Sylvia Beach, and became a popular gathering space for famous writers such as Ernest Hemingway, Ezra Pound and James Joyce. Despite the popularity of the bookshop, travelers with a literary interest (or a shopping interest, or a historical interest) will reap many rewards by not skipping over this Parisian landmark.
It might seem strange for an English-language bookstore to have such an important place in the history of literary Paris, but many notable English-speaking writers gathered in the City of Light during the 1920s to work on their craft. These writers and artists became known as the 'Lost Generation' and Shakespeare and Co was at the center of their world.  In the 1920s, this was not only a bookstore, but also a lending library.
Another reason Shakespeare and Co is so well known in literary circles is for its famous sleeping facilities. There are over 10 beds in the bookstore that have offered a place of rest to young writers since the 1950s. For travelers today, this bookshop also has much to offer beyond a long and intriguing history. Shakespeare and Co is very active in the current literary community, and often hosts poetry readings, afternoon tea, and literary festivals. Before your trip to Paris, be sure to check the schedule of upcoming events to see if anything strikes your fancy.
Like visiting all popular attractions, a trip to Shakespeare and Co needs a strategy. The environment of an attraction can immediately turn us on or off as travelers – so a plan of action is essential. If you're looking to experience the quiet side of the bookshop and spend hours examining the shelves (I was drawn to the incredible poetry section along with an excellent selection of English writings on Paris and life in France), you will want to avoid Saturday and Sunday. Visit on a weekday morning to find that perfect, quiet, bookshop that earned the affection of so many writers over the decades. Another option would be to visit later in the evening (the bookstore is open nightly until 11 pm).
Arriving on a weekday morning, visitors might be tempted to glance through the racks of books outside. Keep in mind that there is plenty more to explore inside as well. Shelves are lovingly packed with everything from classic novels to obscure philosophy. On a recent visit, I saw many visitors picking up nonfiction books on American writers in Paris, the traditions of French cuisine, and new ways for exploring Paris.
The present-day bookshop isn't the original shop from the roaring '20s. This shop was shut down by the Nazis during French Occupation in World War II. It took the work of another appreciator of literature, George Whitman, to rekindle the spirit of the bookstore. He opened Shakespeare and Co, first called Le Mistral, at its current address in 1951. In 1981 George's only daughter was born, and was named Sylvia after Sylvia Beach. Today, she runs the bookshop and is a wealth of knowledge about the history of the building and the writers that have passed through this famous door.
There is something about this bookstore, along with strolling the streets of Paris, that makes visitors want to dig a little deeper about the city's history and culture. Shakespeare and Co is the perfect place to provide this type of reading material, and the book will be a wonderful companion for hours spent at lovely outdoor cafes.
The Details:
Shakespeare and Co, 37 Rue de la Bucherie, Left Bank of Paris (steps from the Seine and Notre Dame Cathedral)
Nearest Metro stops: Metro Saint-Michel, Cluny – La Sorbonne
Hours: open every day from 10 am – 11 pm (opens 11 am on Saturday and Sunday)
Nearby Attractions:
This section of Paris, located right on the River Seine, is packed with attractions. Yet sometimes rushing between them prevents us from stopping to take in the atmosphere. A short stroll away from Shakespeare and Co is a little island in the Seine called Ile St Louis that is most famous for one thing: ice cream. After browsing the bookshelves of one of Paris's most beloved bookshops – head over to Ile St Louis to try some of the city's most beloved ice cream. Locals will debate endlessly about the best ice cream shops on this tiny island – but two of my favorites are Brasserie de l'ile St Louis (55 Quai Bourbon) and Berthillon (31 Rue St Louis en l'ile).
Both are well known for their luxurious, creamy ice cream and lines can sometimes be lengthy. While (just like the bookshop) weekend afternoons should be avoided for the crowds, a visit on a weekday might also encounter a line. Some travelers are turned off by this – but on a recent visit – these few minutes of stillness forced me to really take in my surroundings. As I waited for that perfect scoop of decadent ice cream, I got to observe local women going about their daily shopping, two year old children speaking French at warp speed, and how spring flowers grow even in densely packed areas of the city. With ice cream in hand, there are many spots to sit along the Seine and take in the rest of the scene.
Photo Credit:  Sergei Melki (exterior) via flickr; Alexandre Duret-Lutz (interior) via flickr, both CC.
Jessica Colley is a freelance travel and food writer based in New York City. She proudly called Dublin home from 2008 – 2010 and writes frequently about the city and Ireland. Three of Jessica's favorite travel destinations are Ireland, Italy, and Berlin. Find her online at www.thegreatamericantraveldream.com and on Twitter @jessicacolley.