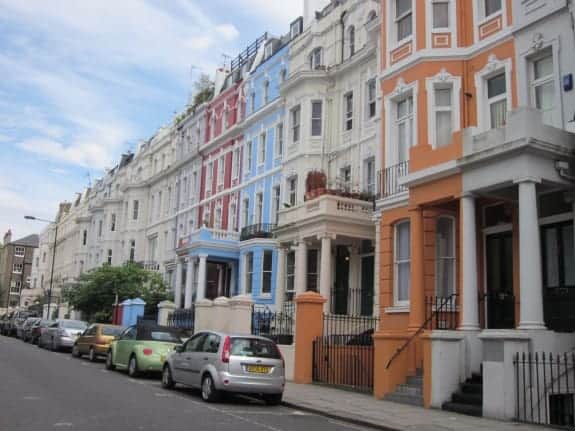 During my first trips to London, days passed quickly in a blur of the Tate Modern, Big Ben, and Westminster Abbey. With these essential attractions under my belt, it was time during recent trips to venture beyond the center of London and seek a more neighborhood feel. One sunny day this summer I woke up in the Notting Hill neighborhood  ready to explore the famous Portobello Market. This market stretches along Portobello Road right through the center of Notting Hill, a chic neighborhood known for its colorful buildings, restaurants, and small bookshops, and is a perfect spot to explore on a weekend getaway.
The market stretches for over two miles along Portobello Road, and is clearly divided into sections. When I arrived, I was smack in the center of the fruit and vegetable section of the market. On this Monday I was surrounded by local accents and Londoners out doing their food shopping for the day. Food displays stirred a desire in me to fill up a basket and plan an evening meal. I couldn't get over the value for vegetables, such as big bundles of asparagus for only 80 pence. This section of the market is also a great place to stock up on healthy snacks. On the day of my visit, piles of ripe cherries and baskets of nectarines were particularly appealing.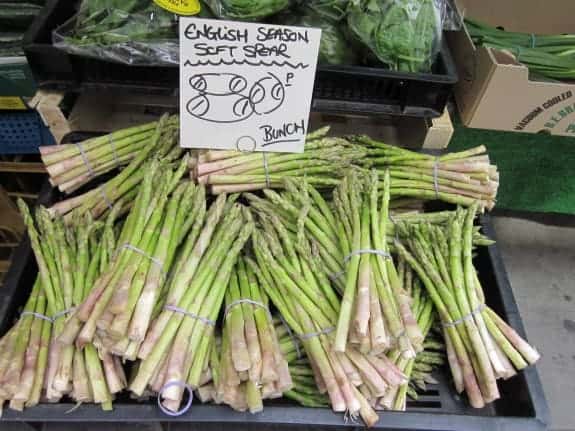 Other sections of the Portobello Market include antiques, the fashion market, and second-hand goods. Antique enthusiasts could spend an entire day browsing the stores between Chepstow Villas and Elgin Crescent. I encountered interesting items such as antique boxing gloves, a wooden set of golf clubs, charming old luggage, and plenty of compasses and pocket watches. Many of the smaller antiques get snatched up quickly (as they are easy to transport and give as gifts) but some of the best finds here include the furniture. If you're in the market for a special leather chair or an ornate mirror, you will find plenty of choices here.
Beyond the market itself, Portobello Road is also full of appealing attractions. Anyone interested in travel should take a peek into the Travel Bookshop, a neighborhood bookshop just off Portobello Road that features travel guides, travel narratives, and more all organized by destination. If you're interested in cooking, just across the street from the Travel Bookshop is another store called Books for Cooks. Both stores also offer events and readings, so if you want to join in on a neighborhood literary event consult the events calendar before leaving home.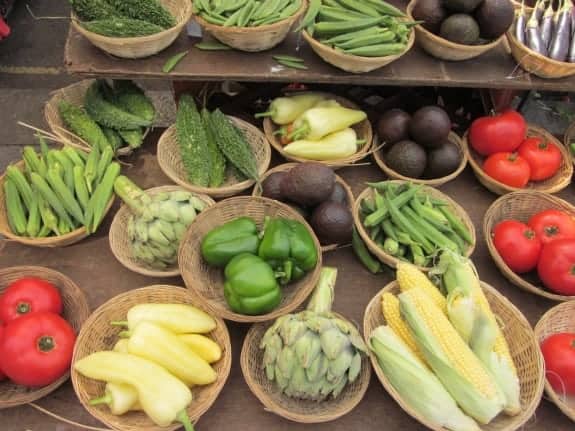 Notting Hill is also a culinary destination. It will be impossible not to nibble while browsing the market, but be sure to leave room also for exploring the local restaurant scene. When I was in need of fuel during the few hours I spent browsing the market, I ducked into a smoothie shop called Bee Me for a refreshing fruit smoothie. After my day exploring the market was complete, I took a seat outside an award-winning restaurant called Electric Brasserie for a cocktail, half dozen oysters, and some people watching.
While the center of London can feel crowded at times with people rushing off to work, Notting Hill offers a much more leisurely pace. If you're looking for a sunny place to stroll, sip on a half pint of ale, and browse through a market, hop on the tube and head for the Portobello Market.
Photo Credit: All photos from the personal collection of Jessica Colley.
Jessica Colley is a freelance travel and food writer based in New York City. She proudly called Dublin home from 2008 – 2010 and writes frequently about the city and Ireland. Three of Jessica's favorite travel destinations are Ireland, Italy, and Berlin. Find her online at www.thegreatamericantraveldream.com and on Twitter @jessicacolley.