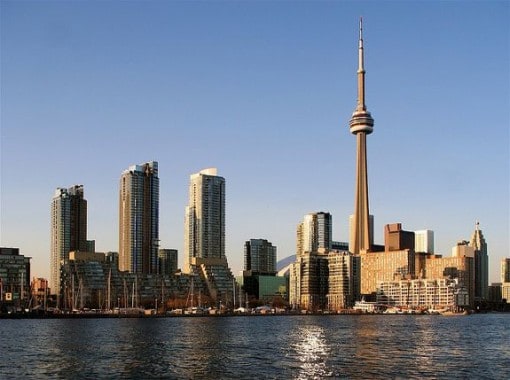 Toronto is a big city. In fact, it's the largest city in Canada, the fifth largest in North America, and has over 100 different cultures, which makes it a difficult decision in narrowing down exactly what to do on your next trip. Don't worry – we have sifted through the options and found 10 of the best attractions the city has to offer.  While "best" means different things to different travelers, we're sure you'll find something to like from this list, and they're close to major hotels and residential neighborhoods (if you rent  furnished apartment in Toronto for an extended stay).
Canadian National Tower – The Canadian National Tower (CNT – in photo above) is Toronto's most famous attraction, coming in at 1,815 feet tall, and is one of the tallest structures in the world.  It's one of the most recognized buildings in the city's skyline, and taking the elevator to the top gives you a great view of the area.
Toronto Islands – Hop on a ferry over to the largest car-free community in North America. With several forested parks, the islands are a great getaway from the bustling city, providing a relaxing spot for a leisurely walk or a picnic. If you're looking for a some thrills, check out the Centreville Amusement Park on Centre Island.
Sports – Toronto is home to several major sports teams, so depending on the time of year, catch a Blue Jays (baseball) or Argonauts (Canadian football) game at Rogers Centre (formerly known as the Sky Dome), or head over to the Air Canada Centre to watch the Maple Leafs (ice hockey), Raptors (basketball), or Rock (box lacrosse) action. There is also BMO field, where soccer fans can watch the MLS team Toronto FC. If you are an avid hockey fan, Toronto is home to the Hockey Hall of Fame.
City Hall – Toronto's City Hall is an impressive landmark that looks more like a hotel than a government building. Built in the 1960s, it has had cameos in several movies and is the site of yearly festivals and events, including a big New Year celebration.  During the winter, the reflecting pool in front of the building is transformed into an ice skating rink.
Royal Ontario Museum – The Royal Ontario Museum (ROM) is one of the largest museums in in North America, and is Canada's largest museum of world culture and natural history. The museum was founded in 1912, and has since become Canada's largest field research institution. It contains more than six million artifacts and forty galleries, and hosts regular events and workshops for the public.
Kensington Market – Located west of downtown, this area is known for a variety of restaurants serving anything from Salvadorian to Peruvian to French cuisine.  This multicultural neighborhood, as well as the surrounding ones, are always alive and full of energy.
Shopping – There are a few options for shopping in the city – Yonge-Dundas Square (the newest and flashiest) near the Toronto Eaton Centre, Yorkdale Shopping Centre (another upscale mall), or Queenstreet West (clothing shops, art galleries, bistros and cafes). After all that shopping, head to Bloor-Yorkville, where you will find over 100 salons and spas guaranteed to help you relax and look great.
Cathedrals – St. Michael's Cathedral (Roman Catholic) and St. James' Cathedral (Anglican) are both located on Church Street, and were both built in the 1800s.
Casa Loma – This museum and landmark built in the early 1900s looks like a majestic castle.  Explore the suites, secret passages, 800 foot tunnel, and lovely 5-acre gardens.  It's been the setting for many movies, so see if you can guess which ones.
Day Trip – If you are staying in Toronto for an extended period of time, you may be interested in a day trip to Niagara Falls. Just 80 miles southwest of Toronto, you can drive there in around an hour and half.  If you don't have a car, there are train, bus, and rail options available.
What are your favorite things to do in Toronto?
Photo Credit: alexindigo on Flickr
NOTE:  Thanks to our sponsor of this post.  If you're planning an extended stay in Toronto, we invite you to check out their furnished apartments Toronto for an opportunity to live like a local.
Abbie lives in Denver, Colorado and is a freelance writer & Editor and teaches preschool Special Ed. Abbie's top three travel destinations are the Big Island of Hawaii, Madrid, and the Dominican Republic. Check out her website at abbiemood.com, or follower her on Twitter @AbbieMood.