Moab is one of the top adventure resort towns in southeastern Utah. Home to two national parks, Arches and Canyonlands National Park, Moab is also well situated for other nearby parks and attractions that are easily accessed on a day trip. There are plenty of free things to do in Moab, too.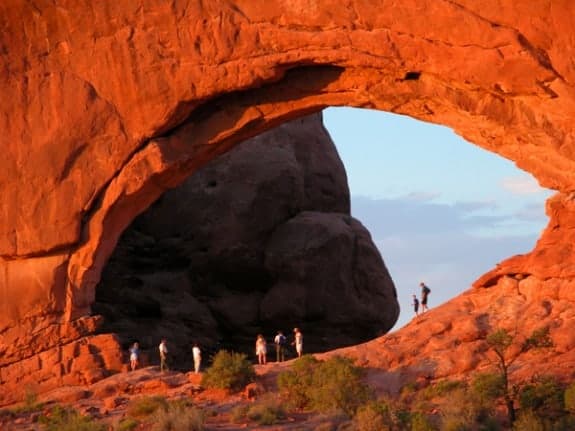 From the Colorado River and towering canyons, to the snow capped peaks of 12,000 foot mountains, Moab offers activities that appeal to hikers, bikers, four wheelers, river runners, motorcyclists, sightseers, photo and astronomy buffs. And it's easy on the budget, offering a wealth of free activities – perfect for families traveling to Utah.
Visit Ken's Lake Recreation Area.   Ken's Lake is a manmade reservoir 10 miles south of Moab. The reservoir provides cool, free fun for the entire family with swimming, canoeing, stand up paddle boarding, as well as fishing (license required). Three miles of hiking trails are easily accessed by the lake. Horseback trails originate from the nearby campground, with nearby horse corrals. Group sites can be reserved. Overnight camping is available for a charge.
Movie Museum & Self guide Movie Location tour.  Since 1949 the Moab area has been a popular location for Hollywood movies.  Movies filmed in the area range from the old John Wayne classics to more recent hits such as 127 Hours, Disney's The Lone Ranger and John Carter, Transformers: Age of Extinction, Geronimo, Indiana Jones and the Last Crusade, and Mission Impossible II.  Thelma and Louise took their final leap into the Colorado River from under Dead Horse Point State Park. The movie museum, located at Red Cliff Lodge, houses memorabilia from the days of black and white filmmaking to highlights from recent film projects. The museum is self-guided and open to the public daily at no charge.
Take a Drive. Moab is home to three officially designated Scenic Byways and one Scenic backway.  Featuring arches, canyons, red rock formations, the Colorado River Corridor, petrogylphs, dinosaur tracks, historical sites, movie locations and the LaSal Mountains, these routes offer amazingly diverse scenery and hiking opportunities.  Self-guided tour brochure is available at the Moab Visitor Center.
Check out the Matheson Wetlands Preserve. Located just a half-mile from Moab, the preserve provides some of the best wetlands wildlife watching in Utah.  The packed gravel trail has intermittent stretches of boardwalk, making it easy to get around. There is a viewing blind at the property. Bird and wildlife lists are available for self-guided tours. The preserve is open seven days a week, from sunrise to sunset.
Find the dinosaur tracks. Go on a self guided trail on the Mill Canyon Dinosaur Trail where you'll find traces (vertebrae, bone fragments and impressions) of a variety of dinosaur species. Visitors can also view the remnants of an old copper mill and the Halfway Stage Station, a rest stop for travelers during the turn of the century as they traveled from the railroad at Thompson to Moab.  The Copper Ridge Sauropod Tracksite, discovered in 1989, reveals the first brontosaurus trackway reported from Utah, as well as trackways of four theropods of various sizes. The dinosaurs walked in several directions across a ripple-marked sand deposit that had accumulated in an ancient river channel. Please take only pictures. Leave only footprints.
Toast the Wineries. Wine tasters and connoisseurs from around the world are often quite surprised to learn that there are vineyards and wineries right here in the Moab area.  Moab's long growing season coupled with its fertile, sandy soils has resulted in production of award winning wines.  Visitors can spend half a day enjoying both Moab area wineries and their tasting rooms. Spanish Valley Vineyards & Winery is conveniently located south of Moab off of Stocks Drive – the perfect way to relax after a hike in Arches or near Moab. Castle Creek Winery is located 15 miles from Moab, along beautiful Scenic Byway 128.  Its location makes it the perfect destination after a sightseeing drive down Highway 128, or a hike to the Fisher Towers.
Attend the Moab Information Center Lecture Series. An informative series of lectures relating to southeastern Utah is offered at 6 pm on Thursday evenings at the Moab Information Center, Main & Center Street. Some dates may vary
Enjoy the Moab Art Walk. The art walk occurs on the second Saturday of each month, April – June and September – November. It's a chance to stroll Moab's galleries, shops, and cafés and view some of the region's finest locally created artwork. From traditional painting, pottery, and sculpture, to large format landscape photography, mixed media, bead and stonework, woven articles, and jewelry, the Moab Art Walk offers diverse, quality exhibits inspired by the region.
Mountain Biking and BMX. Bring your own mountain bike and ride the Amasa Back area, Gemini Bridges Road & Beyond, Klonzo network, MOAB Brands Focus area, Monitor & Merrimac Trail, Klondike Bluff Trail Network, the Whole Enchilada, NEW 2014 Navajo Rxs area, and the Spanish Valley aerobic trails. Bring your own BMX bike to use the jumps and pump track at Anonymous Park. Named for an anonymous donor who donated the creekside property located at 500 West and Williams Way.
Skateboarding and Slacklining. Moab has a public skate park situated at 400 North 199 West, adjacent to the new Aquatic Center. The pool requires a fee to swim, but bring your skateboard and helmet for free use of the skate park. Moab has the Nation's first slackline park, consisting of five posts to set up lines of varying lengths from 25 feet to 100 feet. You'll need to put up and take down the lines yourself. The park is located next to Mill Creek on South 500 West. The park is attractive for silence and meditation or a family outing with exploration along the creek. The Mill Creek pathway stretches from Rotary Park to the wet lands preserve and offers an array of activities along the way.
Disc Golf. Bring your disc to enjoy terrain dappled by cactus, sage, deep washes, pinion and juniper. There are 18 baskets and every tee pad has signage to indicate direction of throw. Located at the corner of Murphy Lane and Old City Park Road, adjacent to Old City Park. Pack it out rule. Discs are sold in gear shops in Moab too.
Attend a Festival. From the April Action Car show to the Moab Arts Festival, from the Beer & Wine Festival to the Electric Light Parade of the holiday season, there are plenty of fun events to tempt you to Moab.
Photo credit:  Courtesy of Discover Moab
Mary Jo Manzanares is a founder and the editor-in-chief of The Traveler's Way, an online travel magazine proving informational and inspirational travel recommendations for curious Baby Boomer travelers. She has been a speaker at various industry events and has a personal travel blog at Traveling with MJ. When she's not traveling, Mary Jo likes lingering over a cup of coffee, wandering in a museum, sipping wine at a cafe, and sharing it all with friends and readers. Mary Jo's top travel destinations are Italy, Portugal, and the Caribbean.