The Balkan Peninsula has some of the most famous tourist destinations in Europe. One of the strongest assets of Balkan countries is the beautiful nature, which is a real pleasure for those who appreciate this type of summer and winter vacation. The whole region offers rich history, local food, adventures and some of the most beautiful natural ecosystems in the world.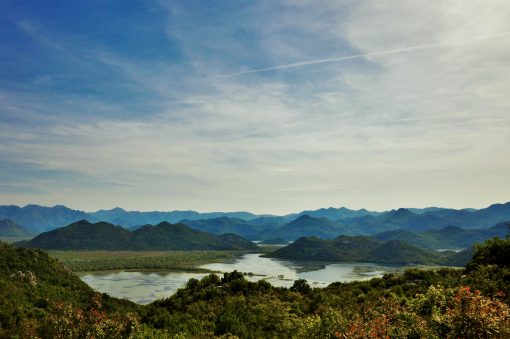 Slovenia – Bled
Northern Slovenia is still considered to be a natural jewel of the Balkans. Crystal Blue Lake Bled is a place where you can swim, rent a boat, dive, and row or simply enjoy the beautiful panoramas along the coast. The lake surrounds Bled Island, an island of pilgrimage with a church dedicated to the success of the Virgin Mary. Weddings are often held there because it is considered lucky if the groom makes a wish in the church. This place is ideal for a romantic getaway and escapes from the "outside world". Fall in Slovenia is lovely!
Serbia – Kopaonik
Kopaonik Mountain is an ideal place for winter sports lovers. More than 55 km (34 miles) of alpine and 18 km (11 miles) of Nordic trails attract both beginners and experienced skiers and snowboarders. Due to state-of-the-art equipment, 24 ski lifts and an electronic cable car, there are excellent trails and a rich offer of hotel and private accommodation. That is why the Kopaonik is on the list of the 10 best ski resorts in Eastern Europe. And when you get tired and drenched by the intense mountain sun, head down to one of the many cafes, clubs, and restaurants where the fun is just starting.
Macedonia – Ohrid
Ohrid is a must-see spot on the Balkans map. Located on one of the oldest natural lakes, this small town is one of the most popular seaside resorts. If you want to enjoy all the magic, untouched nature and history of the medieval period, this is a place for you. While discovering over 200 endemic species of fish and animals, we recommend avoiding the peak of the summer season.
Bosnia and Herzegovina – Jahorina
Jahorina Olympic Center is known as the location of the famous 1984 Winter Olympics. This mountain in Bosnia Herzegovina attracts numerous tourists from abroad. At an altitude of 1,300 to 1,900 meters (4,265 to 6,233 ft), skiers have eight ski lifts as well as 20 km (12 miles) of well-groomed and well-connected alpine trails of varying difficulty. In addition to winter sports, you can also enjoy sledding and paragliding. A special experience is provided by night skiing and boarding, but also with excellent food. Numerous grill houses along the trail offer indigenous gastronomic specialties of the area.
Croatia – Plitvice
Plitvice Lakes in Croatia is one of those places that are reminiscent of a fairy tale scenario and will remain forever in your memory. Founded in 1949, Plitvice National Park with its surrounding lakes is actually one of the oldest national parks in Europe. A summer walk that can take hours doesn't need any effort because of the constant excitement you will experience. While revealing every bit of nature you will find that here, with the help of a waterfall, Mother Nature has created a work of art more valuable than any antique.
Slovenia – Kranjska Gora
The most popular winter tourist destination in Slovenia, Kranjska Gora, near the border with Austria and Italy, is close to the Triglav National Park in the south. Out of 20 km (12 miles) of superbly-maintained trails, there are three blue, five red and four black ones. There are about 40 km (24 miles) of extensive cross-country skiing and adrenaline walking trails. In addition to night skiing, there is also off-trail skiing. At the end of the ski resort are cafes, restaurants, and terraces as well as a dozen hotels.
Montenegro – Kotor
Kotor is the city that has most preserved the authenticity and charm of the former Venetian Republic and the medieval history of the Adriatic coast. Tucked away in the Bay of Kotor, it is surrounded by mountains, full of lazy sunbathing cats, old fishermen and laundry hanging out under every window. This little town will take you to another era and leave you with a deep sense of calm. But don't be fooled – the nightlife is quite active.
Guest author bio: Nemanja Marinkoff is editor-in-chief and TheGearHunt and WalkJogRun. He's a marketing expert, and he's interested in all things related to basketball. He also loves marzipan, although his wife hates it. You can find him on Twitter.
Photo by isidora garcevic on Unsplash
The Travelers Way occasionally accepts guest posts from fellow travel bloggers, friends within the travel industry, and as advertorial content.