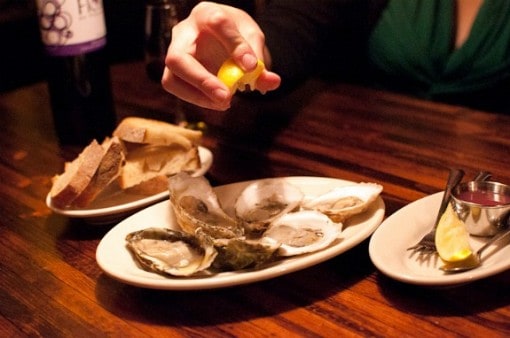 New York is full of endless restaurants with enticing menus, but after a few days of eating hearty, you might be in the mood for something on the lighter side. Enter the New York wine bar, an often candlelit, casual spot to sample wines and eat with your hands, pleasantly sipping and nibbling the evening away. There are wine bars in every neighborhood, and they take a different form whether you pull up a stool in the Lower East Side or the Financial District. Here are five of my favorite wine bars, spread throughout the city, perfect stops after a busy day of seeing the sights in New York City. They all offer wines by the glass or by the bottle, and tasty snacks too.
Anfora – West Village
It's easy to stroll right by Anfora on 8th Avenue in the West Village, unless one of the flickering candles on the bar catches your eye. This cozy wine bar has stools at the bar and plenty of plush seating for a relaxing evening. The wine list feels more like a book than a list, but the helpful bartenders can point you in the right direction for what you like to drink. On a recent summer night, I enjoyed a cold glass of rose along with a selection of meats and cheeses. They also offer sandwiches (such as the delicious grilled cheese or lamb ragu sliders) and salads too.
Details: 34 8th Avenue, West Village. Wine by the glass $9 – $25. Sandwiches $8 – $10. Cheeses $6 each.
Vintry – Financial District
When most people think about New York's Financial District, they picture soaring skyscrapers and people in suits. But there's also another, more local side to this neighborhood. Take a stroll along Stone Street and you will feel like you're in Europe and not the financial capital of the city. This pedestrianized, cobbled street is a real oasis in the middle of all the action of the Financial District. Amongs the Irish bars is a wine and whiskey bar called Vintry. This intimate spot is exactly what I want in a wine bar: darkly lit, plenty of stools, and serving up delicious bites until late. Try the short rib sliders or the cavatelli with mushrooms.
Details: 57 Stone Street, Financial District. Wine by the glass $9 – $28. Small plates $3.50 – $15
Cavatappo Wine Bar – Upper East Side
There are some times where you crave a casual place where it doesn't matter what type of shoes you're wearing and you don't need a masters degree to understand the wine list. Cavatappo Wine Bar is a neighborhood spot on the Upper East Side where a manageable, changing wine list won't intimidate you away at the door. Focused on Italian wines you will find old favorites and have the opportunity to sample new wines as well. This tiny wine bar has a wide selection of cheese on offer – the perfect sidekick to a few glasses of red wine after a day of exploring the museums of the Upper East Side.
Details: 1728 2nd Avenue, Upper East Side. Wine by the glass $9 – $13. Taste cheese – one for $6, three for $13, five for $15.
Ten Bells – Lower East Side
Exploring new neighborhoods is a great way to approach any trip to New York. Plan an evening at Ten Bells, a winebar on the Lower East Side, and explore the neighborhood before pulling up a stool. Ten Bells fills its wine list with small producers from places like Morocco, Oregon, and Europe, so be prepared to taste some wines you might not be familiar with. There are also plenty of familiar options to accompany small plates including chorizo, a variety of cheeses, oysters (in top photo), macaroni and cheese, an empanada of the day, and many more. For those travelers that like their wine bar with a Spanish influence, you will find it difficult to choose between many dishes here including papas bravas and Spanish tortilla.
Details: 247 Broome Street, Lower East Side. Wines by the glass $8 – $14. Small plates $2 – $15
Terroir – Tribeca
Even wine enthusiasts will admit that wine bars can sometimes be intimidating. Especially if you're trying to figure out what kind of wines you like, a super-lengthy wine list can be a turn off.  Terroir in Tribeca hails itself as the "the elitist wine bar for everyone". Take the time to chat with the bartender about what you like (and don't like) about wines and he might just point you in the direction of a new favorite. This summer, Terroir has been all about Riesling wines, so don't be surprised if you spend your visit sampling a few different glasses of Riesling. There is also an extensive menu to suit all appetites, including little bar snacks like marinated olives or larger plates such as meatball sandwiches or different types of bruschetta.
Details: 24 Harrison Street, Tribeca. Wines by the glass $9 – $19. Small plates $4 – $11. Entrees $17 – $20.
Many visitors to New York (and even many New Yorkers) might think that no wine is made right here in Manhattan, but that actually isn't true. If you still have a thirst for wine after sampling the above wineries, check out City Winery, located in SoHo (155 Varick Street). This working winery (grapes come from California – the wine is made in Manhattan) often offers classes in tasting wine as well as a wine bar for sampling their wine and a list of others as well.  It's a great place to pick up something for your next New York picnic.
Photo Credit:  Jeff Keen (oysters)
Jessica Colley is a freelance travel and food writer based in New York City. She proudly called Dublin home from 2008 – 2010 and writes frequently about the city and Ireland. Three of Jessica's favorite travel destinations are Ireland, Italy, and Berlin. Find her online at www.thegreatamericantraveldream.com and on Twitter @jessicacolley.