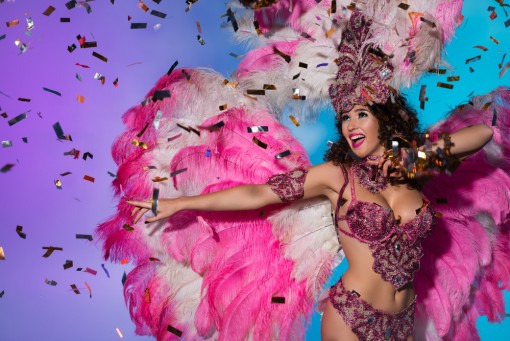 Brazil is, and always will be, one of the most popular party destinations on the globe. Its Carnival celebration is a kaleidoscope of color and aroma, spectacular to behold. With 2014 now in full swing, Brazil is gearing up for the FIFA World Cup. If you're looking to celebrate Carnival without the presence of football hooligans this year, consider one of these festive alternatives:
Martinique
This French island is part of the Lesser Antilles and, inspired by its French roots, blends European and Caribbean traditions together in a perfect métissage of cultures.
Carnival in Martinique is a five-day celebration, though you can start feeling the heat of the celebration well before. The first day involves the parade of the Queens of Carnival and the unveiling of 'Vaval', the King of Carnival that is typically an effigy of a major political theme of the previous year.
Businesses shut down for the Carnival period and streets are lined with stalls selling accras (cod fritters) and drinks. Martinique is also one of the few islands where anyone can participate in the parades – just dress up in the day's theme and dance behind the float of your choice!
Belize
Belize is a nation in Central America that sits of the Caribbean coast. Marking the Belizean independence, Carnival is celebrated in September with a plethora of colorful costumes, parades, food and music.
People come from around the world, not just to watch, but to dance in the parade wearing elaborate costumes that have their origins in various ethnic styles including Chinese, East Indian and Creole.
Children and adults alike gather together to enjoy the parade and drink tropical slushies in Belize's main cities.
Barbados
If you were looking to celebrate Carnival at the same time as Rio's, you may have to delay it a few months if you decide to go to Barbados. While many Carnivals started as a way to mark the beginning of Lent, the history of Barbados' Crop Over comes from the celebration of harvest.
The opening event starts with the crowning of the King and Queen of the Festival, a tradition that started as recognition of the most productive cane cutters of the season. Calypso music, competitions, and risqué dancing are characteristic of this festival.
It all comes to halt in Bridgetown with the Grand Kadooment, which features the biggest bands and Designer of Year awards for the best costumes. In Barbados, you will definitely find out a new meaning for 'six-thirty'!
Colombia
The Barranquilla Carnival was named a UNESCO World Cultural Masterpiece for its dance, cumbia music, and colorful costumes.
It begins the four days before Ash Wednesday and culminates the following Saturday with the Batalla de las Flores (battle of flowers) – a unique parade where the Carnival Queen throws flowers off the float into the audience marking her departure.
Similar to Martinique, there are a number of different 'characters' during Carnival like marimondas – hooded figures with long noses and floppy ears that originated in Barranquilla – or the gigantonas, which are dwarfs with exceptionally large heads.
Keep an eye out for people dancing El Garabato, but don't get too close – it's known as the dance of life and death.
Jamaica
Jamaica is one of the most popular Caribbean destinations. The island oozes culture. Known as bacchanal (a tribute to the debauchery of Bacchanalia) to locals, Carnival celebrations begin in Ocho Rios.
Every year, months before Carnival, designers release a selection of highly anticipated costume designs. Bacchanal season starts in February and goes until April – no Lenten slow down! After the opening night, a series of fetes are held where popular soca and dancehall musicians will play.
Be prepared for non-stop parties, trucks blasting music, and on the final night, don't expect to be home before sunrise.
Maybe you could be exceptionally intrepid and visit all of these Carnivals! If you're looking for the most convenient flights to travel from island to island, momondo's flight comparison app is a great way to find the value flight for you.
Mary Jo Manzanares is a founder and the editor-in-chief of The Traveler's Way, an online travel magazine proving informational and inspirational travel recommendations for curious Baby Boomer travelers. She has been a speaker at various industry events and has a personal travel blog at Traveling with MJ. When she's not traveling, Mary Jo likes lingering over a cup of coffee, wandering in a museum, sipping wine at a cafe, and sharing it all with friends and readers. Mary Jo's top travel destinations are Italy, Portugal, and the Caribbean.