Located in the Riviera Maya, Chichen Itza was one of the largest ancient Maya cities in Mexico. Today, Chichen Itza is a UNESCO World Heritage site and one of the most visited archaeological sites in Mexico. It's also one of the dozens of things to do on the Yucatan Peninsula.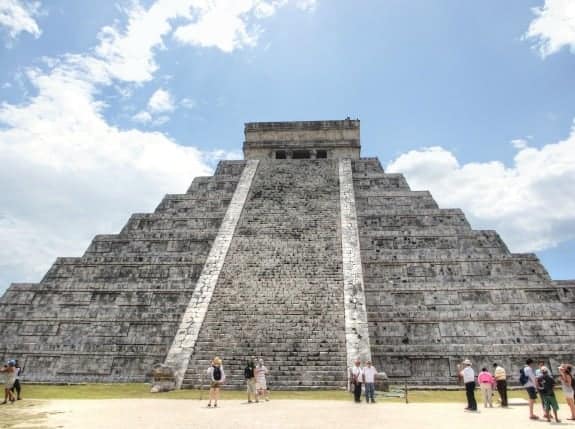 Dominating the ruin site is a pyramid Temple of Kukulkan (a serpent deity), often called El Castillo, or the Castle. The pyramid is nearly 100 feet tall, with a series of nine terraces. The four sides of the pyramid have a series of steep stairways that lead to the top. Remarkably, visitors are still allowed to climb the stairs to the top. An the mid-2000s, another temple was discovered below El Castillo. It was once open to the public, but is now closed.
Chichen Itza is a popular destination for the Spring and Fall solstice. If you time it just right, usually sometime in the late afternoon, the sun casts a shadow on the north side of the pyramid that creates the appearance of a serpent on the staircase. Many believe this serpent is Kukulkan returning to his temple.
To get a listen to the acoustics at Chichen Itza, stand at the bottom of the front staircase of the pyramid. Clap your hands, then listen to the echo. It's clear as a bell, many claiming the sound of the echo is the same as the chirp of a quetzal bird. Try it and see for yourself.
A trip to Chichen Itza can be hot and exhausting, so if you're planning a day trip there, you might want to build in some relaxation time. One recommendation is to get to Chichen Itza early in the day, before the crowds and the blazing heat, and then check out one of the local cenotes for a refreshing dip on your way back to your hotel.  Here's a great guide to the cenotes in Mexico to help you plan.
Mary Jo Manzanares is a founder and the editor-in-chief of The Traveler's Way, an online travel magazine proving informational and inspirational travel recommendations for curious Baby Boomer travelers. She has been a speaker at various industry events and has a personal travel blog at Traveling with MJ. When she's not traveling, Mary Jo likes lingering over a cup of coffee, wandering in a museum, sipping wine at a cafe, and sharing it all with friends and readers. Mary Jo's top travel destinations are Italy, Portugal, and the Caribbean.