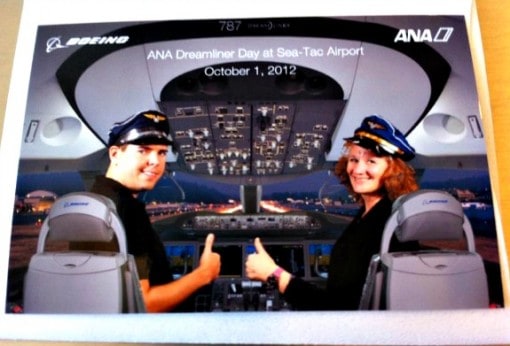 When the opportunity came up to take the Boeing 787 Dreamliner out for a spin, plane-geek that I am jumped at the chance.  After all, living here in Seattle, home of Boeing, I've avidly followed all the news about the development and building of the Dreamliner – as well as all the tales of productions problems and delays.  Pass up an opportunity to see the Dreamliner up close and personal?  Not a chance!
Now I use the expression "take the Dreamliner out for a spin" figuratively.  Despite the photo above, that is NOT Andy Hayes and I in the flight deck of the Dreamliner.  In the spirit of honest disclosure, we weren't even on the Dreamliner at that point – we were standing in front of a green screen at the launch party and computer generated graphics did all the rest.
With that out of the way, fun though it was, let's get back to taking a look at the real Dreamliner.
All Nippon Airways (ANA) was the launch customer for Boeing's 787 Dreamliner, put into service a year ago on a flight from Tokyo Narita to Hong Kong.  As ANA took possession of more 787s, the aircraft were put into domestic use throughout Japan, eventually expanding to international flights with the Tokyo Haneda to Frankfurt route.  Still, the Dreamliner hadn't flown into the U.S., until ANA changed all that with its announcement of non-stop service between Seattle and Tokyo Narita.  Service launched in late July, but it wasn't until October that the Dreamliner came on the scene.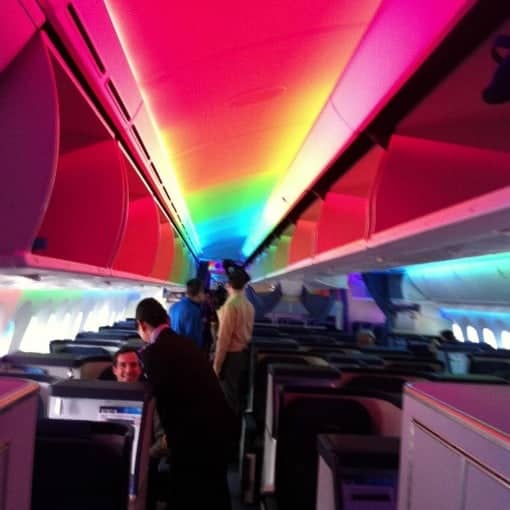 The Dreamliner made its first landing in North America on October 1, 2012, landing at Seattle-Tacoma International Airport.  The aircraft was scheduled to turn around that same day, marking the first Dreamliner take off from North America.  As often happens in commercial aviation, the flight was delayed, and the inaugural flight didn't take off until October 2nd.  I was on that inaugural Dreamliner flight, getting a chance to geek out about the new plane as well as to experience the much lauded ANA inflight service.
First Impression
The Dreamliner makes a great first impression!  From its mood lighting for boarding, staggered business class seating, to its spacious headroom, the aircraft is a game changer in air travel.  While each airline will specify the interior configuration of the aircraft, it's designed for passenger comfort – so seriously airline execs (I'm talking to you, U.S. carriers), don't mess this up to make a couple of extra bucks!
I was seated in business class (thank you ANA) with its perfectly staggered seating and a seating area that was like my very own personal living space.  It featured 19-inch seats with a 44-inch pitch that turned into a lie-flat ed.  My personal living space, a I quickly began to think of it, had a personal entertainment center with a 17-inch touch screen, USB port, iPod connector, and power port (YAY to be able to re-charge all my gadgets).  Before we had even left the gate I was busy checking out the movies and television programming and had sent a seat-to-seat inflight message to Andy sitting a few rows ahead of me.
I slipped off my shoes, put on the provided slippers, wrapped up in the down duvet, and made myself right at home.  This Dreamliner flight was going to be a real treat.
Take Off
In the midst of all the inaugural hoopla and enthusiasm, it was easy to forget that we were actually going to take off.  Despite knowing better than to send a few last minute tweets and Facebook posts, I had to be reminded to turn off my electronic deices.  I know better!
As the Dreamliner taxied out to the runway, the Port of Seattle fire department provided a farewell water salute and the flight's captain had commemorative certificates passed out to everyone.  If I had any doubt before, it was now dashed – an inaugural flight is a very big deal.
Inflight
Once airborne it was time to settle in for the ride.  Translation:  Time to check out the rest of the features in my personal living space.
The Seat:  Since I'd be spending ten and a half hours in it, I figured that I might as well get comfortable.  And it is comfortable!  In business class the seats are all aisle seats and they have several adjust options – lumbar support, recline, tracking, and the lie flat bed.  I had to play with all of them to find the most comfortable choices for my size.  At 5'6" it was pretty easy to get comfortable, but I suspect even those much taller will have an easy time of it.
The Workspace:  The tray table, about 150% larger than on other aircraft, pulls out of the entertainment unit and folds out to its full size.  This gives you plenty of room for your meal service without worrying you'll knock something over of off.  For those times you don't wish to have the tray table out, there's a side table big enough to hold personal items during flight.  It's where you'll find the magazine rack, filled with the in flight magazine, duty free shopping, seat and entertainment guide, and the in flight service menu.  There's also a beverage holder (handy in case turbulence) and a reading lamp.  The entire work area is rimmed in neon blue lighting – you have the option to turn it on or off – that not only looks cool, but serves as a night light during the flight.
The Windows:  I'd read much about the self-darkening windows on the Dreamliner and was eager to give them a try.  In their natural state, I could look out on a bright sunny sky.  Depressing the buttons next to the window will slowly darken them, and in just a few seconds the window was fully dark.  This option lets you control the lighting in your personal space, allowing you to work when you want you want to and sleep even though it may not be nighttime.  I don't know if it's true or not, but I think regulating your body clock like this may help get ahead of the jet lag curve.
The Lavatory:  I can't believe that I'm talking about the lavatory on an airplane, but again, the Dreamliner impresses in ways I just wasn't expecting.  The business class lavatory is nearly double what I'm used to, and the first thing I noticed stepping is was the window.  You've got room to freshen up, ANA has thoughtfully placed products for your use, and put on your makeup in natural lighting.  The lavatories in both business and economy class feature Washlet toilets, a sort of combination toilet and bidet.
The Service:  Starting with the pre-departure champagne all the way through to the pre-landing meal, the inflight food and beverage service is first rate.  Here's a look at the menu and a few photos of some of the course options.
Economy Class
I was fortunate to be seated in business class, but ANA's economy class on the Dreamliner steps comfort up a notch as well.  The 18-inch seats have a 34-inch pitch, but the real luxury is the fixed back shell.  Reclining the seat means a gentle slide and tilt forward instead of a tilt back into the personal space of the passenger behind you.  The seats have adjustable head and foot rest and a personal entertainment system, albeit with a smaller screen.
What's Not to Like
So what's not to like about ANA's Dreamliner and service?  Not much!  A few minor things I noticed:
I loved the personal seating area – they were spacious and comfy for working, dining, and sleeping.  If you want to visit with another passenger, there's plenty of room to hop from seating area to seating area without disturbing anyone.  If you need to be right next to your traveling companion at all times, or if you're traveling with young family members who are uncomfortable sitting alone, you may prefer a different aircraft configuration.
The entertainment system was great, but the headsets seems a little flimsy.  They didn't fit on my ears well and I was continually adjusting the fit or holding the ear pads to get a closer fit (and so I could hear more clearly).  I didn't try using my personal headset – the plug was two-pronged and I'm not sure if it would work with a standard plug in.  It might be a better option for sound quality.
The boarding entryway was very standard.  One configuration of the Dreamliner is with a spacious and dramatic entryway, but ANA's configuration didn't provide for this.  In the scheme of things, I'm sure it was a practical decision, but it was still a bit of a disappointment.  And it's left me wanting to see a Dreamliner with this other entryway.
By the Numbers
Flight 1077 SEA-NRT leaves Seattle at 1:15 pm and arrives in Tokyo the following day at 3:45 pm.  Flight 1078 NRT-SEA leaves Tokyo at 5:25 pm and arrives the following day at 10:55 am.
6,000 feet – The Dreamliner cabin pressurizes 2,000 feet lower than most other aircraft.  This means the cabin air feels much less dry, making the flight a more pleasant experience, and helps stave off headaches, dry skin, nosebleeds, and jet lag.
Seats:  46 in Business Class, 112 in Economy Class.
Price:  Dreamliner luxury doesn't come cheap, and ANA is not bashful about stating their target demographics are the upscale passengers who are willing to pay for this comfort.  A quick search of ticket prices for random days in January returned economy prices around $1,611 and business class prices around $4,877.
Next up:  The next U. S. Gateway for the Dreamliner will be ANA's service between San Jose (SJC) and Tokyo (NRT) starting January 11th, 2013.  That flight will operate 5 days per week.
Photo credit:  All from the personal collection of Mary Jo Manzanares
NOTE:  My flight on the Dreamliner was complimentary as part of their iAmbassador program.  The opinions expressed here are my own, based upon thousands of flights, both free and paid.
Mary Jo Manzanares is a founder and the editor-in-chief of The Traveler's Way, an online travel magazine proving informational and inspirational travel recommendations for curious Baby Boomer travelers. She has been a speaker at various industry events and has a personal travel blog at Traveling with MJ. When she's not traveling, Mary Jo likes lingering over a cup of coffee, wandering in a museum, sipping wine at a cafe, and sharing it all with friends and readers. Mary Jo's top travel destinations are Italy, Portugal, and the Caribbean.