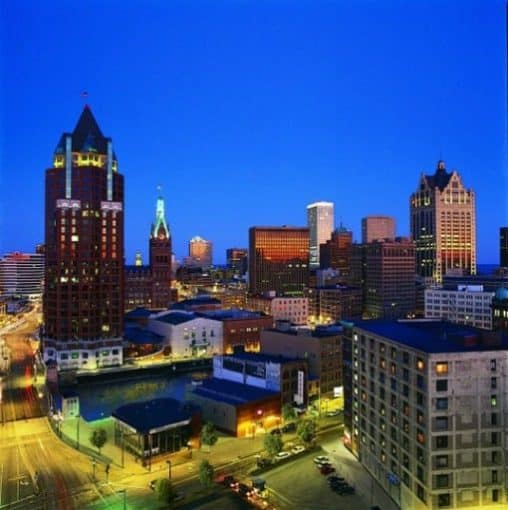 Whether it's on tap, in bottles, cans or kegs, beer is what "made Milwaukee famous." From legendary German brewers Blatz, Pabst, Schlitz and Miller to modern craft brew masters, Milwaukee's beer heritage and culture still thrives today.  Great beer, great places to drink it and food to pair with it can all be found on Milwaukee's sophisticated beer scene at microbreweries, thriving brewpubs, corner taverns, brewery tours and historical attractions.
So where do you start?
Take a Tour
While most brewery tours promise a frothy brew at the end of the tour, at Lakefront Brewery you can grab one as soon as you walk through the door. The $7 tour includes a souvenir pint glass, four pours of Lakefront brews, a coupon for a free beer redeemable at 15 local pubs, and a tour guide guaranteed to show you a great time (and not just because of the beer). Stop by on Friday night and enjoy a fish fry:  battered fish, heaping stacks of homemade potato pancakes, a slab of soft rye bread, creamy coleslaw and tart applesauce.
Stop by Sprecher Brewery to old see world brewing traditions along with Bavarian murals adorning the Munich-style indoor beer garden. After the tour, award-winning Piper's Scotch Ale, Black Bavarian, Mai Bock and more are available for sampling. Try Sprecher's newest creation, Beer Flavored Kettle Chips, made with dehydrated Sprecher beer.
Journey through more than 150 years of brewing history at one of the nation's brewing giants, MillerCoors. The hour-long, FREE tour walks you through the historic, underground caves where Frederick Miller cooled his brew (and where his hologram will fill you in on the early days) to the modern, high-speed production lines that crank out some of the most popular beer in the U.S. Enjoy a few samples after the tour in the historic, Bavarian-style Miller Inn.
Share a passion for crafting and creating beer with the accomplished, home-brewer guides and "brewery scoundrels" at the Milwaukee Brewing Company on a "beer in hand" tour. You'll enjoy chilling in the laid-back atmosphere of the city's newest micro-brewery. Ask the staff for the stories behind creatively-named brews such as Polish Moon, Booyah and Louie's Demise.
Blast from the Past
Pay homage to your PBR and step back in time on a tour of the Captain Frederick Pabst Mansion, the only grand mansion still in existence from the Beer Barons era in Milwaukee. Learn about the legacy of Captain Pabst as you explore the elegant interiors, original furnishings and an expansive art collection.
Once you've seen where Captain Pabst lived, head over to see where he worked at the Best Place Tavern at the former corporate offices of the Historic Pabst Brewery. The retro-cool tour sets the stage with vintage beer commercials and your choice of an ice-cold Pabst, Schlitz or root beer.
Pay your R-E-S-P-E-C-T to three of Milwaukee's Fab Four – Pabst, Schlitz and Blatz – at the Forest Home Cemetery. Nestled on 72 tranquil, park-like acres, Forest Home is where a "who's who" list of Milwaukee's rich and famous, dearly departed have chosen to spend eternity. The "Beer Barons" corner features the mausoleums of these three brewing icons. To make your tour complete, head to Milwaukee's Calvary Cemetery where you'll find the final resting place of Frederick Miller.
Satisfy Your Appetite
Dine al fresco and enjoy the leisurely parade of boats along the Milwaukee River or head inside to appreciate the historic architecture of a former hula hoop factory at the Milwaukee Ale House. Enjoy a sampler of brews by Milwaukee Brewing Company and delicious pub fare. You'll also find nightly live entertainment.
The fun starts when you order a beer at Horny Goat Hideaway. This local brewer is known for tasty beers with racy names like Red Vixen and Berry Horny to go with favorite fare like hot wings, burgers and flatbread pizzas. Have no fear once the temperature starts to drop, Horny Goat's BFT (Big F'ing Tent) offers plenty of room for indoor sand volleyball, catching a concert or just kicking back with your friends to enjoy a cold brew.
Like a little sophistication with your beer? Head to Hinterland Erie Street Gastropub, a hub for contemporary American cuisine created by a James Beard nominated chef.  Sample Hinterland's World Champion medal-winning Maple Bock or silver medal-winning Pale Ale paired with fresh seafood entrees, extraordinary game and heirloom produce for an unforgettable dining experience.
Quench Your Thirst at Some of Draft Magazine's Best Beer Bars
The Bomb Shelter is exploding. With beer. Of the more than 360 beers served here, you'll find over 60 that were or are produced in Milwaukee. From old-school brews to the latest micro-brewery session beers The Bomb Shelter is the place to find your perfect pint.
Built in 1885, Romans' Pub is a landmark saloon turned neighborhood gathering place offering 30 constantly-rotating draft selections.
Just south of downtown in Bay View is Sugar Maple – a bar with a row of taps that seems to go on forever. Nearly 40 of the best craft beers in the nation are on tap here, complementing a considerable bottle list.
The Palm Tavern serves up brews from around the world in a cozy Bay View bar. What they lack in size they make up for in options – you'll find 25 world beers on tap and an additional 200 in bottles.
So bottoms up!  Tell us your favorite beer destination.
Photo credit:  Visit Milwaukee
Mary Jo Manzanares is a founder and the editor-in-chief of The Traveler's Way, an online travel magazine proving informational and inspirational travel recommendations for curious Baby Boomer travelers. She has been a speaker at various industry events and has a personal travel blog at Traveling with MJ. When she's not traveling, Mary Jo likes lingering over a cup of coffee, wandering in a museum, sipping wine at a cafe, and sharing it all with friends and readers. Mary Jo's top travel destinations are Italy, Portugal, and the Caribbean.