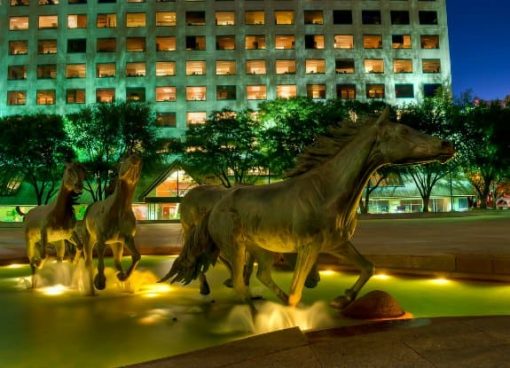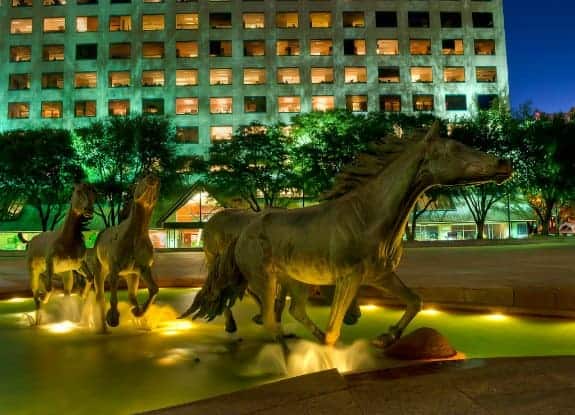 Who said you have to be a millionaire to live in or visit the Big D or its neighbor the renowned cattle-rich city of Fort Worth.  While just minutes away from each other, both cities are different and offer their own version of how to have a no-cost good time. There seems to be a plethora of freebies in Dallas, we've listed 20 free things to do there and finished the list off with 10 Fort Worth budget worthy favorites.
Free Things to Do and See in Dallas
 Pioneer Plaza Cattle Drive in Downtown Dallas at Young & Griffin Streets. Larger-than-life-size bronze steers and cowboys sit adjacent to the Dallas Convention Center at what was once the site of the well-traveled Shawnee Trail drive of the 1850s.
Sculpture Garden in Downtown Dallas at 2010 Flora Street. The Sculpture Garden is located at the Trammell Crow Center with more than 20 statues featuring a number of French artists you'll recognize alongside waterfalls to complete the mood.
Crow Collection of Asian Art at 2010 Flora Street. The Crow Collection of Asian Art has over 600 paintings, metal and stone objects and larger pieces from various countries in Asia.  There are also works in several of the galleries like jade ornaments from China as well as 28-foot by 12-foot sandstone facade from India.
 Spanish Art at the Meadows Museum at 900 Bishop Blvd. Located on the campus of Southern Methodist University this is the largest collection of its kinds not located in Spain and is free to visit on Thursdays after 5 p.m.
 Fair Park Museums on Grand Avenue. While there are a number of museums at Dallas Fair Park that do charge an admission, there are several that are free to visit, with the exception of special exhibitions.  These include the African American Museum, The Hall of State and, the Texas Discovery Garden offers free admission every Tuesday.
 Fountain Place in Downtown Dallas at 1445 Ross Avenue at Field Street. At Fountain Place folks can enjoy watching water dance at the base of the 1.2 million square-foot office tower of green glass with 172 bubbler fountains and a central fountain with 360 computer driven water jets.
 Even if you don't have time to take in a concert, you can tour the Morton H. Meyerson Symphony Center at 2301 Flora Street. Designed by I. M. Pei, the center is known world-wide for its amazing acoustics.  There is also a $1.36 million organ onsite with 4,535 pipes. One-hour free tours are available at 1 p.m. daily.
 Dallas Central Library in Downtown Dallas at 1515 Young Street. Called the J. Erik Jonsson Central Library you will not only find one of the original copies of the Declaration of Independence from 1776, but also William Shakespeare's First Folio of Comedies, Histories & Tragedies.
 Thanks Giving Square at 1627 Pacific Avenue in  Downtown Dallas at the corners of Pacific, Bryan and Ervay Streets.  Open year round the square celebrates people of all nations, cultures and religions.  There is a chapel and museum honoring Thanksgiving including a meditation garden, bells and fountains
 The John F. Kennedy Memorial in Downtown Dallas at Main and Houston Streets. The memorial was designed by Philip Johnson a Kennedy Family friend and is an open-roofed, concrete walled monument reminiscent of a tomb. Also in the area are the School Book Depository and the Grassy Knoll.
 The M-Line Streetcar from Dallas' earlier days is now part of a new M-Line Trolley Bus. It can be ridden down McKinney Avenue connecting within walking distance to many of Dallas' cultural treasures.
 Dallas' West End in Downtown at Market and Munger Streets. Once a rundown warehouse district, this is a Dallas success story. There are now dozens of shops, restaurants and clubs and during the summer free concerts.
 The country's largest model train display at 1935 Motor Street.  Located in the lobby of Children's Medical Center of Dallas there are eight trains that run simultaneously.
 Dallas Farmers Market at 1010 South Pearl Street.  Every day farmers from around the area sale everything from fruit and vegetables to herbs and plants.
 Dallas Summer Concerts at the Dallas Museum of Art at 1717 N. Harwood Street. Every Thursday night in the summer it's the "Jazz Under the Stars" concert series.  The Museum also offers free admission the first Tuesday of each month.
 Freedman's Cemetery Memorial at North Central Expressway between Lemmon Avenue and Hall Street. This is a pre-Civil War African-American cemetery that was once located in the part of Dallas that was known as Freedman's Town Area formed by Blacks freed from slavery in the 1860s. Nowadays, the cemetery is a historic and state landmark also featuring life-size figures in bronze.
 Adrian E. Flatt, M.D. Hand Exhibit at Baylor University Medical Center's Truett Building on the 1st floor at 3500 Gaston Ave.  This exhibit was named after one of the most well-known hand surgeons in the world and offers 100 bronze-coated hands including the likes of Katherine Hepburn and Winston Churchill.
 Dallas Nature Center at 7171 Mountain Creek Parkway. The Dallas Nature Center is 633 acres of wilderness and mesquite prairie. Guests can enjoy 10 miles of hiking trails, native-plant nurseries and nature programs at the visitors center.
 Interurban Railway Museum in downtown Plano at Haggard Park.  The museum highlights the history of the Texas Electric Railway from Denison to Dallas, a line that was operated from 1908 to 1948.
 Mustangs Sculpture in Las Colinas at O'Connor Road, North of Highway 114 in Irvin (in top photo). Nine large bronze mustangs are seen splashing across a stream at Williams Square. In addition to the mustangs the Mustangs of Las Colinas Sculpture & Exhibit also offers a 20-minute film about this breed of horses.
Free Things to Do and See in Fort Worth
 The Gallery of Sports Art at Ameriquest Field at 1000 Ballpark Way in Arlington. This is the country's largest art gallery for sports with original art, limited edition lithographs and bronze statues ranging in theme from baseball, basketball, fishing, hunting and soccer.
Amon Carter Museum located in the Fort Worth Cultural District on Camp Bowie Blvd.  Admission to the permanent collection is free with a variety of different types of art from all media represented.
Modern Art Museum of Fort Worth at 3200 Darnell Street in the Fort Worth Cultural District (in photo above). The museum offers free admission on the first Sunday of the month and on every Wednesday and features art in every media after the 1940s.  Highlight pieces include works from Jackson Pollock, Pablo Picasso and Andy Warhol.
Kimbell Art Museum on Camp Bowie in the Fort Worth Cultural District.  Free admission to the permanent collections every day.
Sid Richardson Museum in Downtown Fort Worth's Sundance Square on Main Street.  This museum showcases western-themed art by artists like Charles M. Russell and Frederic Remington.
Fort Worth Stockyards National Historic District at Main Street and Exchange Avenue. All types of restaurants, bars and shops are located here as well as the well-known Cowtown Coliseum in Mule Alley and Billy Bob's Texas. You can also get a glimpse of the world's only twice-daily cattle drive as teams of cowhands drive longhorns through the Stockyards on Exchange Avenue.
 Fort Worth Water Gardens at 1502 Commerce Street. Next to the Fort Worth Convention Center the garden was designed by Phillip Johnson and is an architectural and engineering marvel open all year.
Fire Station Musuem at 203 Commerce Street. Fire Station No. 1 is part of the Fort Worth Museum of Science and History and features interactive models including a bucking bronco that commemorate Fort Worth's first 150 years.
Fort Worth Nature Center and Refuge at 9601 Fossil Ridge Road.  Featuring forests, prairies and wetlands of over 3600 acres, the center is one of the largest city-owned nature centers in the United States with over 20 miles of hiking trails.
Fort Worth Heritage Trails Self-Guided Tour in Downtown Fort Worth.  Maps can be picked up at visitor centers in the downtown area and the tour highlights a number of locations featuring people and events that shaped Fort Worth's history.
Photo credit:  Marco Becerra via flickr (Mustangs); Kent Wang (museum)
Rita Cook is a writer/editor with over 1000 articles. She can be heard on Insider Mag Radio at KPRO 1570 am and she also reviews cars for the Washington Times Communities (Behind the Wheel). Her most recent published books include "A Brief History of Fort Worth" as well as two haunted books on Dallas and Fort Worth to be published in the fall 2011. Rita's favorite travel destinations are Italy, India and Kenya.