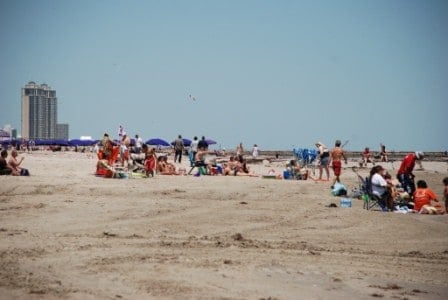 Did you know that a relaxing beach vacation is just one hour away from the city of Houston, Texas? It's true! Galveston Island is just 54 miles down I-45 South, and if you beat the traffic you can be on the beach in just sixty minutes! No matter where you stay on the island you are just minutes from a beach, and there is something for everyone to enjoy. Stay for the weekend, or stay for a week, but be sure to pack the sunscreen!
About Galveston
Galveston is a resort town located on the Gulf Coast of Texas, and even though it's almost 60 miles from the city of Houston, it is considered part of the greater Houston metropolitan area. Known as "The Oleander City," Galveston boasts six historic districts and has over 60 architectural structures listed on the National Register of Historic Places. During the 19th and 20th centuries Galveston was a major port receiving immigrants to America, and the Galveston Historical Foundation has compiled an online database of immigrants who came to the New World through Galveston. Today Galveston remains an important shipping and cruise ship port, and a popular tourism destination for Texans and visitors alike.
On the beach in Galveston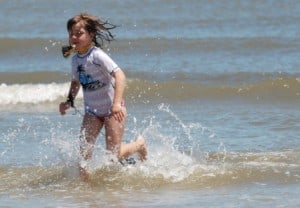 The humid, sub-tropical climate of Houston keeps winter temperatures in the mid-60°F range, while summer temperatures can climb to 90°F or higher. Thirty-two miles of sandy beaches surround the 208 square mile island, and along the beaches lie beautiful hotels, fun bars and restaurants serving up everything from burgers to seafood. There are seven beach parks in Galveston for you to choose from, and some of them are even dog-friendly!
East Beach at 1923 Boddeker Drive
Galveston Island State Park at 14901 FM 3005
Palm Beach at Moody Gardens at One Hope Boulevard
Sea Gull Shores Beach Pocket Park 1 at 11102 San Luis Pass Road
Sand Castle Beach Pocket Park 2 at 11745 San Luis Pass Road
Sea Shell Beach Pocket Park 3 at San Luis Pass Road at 11 Mile Road
Stewart Beach at 6th and Seawall
Where to stay in Galveston
One of the most beautiful hotels on the island is The Hotel Galvez, a historic hotel overlooking the Gulf of Mexico, but there are many choices for accommodations on and off the beach. In addition to hotels you also have your choice of many quaint bed-and-breakfasts, or you may choose to rent a cottage – a great option if you are planning an extended stay. If you plan on making a summer of it, you can even find long-term condo rentals along the Seawall.
Where to eat in Galveston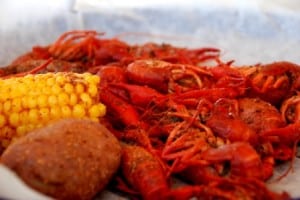 My favorite place to spend the day is on Stewart Beach, along the Seawall. There are lots of bars and restaurants to choose from, and plenty of parking up and down the beach; this is the perfect place to "drop anchor" if you are only taking a day trip, or if you are staying in town but spending the day at the beach. No matter where you spend the day – in town, at the beach, or in your hotel spa – you are going to get hungry eventually, and here are some of my favorite places to eat in Galveston:
The Spot at 3204 Seawall: The Spot is actually one-fourth of a four-part series of connecting restaurants and lounges (Tiki Bar, Drip and Squeeze make up the rest). The Spot makes the most delicious turkey burger I've ever had, and you absolutely must order the fried pickles!
Mosquito Café at 628 14th Street: I love the Mosquito Café! Enjoy a modified cafeteria-style service in a charming dining space – warm wood walls, high ceilings, and local artwork (for sale!) on the walls. Oh, and the food? To die for! If you're there for breakfast, get the Breakfast Bowl: Sauteed spinach, crumbled hickory-smoked peppered bacon, smoked mozzarella cheese, and two eggs, any style, over roasted potatoes. You'll thank me later.
Benno's: It's come-as-you-are at Benno's, so it's the perfect place to go after a long day in the hot sun. The last time I went we did a little bar-hopping and then finished up with po'boys and hushpuppies at Benno's.
Other Galveston Activities
If you hit a rainy day, or if you need a break from the sun, you can find plenty to do in Galveston. Try one of these architectural tours:
Bishop's Palace, a Victorian castle built by Colonel Walter Gresham and designed by Galveston's premier architect, Nicholas Clayton. Tours are conducted hourly: Adults $10, Students (7-18) $7; closed Wednesdays. Located at 1402 Broadway.
Moody Mansion is another must-see destination for architecture buffs. This turn-of-the-century home was completed in 1895, and gives visitors a sneak-peek into the everyday life of the wealthy Moody family. Tours are conducted daily from 11 a.m.-3 p.m.: Adults $8, seniors $7, students $5. Located at 2618 Broadway.
Photos from the author's personal collection.
Christina loves travel writing, and she has a particular interest in writing about adventure travel, food and drink. In addition to writing Christina works as a social media manager and consultant, helping people tell their stories online. In her spare time Christina enjoys reading, yoga, and spending time outdoors. Christina lives in Houston with her husband Josh and their dog, Sandy. You can follow her on Twitter @snowcones. Her top three travel spots are Alaska, Paris, and Western Canada.