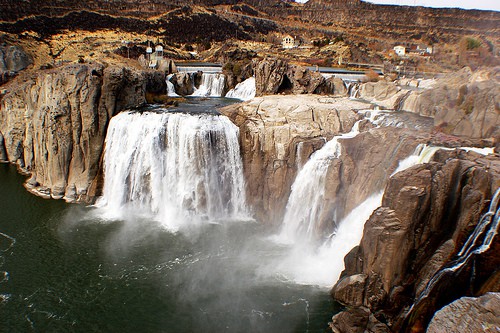 You take family vacations to have fun, see the sights, and enjoy quality time together, but it never hurts to learn a few things along the way.
For instance, did you know that Idaho has a waterfall higher than Niagara Falls, river canyons deeper than the Grand Canyon, and an entire town on the National Register of Historic Places that also holds claim as the Center of the Universe? When you explore Idaho's wild wonders, your kids might not even realize they're learning a little bit of history, geology, and ecology.
What Idaho waterfall is higher than Niagara Falls?
Shoshone Falls (in photo), located in south central Idaho near Twin Falls, is 212 feet high – 36 feet higher than Niagara Falls. The falls, rock formations, and Snake River Canyon are beautiful year-round, but the falls are most spectacular in the early spring before the river is diverted for irrigation. For just $3 a car March 30-September, Shoshone Falls Park offers prime waterfall views from platforms and the canyon rim. Try a zip line tour or relax with a golf game in the canyon, then take in a meal and a view in one of the restaurants on the rim.
What is the deepest canyon in North America?
Hells Canyon is located in north central Idaho, south of Lewiston. It's deeper than the Grand Canyon, but not as wide. The Snake River flows through it, offering fishing, rafting, and jet boating. Wildlife is plentiful and visitors can see Native American pictographs and historic homesteads. The most popular way to experience the canyon is aboard a jet boat or raft, but there are also hiking trails in the area. The canyon is warmer than the surrounding area, so consider morning outings and come prepared with sun protection. Rafting and jet boat outfitters typically provide refreshments.
Where can you find the largest captive geyser in the world?
The Soda Springs Geyser in eastern Idaho was discovered in 1937 during an attempt to find a hot water source for a swimming pool. The geyser is now timed to erupt every hour on the hour. Carbon dioxide gas and water mix in an underground chamber, creating enough pressure to cause the geyser to gush to heights of 100 feet year-round. The Soda Springs area, an oasis along the Oregon Trail, has several historic sites to explore. Try the naturally carbonated water at Hooper Spring or Octagon Spring and walk Oregon Trail ruts.
[tweetthis]How many of these facts do you know about Idaho? @visitidaho[/tweetthis]
What was America's first destination ski resort?
Sun Valley Resort, located in central Idaho, was created in 1936. The world's first chairlifts were installed here, and local wildlife could be seen sharing the mountain with European nobility and Hollywood royalty. This year-round, family-friendly resort area still offers a variety of recreation opportunities, including horseback riding, golf, ice skating, movies, concerts, paved bike trails, mountain bike trails, and fishing.
Where can you find the tallest single-structured sand dune in North America?
Located in southwest Idaho, a dune within Bruneau Dunes State Park rises 470 feet above the surrounding desert floor. Hike the dunes and surrounding trails, and rent a sand board (or bring a piece of cardboard) for a thrilling ride. The park has fishing and campsites, and you can visit the Bruneau Dunes Observatory to gaze at the night sky through the Observatory's collection of telescopes.
Where in Idaho can you find an entire town listed on the National Register of Historic Places?
Wallace, in north Idaho, has quite the history. A true Old West mining town that still prospers today, Wallace traces its roots back to 1884. Take a silver or gold mine tour, visit the Oasis Bordello Museum and the Wallace Mining Museum, stroll the Settlers Grove Trail through an ancient cedar grove, or enjoy nearby bike trails, golf courses, and a zip line tour. Wallace also has the notable distinction of being officially declared the Center of the Universe – there's even a marker in the road! The mayor of Wallace officially proclaimed it so in 2004 after finding that the EPA followed logic along the lines of "if something can't be disproven, it must be true."
Where were the first commercial river rafting trips in the United States launched?
Idaho, of course. No other state can claim as many runnable whitewater river miles – more than 3,500! Outfitters offer rafting trips of all kinds for all ages and abilities, including family-friendly excursions, quiet flat-water floats, or thrilling whitewater. The scenery is beautiful and the memories will last forever.
What is the second largest wilderness area in the Lower 48 (second in size only to California's Death Valley Wilderness)?
The Frank Church-River of No Return Wilderness Area is a wilderness of steep, rugged mountains, deep canyons, and wild whitewater rivers. Although the Salmon River Canyon is one of the deepest gorges in North America, even deeper than the Grand Canyon, it's not known for sheer walls and towering heights, but rather for the variety of landscapes visible from the river: wooded ridges rising to the sky, huge eroded monuments and bluffs and slides; picturesque castles and towers; and solitary crags. Whitewater trips are a popular way to experience this wilderness, but you may also enjoy a guest ranch stay or a backpacking trip. There are some backcountry air strips, but no motorized vehicles are allowed in the wilderness area.
Mary Jo Manzanares is a founder and the editor-in-chief of The Traveler's Way, an online travel magazine proving informational and inspirational travel recommendations for curious Baby Boomer travelers. She has been a speaker at various industry events and has a personal travel blog at Traveling with MJ. When she's not traveling, Mary Jo likes lingering over a cup of coffee, wandering in a museum, sipping wine at a cafe, and sharing it all with friends and readers. Mary Jo's top travel destinations are Italy, Portugal, and the Caribbean.