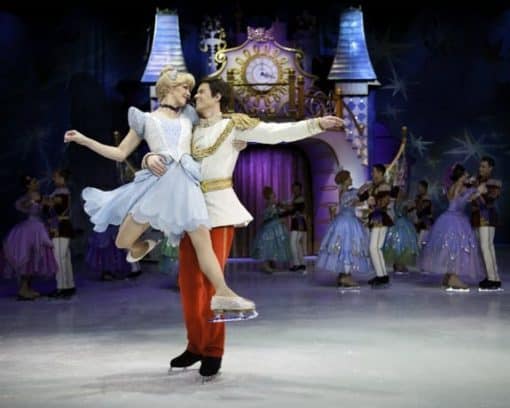 I overheard someone's off-handed comment recently that "we can't all be princesses".  While that might be true, when I have went to the Disney on Ice, Dare to Dream performance, I was in the company of more princess than I have ever seen at one place, at one time.  All ages, some in costume, some famous and beloved, and others still dreaming of their chance to truly be a princess.  We were all there.
Unlike the ice skating shows that I grew up attending, with individual performers skating one routine after another, this show reveals memorable moments in the lives of three Disney princesses, Cinderella, Tiana and Rapunzel.  While the skating was not spectacular, it was skillful and enjoyable and kept my two young companions on the edge of their seats.
The show begins with the lively music of the bayou as skaters dance across the ice to present the tale of The Princess and the Frog.  A story that begins and ends with a fateful kiss, is set in New Orleans and loaded with voodoo and incredibly costumed swamp creatures.  I particularly enjoyed the frog costumes that later revealed Princess Tiana and Prince Naveen.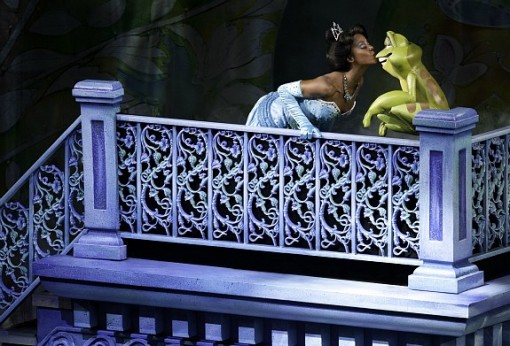 Even though I had seen the Disney movie, The Princess and the Frog, I found this version to be a little hard to follow.  Although the performance is enjoyable to watch with its lively music and skating excitement, I would recommend viewing the movie before attending the show so you don't overlook some of the subtle features.
With the wrought iron scenery rolled back, the scene on the ice reveals a tattered girl scrubbing away.  Soon she is joined by her only friends, larger than life mice, and the audience of young princesses excitedly squirm as they realize it is the tale of Cinderella.  The wicked step-mother and buffoonish step-sisters add a comedic note to the storyline.
The costumes of the mice turned to horses is incredibly detailed and beautiful to watch. A performance by Prince Charming's Royal Guard took me back to ice shows past as the large group displayed great timing and skill as they skated a masterfully synchronized number.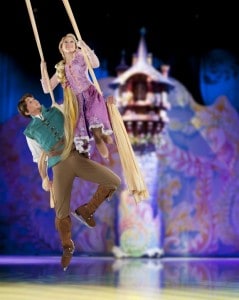 Still, my favorite portion of the evening came as the skaters performed the tale of Rapunzel as told in the recently released Disney movie, Tangled.  Almost a version of Disney on Ice meets Cirque du Soleil, the characters of Rapunzel and Flynn, perform some stunning aerial acrobatics with beautiful golden  material meant to represent her flowing hair.  The costume of the character Maximus was so detailed, I had to remind myself it wasn't a real horse skating across the ice.
The grand finale was another high-point as all the Disney Princesses, accompanied by their Prince, skated out for a twirl around the ice to their theme song.  From Mulan and Jasmine to Sleeping Beauty and Snow White, even Mickey and Minnie Mouse, everyone's favorite characters made an appearance.
Not being a newbie to stadium events, I knew that I would be forced to deal with the constant parade of vendors selling their over-priced wares to the captive audience.  I came prepared with a secret stash in my purse of glow-in-the-dark bands that I had purchased at the dollar store.  I would not be a victim to this highway robbery!
Sadly, my dollar store purchase was defective and only one of the sticks actually glowed, while the others leaked onto my hand.  With two young companions, one bracelet and the fact that I was now glowing just wasn't enough and I was forced to buy the $12.oo cotton candy with attached princess crown.  When the lights of intermission illuminated, I saw that the young mother in front of me was smarter than I, as she had made little "grab bags" for her children that contained stickers, a couple of snack items and small toy.  They were happy as clams and she was $12.00 richer!
It was a delightful show, and with only a few gentlemen in the audience it made for a fun ladies night out.  So grab your daughters, grand-daughters, nieces or just be a kid again yourself and attend Disney of Ice, Dare to Dream as it heads to a town near you.
While the author was granted complimentary tickets for the purpose of a review, the opinions expressed are strictly the authors.
Photo credits: Feld Entertainment
Having been transplanted numerous times, I have learned to explore the sites around our new found hometown, uncovering hidden gems and attractions. When vacation time rolls around, I enjoy traveling with my family and the occasional weekend escape with my husband, coming home to share our travel experiences with others. You can follow me on Twitter @JAIngersoll. My top three destinations are Walt Disney World Resort, the Midwest and any beach I can walk along.