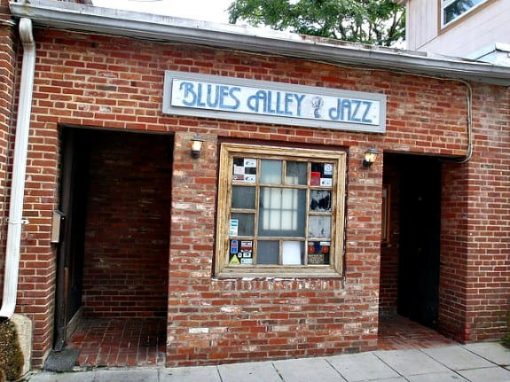 With an average age of about 35 years old, folks in Washington D.C. like their bars.  While there are numerous bars and lounges to consider when hitting the scene in the nation's Capital, the eight bars below will take you through a smorgasbord of the city's history one drink at a time.  If you don't know where the Mint Julep was introduced read on, or perhaps you're wondering where the term lobbying came from, well, you can be sure it all started in Washington, DC.   Even better, there's one old Prohibition-style bar where even the drinks are a reminder of those days.
The 18th Street Lounge is a hidden secret, literally.  It's an unmarked door that will lead you up the stairs to this cool nightclub that was once the rented townhome of Teddy Roosevelt.  The interior of the bar is Queen Anne Victorian – where else can you get away with that décor these days? Long lines wait to get into this lounge for a drink and entertainment, but the strict dress code keeps all but the super hip at bay. Location:  1212 18th St. NW.
Blues Alley is the oldest jazz club in the area and you can feel the history exuding from the walls.  If you like that good old Supper Club feel, Blues Alley is where you can find it.   Exposed brick walls and small lounge tables litter the room with art nouveau chairs.  The bar has seen the likes of performances by Dizzie Gillespie, Sarah Vaughan and Nancy Wilson, and even today Blues Alley attracts a good lineup. Location:  1073 Wisconsin Ave. NW (in photo at top).
Bohemian Caverns has seen a variety of name during its 80-plus years.  Founded in a basement underneath a drug store, it has been called Club Caverns and Crystal Caverns and folks like Duke Ellington, Billie Holiday and Miles Davis have graced the stage.   With four levels now it has outgrown its early history, but the basement is still the main draw and jazz bands still take the stage on a regular weekly basis. Location:  2001 11th St. NW.
The Gibson has a history that dates back to when Prohibition was enforced, at least in theory.  Once it was a back door with no sign, perhaps a buzzer and a quaint little space where drinks were poured.  These days this bar offers classic cocktails like a New Orleans Sazerac or a martini with a pickled onion (the house specialty actually called Gibson).  Reservations are required and if you visit you can only stay two hours at the table then someone else gets the seat to enjoy this Prohibition-style atmosphere.  Location:  2009 14th St. NW.
Martins Tavern in Georgetown is on its 78th anniversary and counting. A family feel, Harry Truman, John F. Kennedy, Lyndon Johnson and even Richard Nixon have frequented between these walls.  The bar's patriarch William S. Martin came over to the United States from Galway, Ireland and it is still has that "popular watering hole" mentality permeating the establishment.  Dark old booths with green accents and Tiffany lights are still the same décor as in years past.  A great place for brunch, Martin's Tavern promotes Guinness, offers Smithwick's and Yuengling on tap, and makes a Bloody Mary in an old Bay Bay rimmed glass is worth a try no matter the time of day or night.  You'll find tourist and regulars here it's a neighborhood hangout.  Location:  1264 Wisconsin Ave. NW.
Churchkey is located above the Birch and Barley restaurant and offers the largest selection of beer on tap in the DC area.  If you're not into tap there are also 500 bottled choices and five English cast ales.  Four ounce pours and lots of sampling in another old building that is reminiscent of days gone by. Location:  1337 14th St. NW.
Madam's Organ can be seen from up or down the street boasting a mural on the outside of a buxom redhead.  Located in the Adams Morgan area, the bar has been drawing folks in for several decade.  It's easy to find, even if you don't find the mural, since it is located in a multilevel row house.  Live music plays along with the strong drinks and the catch phrase here is "Where the beautiful people go to get ugly."  A rooftop bar in the summer rules and if you're a red head you get half price bottles of Rolling Rock anytime. Location:  2461 18th St. NW.
The Round Robin Bar at the Willard InterContinental Hotel is rumored to be the place where the term lobbying was coined.  Some historians disagree, but nevertheless, the rumor it has made this bar famous.  President Ulysses S. Grant frequented the hotel and many politicians can still be seen hanging around here.  The drink of choice is either the Mint Julep or a single malt  best enjoyed while remembering that many a lawmaker might have sat in the same space more than 100 years ago.  Dark wood and green keep the atmosphere low key and there are over 100 choices of scotch on the menu.  The bar boasts creating the mint julep as it was here that Senator Henry Clay introduced it to the world (around 1850) in honor of the Kentucky Derby.  Location:  1401 Pennsylvania Ave. NW.
These bars are a perfect spot to drink up a variety of beers or specialty cocktails, and as an added bonus, you can enjoy some history while you enjoy you drink.  Who knows, there might even be a politician that you recognize drinking right along with you.
NOTE:  While many of the Washington DC bars charge a cover, often if you get in before 9 p.m. or go on a weekday it's free.
Photo credit:  All via flickr.  Daniel Lobo (Blues Alley); Mr T in DC (Bohemian Caverns); Josh (Madam's Organ)
Rita Cook is a writer/editor with over 1000 articles. She can be heard on Insider Mag Radio at KPRO 1570 am and she also reviews cars for the Washington Times Communities (Behind the Wheel). Her most recent published books include "A Brief History of Fort Worth" as well as two haunted books on Dallas and Fort Worth to be published in the fall 2011. Rita's favorite travel destinations are Italy, India and Kenya.