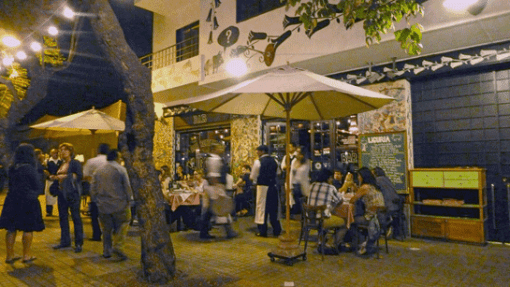 Squeezed between nearly 4000 miles of coastline and the spine of the Southern Andes (the highest peak breaking 22,000 feet), the country of Chile seems to be all about nature. Mountaineering, trekking, back country adventures, cruising the fjords of Cape Horn. A limited number of Antarctica expeditions leave from Punta Arenas, Chile's port at the tail end of South America. The hub for all this travel is Santiago de Chile, the country's capital city. You may be tempted, if you're Chile-bound, to bungee through Santiago, merely using it as a place to change planes. That would be a shame. The city is easy to navigate, has attractive (and uncrowded) tourist sites, and becomes more appealing with every hour you spend there.
Start in the middle. Perhaps the best place to orient yourself to Santiago is right in the center at the Plaza de Armas.  This grand open space is surrounded by fine architecture: the cathedral, an imposing city hall, and the National History Museum. But it's also a popular hang out with the residents of Santiago, a place to buy crafts and snacks, a place to meet friends. Tours gather here and head off in different directions. Little information booths, built around Segway vehicles, hand out maps and give advice to travelers. This central plaza is the perfect place to ground yourself in Santiago, to see how your ears respond to the sound of Chilean Spanish, and to get the feeling for the heart of this thriving South American city. Very close to the Plaza de Armas you'll find the Museum of Pre-Columbian Art, home to a small but very pretty collection of Central and South American treasures.
Tour the markets. For an easy entry to Santiago's markets, head to the Mercado Central, a gorgeous wrought iron and glass arcade that houses stands selling souvenirs, appealing (but pricy and somewhat touristy) restaurants, and a few attractive stacks of local produce in a nod to Chile's productive farmlands. The fish market is along one side of the Mercado Central and it's worth a walk through just to have a peek at what kind of seafood that seemingly endless coastline provides. The Vega is Santiago's central produce, meat, and almost everything else market — spices, soap, housewares, more — and it's exiting to walk through this crowded maze while deciding what's for lunch. You'll be warned repeatedly by locals to mind your valuables and keep your expensive camera out of sight, but you'll be rewarded with expansive smiles from vendors and, if you're adventurous, you'll find all kinds of local treats, fresh juice, buttery avocados, and plenty of delicious looking ingredients that make you wish you had a full kitchen at your hotel.
Shop for … anything. Heurfanos is Santiago's central shopping and business district — it's lined with book shops, department stores, cafes and restaurants bursting with office workers. You may or may not find something you want to buy here, but it's great people watching and it's fun to be in the middle of this lively pedestrian district. If you're looking for something swankier, head uptown to Barrio Bellavista for designer brands, hair salons, and air conditioned shopping malls. For crafts and more traditional Chilean goods to take home, head to the beautiful Pueblito los Domincos where you'll find ceramics, textiles, and fine arts. It's a pretty white stucco complex with tiny artisan shops and big terra cotta planters bursting with flowers. It's worth a trip here even if you're not a shopper as it's so very photogenic.
Do some feasting. Start out with that classic cocktail, the Pisco Sour. Then, take note again of that abundant, squiggly coastline bursting with edibles. Octopus and barnacles and crab and fin fish, of course all await, stewed, grilled, encrusted in spices, marinated raw in lime and chile for ceviche… There are empanadas, stuffed with chicken or beef or hard-boiled eggs and cheese, an excellent light meal washed down with an Escudo, one of Chile's local beers. Barrio Bellavista — the poet Pablo Neruda once called this neighborhood home —  is Santiago's bohemian restaurant district. If you're not keen on the street facing offerings, try Patio Bellavista, an upscale shopping center with plenty of attractive dining choices.
Sure, Chile's big nature calls you, there are mountains to climb, rivers to ford. But don't rush to it. Give yourself a little extra time to explore Chile's urban capital city. You'll leave the country with an appreciation for this cosmopolitan southern metropolis.
Photo: La Liguria Restaurant in Santiago's Barrio Bellavista. Courtesy of the author.
Pam Mandel is a freelance writer and photography enthusiast from Seattle, Washington. Pam's top travel destinations are wherever she's heading next, but she loves Hawaii and the Pacific Northwest.
After a recent a trip to Antarctica, she joined the unofficial Seven Continents Club. She's on the web at Nerd's Eye View.